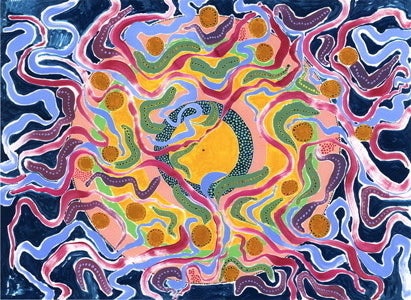 Everyone except the benighted have memories of awe (even without the use of mindful molecules). I have written about walking into the Jeu de Paume museum in Paris and about realizing, on a wooded path, in light fog, that I was running parallel to albino deer. And there have been many other occasions. What a joy to recall a few of them, even more to savor them while they're happening.
For example, gazing at stars wheeling over a ranch in New Mexico, stars long hidden from me by city lights, grateful as I am for electricity, one cost is the dimming of the night sky
Painting so intently that I forgot to eat, in my case with no training in art
From the end of a pier in the Hudson River, watching Manhattan black out in sections from the north end to where I was in the south, leaving only vehicular lights
The novelty encountered in travel, and the leisure, are conducive to moments of awe and reverie:
Sitting on a porch overlooking Kealakekua Bay in Hawaii next to a friend playing the didgeridoo, watching spinner dolphins, and humans kayaking so the dolphins back under water must have seen a paddle on one side of the narrow hull, then on the other
Skiing down from the Swiss border to the Austrian village where I had learned the rudiments, the skis having been carried up by horse-drawn sleigh
Watching, from a high place in the hills,dusk fog come in from the coast fog that looked as dense as water
Meditating in a Kyoto temple, before a garden of rocks and raked pebbles, as a tourist, not a monk
As Wordsworth knew, magic moments e are not strange to most children: lo mention a few examples from my won life:
Descending from a high elm by bending skinny horizontal branches, grabbing the next lower branch, and continuing to the ground, while pretending to fall
Making sounds back and forth with an unseen bird, conversing with another kind of anima)
Waking in a pasture on an overnight Boy Scout hike and seeing a cow standing right next to me, calmly chewing grass
Running to school so fast you feel you are about to take off and fly, like Superman
Encountering the "sublime" is a sure way.
Looking down prior to descending into Desolation Valley in the Rocky Mountain National park, Colorado (would there be a way out?)
Just after dusk on the freeway near Shasta, California,visually tunneling through snow and looking for an exit
Or being surprised by some moment of "culture":
Losing control in while beating deleterious patterns in the Hoffman Process about training in my family of origin, after being helped to see and name the patterns)
Learning to swim in deep water after fear of drowning which has given me sympathy for people suffering a trauma they can't get beyond
Giving a speech to a audience of hundreds in a Manhattan hotel ballroom, not memorable except to the speaker in an altered state
Getting lost in an athletic activity:
Sculling on the Charles River, started to meet a requirement, continued because I loved it
Hiking up to Nevada Falls in Yosemite and, seeing the flow was very low then, walking across the stream at the top
Kayaking down rapids in the Rogue River in southern Oregon ("just keeps flowin' along")
Almost everyone has such moments. What are yours? For me, surprise is often the gateway.
Calling all HuffPost superfans!
Sign up for membership to become a founding member and help shape HuffPost's next chapter
This post was published on the now-closed HuffPost Contributor platform. Contributors control their own work and posted freely to our site. If you need to flag this entry as abusive,
send us an email
.