An Egyptian-American journalist was arrested in New York Tuesday for spray-painting over one of the controversial anti-Jihad subway posters produced by the American Freedom Defense Initiative.
The New York Post captured a video of award-winning journalist Mona Eltahawy defacing AFDI's ad with pink spray paint, while another woman attempts to stand in her way.
The other woman, who identifies herself as Pamela Hall, asks Eltahawy, "Mona, do you think you have the right to do this?" To which Mona answers, "I do actually. I think this is freedom of expression, just as this is freedom of expression."
The two grow increasingly annoyed with each other. Hall refuses to back away with her mounted camera yelling, "Stop it, Mona!" and "You've got a lot of nerve!"
Officers eventually break up the scene, grabbing the spray paint and arresting Eltahawy.
"This is non-violent protest," says Elthaway. "See this, America? I'm an Egyptian-American and I refuse hate."
Despite initial attempts to block AFDI's campaign by the MTA, the ads appeared in 10 subway stations Monday, after a judge ruled that barring the ads would violate the First Amendment.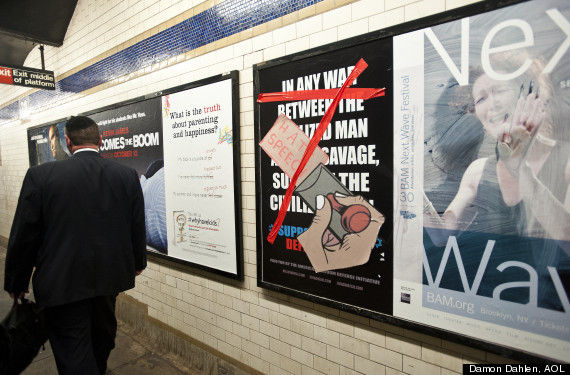 It is unclear if Eltahawy was also behind the defacement of those ads as well.

Many New Yorkers have spoken out against the ads, which read "In any war between the civilized man and the savage, support the civilized man. Support Israel. Defeat Jihad."
Earlier on Twitter, Eltahawy had announced her intentions to spray paint the posters.
Click through below to see her latest tweets since her arrest and below that, check out the best #MySubwayAd twitter responses to the AFDI ad.
Related
Popular in the Community