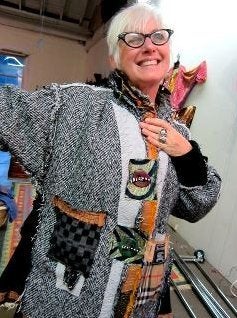 I can't believe I've finally found an amazing artist who is also a savvy businesswoman! What a happy surprise to discover an artist who uses both sides of her brain equally well. She goes by the name of MONA!, she lives and works in North Carolina and she has customers all over the country.
Over the years, I've met so many "starving artists" that I had begun to think the term was redundant -- like the term "working mother." I can't count the number of artists whose work is marvelous but whose income is pitiful. I often try to coach them -- offering suggestions on how to market their work more effectively and increase their sales revenues. But nothing seems to help; they are either so uncomfortable with selling that they can't bring themselves to do it, or they just can't get themselves organized enough to treat their art as anything more than personal expressions for their own enjoyment.
For the benefit of talented, creative artists who'd like to make more money, I thought I'd share with you the top ten things I've seen Mona Groban do that make her a financially successful artist:
1. She knows her customers. "The central key to my success is keeping a data base of each customer who has made a purchase with me," Mona explains. "I know which styles work best on most of my customers and what their favorite colors are."
2. She uses social media marketing effectively, consistently. I found MONA! on Facebook ... not that I was looking, mind you. I have never bought clothes on the Internet before -- heck, I didn't even know what my own measurements were! I was just minding my own business, doing my Facebook thing, when a box ad in the right-hand column caught my eye. It said: "Like Bluefish? Then you'll love MONA!" or something like that. Bluefish is a line of artsy, bohemian, silk-screened cotton clothing that was very popular twenty years ago or so. I loved Bluefish ... and I miss Bluefish. So I clicked on the ad, curious to see what kind of clothes could possibly be similar. One look and I was hooked -- now I probably buy two or three MONA! garments every month.
Every time she makes a new garment, she photographs it and posts it on her Facebook page and Etsy at the same time. She cultivates personal relationships with her customers all over the country by using Facebook consistently and effectively. She keeps her fans coming back for more.
"I send an e-newsletter monthly, sharing new items, upcoming events and some personal chit chat," Mona explains. "I send a postcard invitation to my previous customers when I am exhibiting my work at an event near them -- whether it is a huge art show or a private trunk show in my hotel room. I make sure they know about it with a colorful postcard bearing images of some of the things I will be selling, and an e-mail with color pictures that have links to purchase online."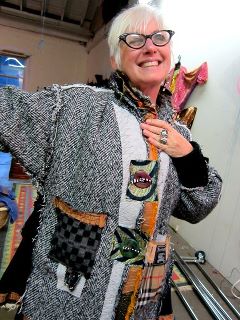 3. She's willing to take the time to educate new prospective customers. I was impressed with Mona's patience with me in the beginning. I didn't know my measurements; I didn't even know where my tape measure was; and I was totally new to buying clothes on line, much less one-of-a-kind wearable art. Mona took the time to explain how to use Etsy, how to set up a PayPal account, and more. She had to invest a lot of time in me to bring me up to speed as a customer.
4. She invites feedback and input from her customers. Every so often MONA will post a query on Facebook: "What are you gals looking for these days? More bright colors; more darks? More sweaters? More T's? More casual? More dressy? Tell me what's on your mind." And her customers reply, giving Mona real-time feedback she can use to create new garments within the next few days.
Mona also stays close to her customers by participating in trunk shows in various cities around the country. She'll go to any city where she has 250 or more customers. She'll load her car with garments and painted shoes and purses, drive hundreds of miles, and spend weekends at wearable art events, schmoozing and helping women try on clothes and accessories. In the process she gets ideas for new styles and designs that women are looking for.
Mona explains: "Most artists just show up at an event and expect the promoter to bring in the buyers. Artists have to take charge of their own success. All of this is a lot of work and takes time away from creating so no one wants to do it, then they cry to me that they can't make money. Out of sight-out of mind ... I will never let that happen to my business!"
5. She fulfills orders quickly, efficiently. Every order gets shipped Priority Mail. When women buy clothes, we want them NOW ... and Mona knows this. She delivers almost instant gratification.
6. Her return policy gives customers confidence. A 14-day return policy reassures women like me -- who are uncertain how a particular garment might fit -- that if it doesn't work, we can send it back with no hassle.
7. She uses humor effectively. She makes fun of herself -- never her customers. Most women are insecure about something or other -- our bodies, our relationships, our competence as mothers -- and Mona builds rapport by sharing her own anxieties, frustrations, and shortcomings.
8. She's consistent and reliable. She delivers -- week after week, month after month. She creates new styles like she's some kind of creativity machine! She's prolific, fast, and never seems to run out of ideas for new wearable art.
9. She's clear about her boundaries. "I'm not taking custom orders right now," she says, when she doesn't feel like it. When she's in the creative groove, she follows her muse and creates only what she wants to do. Other times, when she feels like doing something special for a customer, she'll accept a custom order. She delights her customers without being a doormat.
10. She does a little something extra to say "thanks for your business." Every package she sends me comes with a little something extra tucked inside -- a pair of fun earrings, a funky pin, a colorful hair tie, a hand-painted luggage tag, or something else to surprise and delight. I think I look forward to seeing what surprise is in the package almost as much as I look forward to trying on my new cute shirt, sweater or scarf!
I could go on and on about all the things Mona does right as a businesswoman, but you get the idea. I can't remember when I've met an artist who was so talented AND so savvy in running her business. Other artists would do well to emulate her if they're interested in achieving the same level of success.
For more information about MONA's business practices - and her wearable art - visit www.monapaints.com.
Calling all HuffPost superfans!
Sign up for membership to become a founding member and help shape HuffPost's next chapter