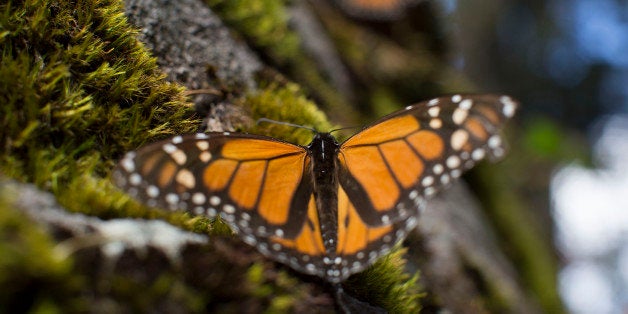 WASHINGTON -- The U.S. Fish and Wildlife Service and environmental partners announced a program Monday aimed at regrowing critical habitat for the imperiled monarch butterfly.
The Fish and Wildlife Service is committing $2 million to the plan, while the National Fish and Wildlife Foundation, an organization created by Congress that devotes public and private funds to conservation work, is committing $1.2 million. The National Wildlife Federation is also involved with the campaign.
At an event unveiling the initiative, Fish and Wildlife Service Director Dan Ashe said it will "ensure a future for this iconic species." The funds are slated to be used to work with schools, community groups, businesses and local governments to create "oases for monarchs in communities across the country." The goal is to restore or protect 200,000 acres of monarch habitat on public and private lands, as well as build 750 habitats and gardens at schools across the country.
Monarchs are found in many parts of the U.S. and Canada in the spring and summer, and are known for their annual migration south for winter. Their numbers have declined sharply in recent years: 1 billion were counted in Mexican wintering grounds in 1996, but just 35 million were counted last year -- the lowest number ever recorded.
"Reversing the decline won't be easy, but we can do it," Ashe said. "If we make the habitat, monarch butterflies will come."
"So often in [Washington], problems seem intractable," National Wildlife Federation President Collin O'Mara said. "Saving the monarch is actually a problem we can solve."
The butterflies rely on milkweed plants for food and laying eggs. Environmental groups have petitioned the Fish and Wildlife Service to grant protections to the butterflies under the Endangered Species Act, and in December the agency agreed to undertake a review of whether monarchs should be listed as endangered. In announcing that review, the agency noted that threats to the species "include habitat loss -- particularly the loss of milkweed, the monarch caterpillar's sole food source -- and mortality resulting from pesticide use."
Ashe acknowledged that herbicides and the increased use of herbicide-tolerant crops have contributed to killing off the wild milkweed, noting that "highly efficient weed control" is a main reason for the decline. The use of products like Monsanto's Roundup, which includes the herbicide glyphosate, and Roundup Ready seeds, which are developed to sustain spraying of herbicides, has been linked to the decline of milkweed. Products containing glyphosate have "triggered a precipitous decline of common milkweed, and thus of monarchs," according to a report issued earlier this month by the environmental group Center for Food Safety.
But the plan announced Monday focuses on growing milkweed in alternative locations rather than on addressing issues related to herbicides.
"We do very effective weed control in the agricultural production sector in the United States. That's a good thing. We have efficient, effective production of commodity crops. We all benefit from that," Ashe said. "We have to look for alternative habitats. We can make alternative habitat for monarch butterflies."
Ashe said the Fish and Wildlife Service currently does not have plans to undertake regulating the use of herbicides.
"I would say from the standpoint of production agriculture, we all benefit from the availability of abundant, affordable, healthy food," he said. "So we want agricultural production to be as efficient as it can possibly be so we have to convert less acreage to crop production."
Larissa Walker, the pollinator campaign director at the Center for Food Safety, said in a statement to The Huffington Post that increased funding for habitat is not enough to protect the butterflies.
"While efforts to restore milkweed habitat are essential to the monarch butterfly's survival, without addressing the eradication of milkweed within agricultural fields, monarch populations will not rebound to resilient, healthy levels," Walker said. "Research has shown that monarch butterflies lay up to four times more eggs on milkweed within agricultural fields, and unfortunately, this vital breeding habitat has been destroyed by herbicides used in conjunction with genetically engineered crops."
Ashe noted that the agency is interested in partnering with herbicide manufacturers, such as Monsanto, in the effort to grow habitat but that it had not approached the company yet.
In a statement to the Huffington Post, Monsanto spokeswoman Charla Lord said there are "multiple reasons milkweed population has declined." She also listed other issues that are affecting the monarch, such as logging in Mexico's forest wintering sites, weather events, parasites and climate change.
"We believe there are opportunities for public-private partnerships to expand habitat adjacent to crop lands -- and we applaud the announcement of today," she wrote. "Farming and habitat for Monarchs can co-exist."
Lord said that the company is "reviewing the announcement today" but is "very interested [in] exploring how Monsanto and others in the agriculture industry to can help support these initiatives."
CORRECTION: Due to an editing error, a previous version of this post inaccurately paraphrased a statement from the Monsanto representative on the decline of the monarch.
Popular in the Community