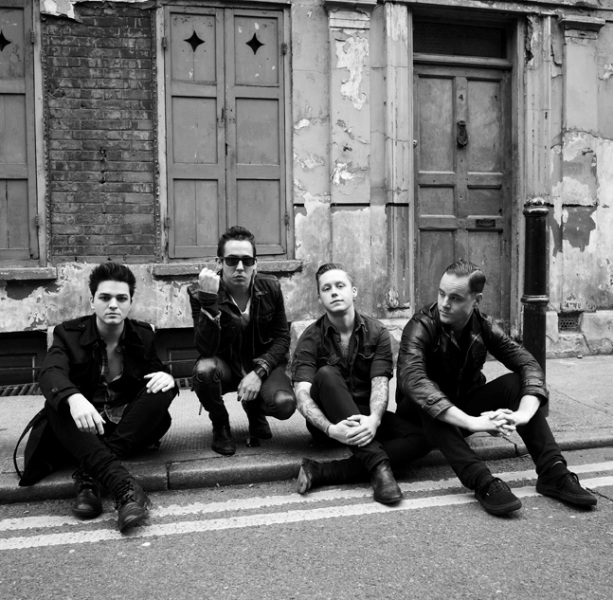 Photo/Emilie Bailey
Journalists and the blogosphere are so quick to dub a new band "buzzworthy," "the next big thing" or the "next [insert big group name here]." Rarely, however, do the acts live up to that premature hype. That's totally not the case with rising rockers Mona, a quartet out of Nashville, who could very well be on their way of becoming that breakthrough rock act we've been wishing, hoping, and praying for.
Mercury Records will drop Mona's full-length debut album in September, and no doubt, when it arrives you can expect comparisons and labels to be thrown at them faster than Cabbage Patch Kids flew off the shelves in 1984. Thus far the band, who have been playing festivals all summer long and are opening up for such acts as Kings of Leon, The Airborne Toxic Event and Morrissey, have received praise for their poise and polish from the New York Times, Spin and Rolling Stone.
Mona formed a few years back when frontman and lead guitarist Nick Brown got together with friend/drummer Vince Gard in their native Dayton, OH by playing gigs at their church. They soon left for Nashville and met up with Kentucky natives Zach Lindsey (bass) and Jordan Young (guitar) and formed Mona (their namesake comes from Brown's beloved grandmother). The foursome hit it off instantly and started recording music in Brown's basement.
While they got their start in "Music City," Mona actually made waves in the UK. Earlier this year, they released first and only single "Listen to Your Love" there, and within weeks, signed a deal with Mercury. On the basis of that one song, they made their U.S. television debut on Last Call with Carson Daly.
Ironically, Brown said "Love" is his least favorite song off the upcoming album. I spoke to him about that, the upcoming album, and the buzz surrounding the band.
Did you know "Listen to Your Love" would be the song that would break you through?

That first mix of it -- the video we did -- was with our buddies and cost like $500. It was just me in my basement, and we sent it to our management in the UK and within two weeks, we were on BBC Radio 1. It's actually my least favorite song on the album. That first little riff was kind of a joke. I was just using a distortion pedal, and was just being stupid. It's also very sarcastic lyrically. I meant every word I said, but it's a darker song than people realize. When it got attention, people were talking about it as a smash. We're all sheep -- we're led into things -- so musically we took it to completion because it was fun.
Your album isn't out until Sept. 6, but you've received a ton of press and a lot of your songs are already available online. Have you noticed more and more people coming to your shows? Mouthing the lyrics?
All of our stuff is on YouTube, fans can find it. The first three rows are like that. They know our songs better than I do. Then you have people with their arms crossed wondering what our sh*t's all about. Then you have the bar people and you're always going to have cool kids. There's multiple layers. We treat each crowd like it's our first. The reaction is always different but people respect the hard work. They see us play our asses off, and there's not a lot of arrogance but there is confidence.
Talk to me about that confidence...
A lot of artists get bashed when they say they're good. But, let me ask you if your grandmother had a heart problem, and the doctor said 'I'm the best... I'm the best in the country' -- no one is going to walk away saying that guy's a f--king assh--e... We took years to play our instruments, and put a lot of work into this. But it's definitely a show by show case. We're not expecting it to get handed to us.I believe in the man upstairs.
What strikes me about your debut album is how polished it is -- and I mean that in a good way. Do you know what I mean?
Yeah, it's hilarious. One review in the UK said our record is one of the most overproduced stuff they've heard since the last Kings of Leon album. They compared it to Brian Eno and U2 and how we've sold out before we even started. Well, I recorded it in my basement with four microphones with reverb and sh-t. I think we're tight. I think there's life in it. Most albums are tight because of pro-tools. It's literally been scientifically fixed. We play every f--king thing. When we play live now, we're a million times better.
Were you surprised you found success in the UK first?
It's very fast there. People don't realize how small London and the UK are. The press there build you up, bring you down and pretend they made your career. It's so fast. In the states, they love stories of coming from nothing and blowing up.
Lastly, you named the band after your grandmother. At first, I thought you were paying homage to Mona from "Who's the Boss?"
[Laughs] That's cooler but no. My father was a pastor, and my grandmother worshiped there. The first music I came into the planet with was hers. When she was dying, I was doing my first demos and it was the first thing that calmed her down. Her music was the first I heard, and mine was the last she heard before she died.
REAL LIFE. REAL NEWS. REAL VOICES.
Help us tell more of the stories that matter from voices that too often remain unheard.