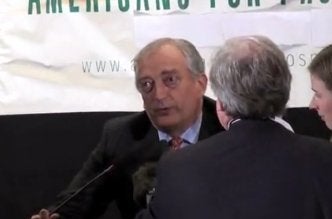 "It was not I who called them Hitler Youth. It was three Germans and a Dane in the audience."
It would appear that a more appropriate title than "climate denier" for Monckton, might be "reality denier." For Monckton to now deny making the comment at the Americans for Prosperity event is bizarre, since the video below shows him saying "Hitler youth" twice, and he has since admitted to making the statement repeatedly on camera (including in my own interview with him the next day). If anyone still questions that Monckton has a serious credibility problem, here is yet mor evidence how far he is willing to bend the truth. He is truly a denier's denier.
Here's the video (again) of Monckton calling young climate change campaigners the "Hitler youth":
After lying to Associated Press about his Hitler youth comments, Monckton then proceeded to compare the climate activists to Adolf Hitler's fascist army, saying the activists were attempting to stifle free speech, using tactics "last seen here when the Nazis occupied Denmark."
Popular in the Community