Here at the HuffPost Partner Studio, we believe that Mondays should start off on the bright side. So we've partnered with Target to bring you our favorite stories, videos and feel-good campaigns of the past week that prove seizing every day, minute and moment truly matters. #MondayMatters
If You're Looking For A Way To Beat The Heat

Watch this adorably happy moose family stay cool by frolicking in a lawn sprinkler during a recent Alaskan heat wave.
If You Need A Leg Up
Thank Victor Espinoza, the jockey who rode American Pharoah to victory at the Belmont Stakes on June 6th, winning the Triple Crown. Espinoza plans to donate his winnings to City of Hope, a California-based cancer research and treatment center.
If You're Losing Faith In Loyalty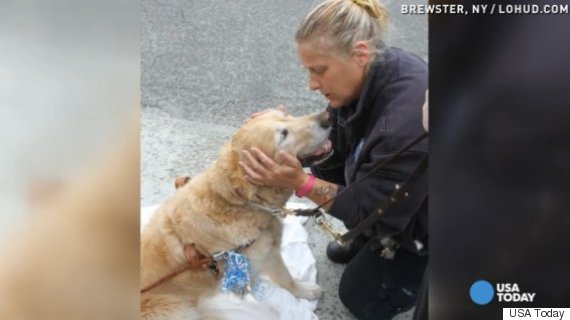 Meet Figo, the heroic service dog who jumped in front of a mini school bus to protect his blind owner crossing the street. (Don't worry -- both dog and human are expected to make full recoveries!)
If You're Feeling Selfish
Try to be more like James Harrison. The 78-year-old Australian man has been donating blood nearly every week for the past 60 years. In the process -- and despite the fact that Harrison "can't stand pain" -- his blood has helped save more than 2 million babies.
If You Feel Overlooked

Channel your inner Johanna Colon. The 6-year-old performed a sass-filled number to Aretha Franklin's "R-E-S-P-E-C-T" at a dance recital in Knightdale, N.C., earlier this month.
Target believes in better choices for all, whether that's your morning read or what your family is having for breakfast. That's why, together with HuffPost, they're bringing you a roundup of the top feel-good stories. So, not only can you start your Mondays with better stories, but now you can shop better choices with the Made to Matter collection, handpicked by Target.
REAL LIFE. REAL NEWS. REAL VOICES.
Help us tell more of the stories that matter from voices that too often remain unheard.