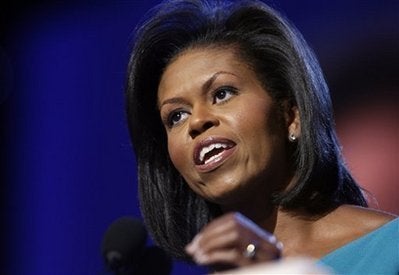 "If this party has a message," he said on CNN, "it's done a hell of a job hiding it tonight, I promise you that."
"I thought it was a beautiful speech, beautifully delivered. And if I can play fashion critic there, I thought that Michelle Obama looked just beautiful, but I can't help but feel after this first night of the convention that it was a largely wasted night. I can't imagine what this night did for the campaign. I mean, I know what they were trying to do, which is to humanize Barack Obama, to show that the Obamas come out of the mainstream. But I keep thinking back to what Bill and Hillary Clinton used to say in 1992 about all their scandals. They said people, the voters of America, care more about their futures than they do about the Clintons' past. And I think they care more about their futures than they do about the Obamas' past. ... There are only four precious nights in this convention, and again, I can't help but feel it was a largely wasted night."
The Washington Post points out that there were some attacks -- just not from Democrats:
Indeed, the anti-Republican red meat was left for an unlikely source, soft-spoken former GOP congressman Jim Leach of Iowa, who hailed Obama as "a transcendent candidate" as he criticized his own party.
Howard Wolfson, Hillary Clinton's former communications director, praises Michelle Obama:
Last night was not a night for policy or attacks on John McCain. It was instead an effort to shore up the image of Michelle Obama and help Americans become comfortable with her as First Lady. It was a homerun.
The Nation's John Nichols agrees:
The woman who would be first lady rose to the challenge with a speech that was as gracious as it was politically smart.
Michelle Obama and the kids won over even the National Review's Kathryn Jean Lopez: "Michelle and the girls were a homerun for Dems tonight."
But TNR's Katherine Marsh "miss[es] the old Michelle," and even before the speech predicted that it would "undoubtedly disappoint some feminists." Her colleague Jason Zengerle concurred:
Michelle Obama introduced herself as a sister, a wife, a mother, and a daughter--which are all incredibly important identities. But those identities don't reveal her full person--the Princeton and Harvard Law grad, the corporate attorney, the hospital executive--which were parts of her life that she barely mentioned.
John Dickerson says the cookie-cutter image was a good thing:
It was a beautiful family tableau with the daughters interrupting to tell their dad they loved him. The whole bunch seemed straight out of Central Casting. That's a cliché, and for the first black family with a realistic chance of living in the White House, becoming a cliché is a big win.
The New York Times was impressed by Ted Kennedy's surprise appearance:
[W]hile Mr. Kennedy spoke slowly and at times haltingly, his voice was firm and he was in command of this moment, gesturing and sounding very much like the man who enraptured the party's convention 28 years ago.
The Boston Globe loved it even more:
Kennedy's speech was much more than a moving acknowledgment of the tribute being paid to him - it was much more than anyone could have expected. It was, in fact, the party's real keynote address - a call to arms that brought together past and present, and set the agenda for all the speeches to follow.
Twitterers, meanwhile, were nearly unanimous in their gushing -- except for a former Fred Thompson staffer who wasn't amused by the Obama kids antics. "I suspect some mothers will wonder why Michelle didn't take control."
Popular in the Community