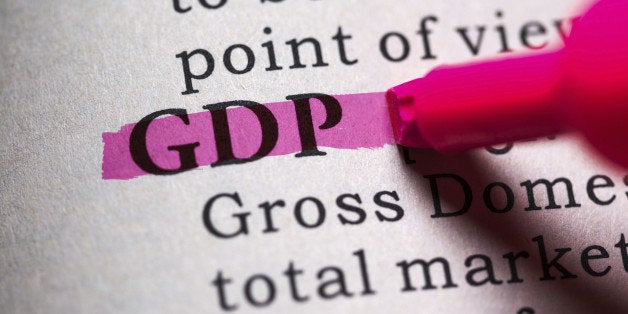 We have, essentially, a 3-day week this week and don't expect people to stick around on Wednesday either and Friday being a half-day is a joke as it's dead as a doornail on Thanksgiving Fridays.  Overall trading with be thin, which means all market action should be taken with a grain of salt and, unfortunately, we get revised GDP tomorrow morning - which is very important.
Our initial estimate of Q3 GDP was 1.5% and most Economorons think it will be revised up to 2% and why not - if GDP is so inexact that it can move up or down 33% in less than a month - what's the difference what number they paint into a holiday weekend?  It's Personal Income and Outlays that really matter on Wednesday - as that's a precursor to Christmas Shopping Season.  Durable Goods (also Weds) were a disaster in September (-1.2%) so hard to be worse in October but run away if they are.  
In faraway lands we'll also get Eurozone PMI Reports, which are looking up so far but enjoy it while you can as tomorrow we get Germany's GDP, which may make ours look good.  The rest of the Eurozone reports their GDP Thursday and Friday - so that will be worth at least checking in for on Friday morning - especially if you are a Futures player looking for some fun!  
Meanwhile, oil Futures look like this, so you'd have to be a maniac to play.  We played on Friday, of course and our long plays on oil (/CL) and gasoline (/RB) each made over $1,000 per contract for our morning readers (you're welcome).  For those who could not play the Futures, we also had a long play on UGA options that popped 44% on the day (and will be cheap again this morning) so again, it's not like we have to be heavily invested to make money every day - we can make a fortune with these quick in and out plays - over and over again. 
Getting back to cash allows us to enjoy our Thanksgiving trips without worrying about what the market is doing while we're on a plane.  As noted in our October Portfolio Review, we pretty much just sat out all the madness in November as the S&P began the month over 2,100, dropped to 2,025 (3.5%) and is now back at 2,089, where we're still more confident going short than going long at the moment:
This morning, in our Live Member Chat Room, we discussed going short on the Nikkei (/NKD) at 20,000 and, as long as the Dollar is under 100 (it is, barely), that's one of my favorite shorts.  Nothing has improved in China or Japan or in any of the Emerging Markets - it's just more of the same strategy that has been failing all year, repackaged for a new group of retail suckers for 2016.  
That's not to say that plenty of companies aren't beating low-ball earnings expectations - especially when they are buying back, on the average, 4% of their own shares.  That means the same earnings are divided by 4% less shares so the earnings per share rise 4% before you even get to the actual number.  Nike (NKE) announced on Friday that they would be buying back $12Bn worth of shares - which is more than 10% of their stock.  
NKE only has about $5Bn in cash so, basically, they are going to go into debt to buy back their own shares at an all-time high.  Is this a business plan that should be rewarded?  NKE already bought back so much of their own stock in 2014 and 2015 that they are now down to just 674M shares (and about to split them).  Earnings per share went from $3.70 to $4.30, which is up 16% but, if they still had the same 870M shares they started 2014 with, earnings would be a less-impressive $3.33.   The only way NKE can keep up this pace of growth is to buy even more of their own stock back - no matter how expensive it gets (last round was less than $100 avg, now $130).  
This is what companies do when they are out of ideas, folks!  Accounting tricks do not make for good long-term investments and, currently, the entire Global Economy is essentially running on an accounting trick in which our Central Banks create money out of thin air and then lend it to banks for essentially no interest and the Banksters lend it to you for 4% on a home or 22% on a credit card and they make real profits which are taken from your real wallet by lending out money they never worked for in exchange for money you worked very hard for.   
Is this the way we wanted to "fix" out economy?  
Calling all HuffPost superfans!
Sign up for membership to become a founding member and help shape HuffPost's next chapter