Mondays: can't live with them, could probably stand to live without 'em … if we're being honest.
Here at the HuffPost Partner Studio, we're looking to change your mind about the first day of the work week!
We believe that Mondays should start off on the bright side. So we've partnered with Target to bring you our favorite stories, videos and feel-good campaigns of the past week that prove seizing every day, minute and moment truly matters. #MondayMatters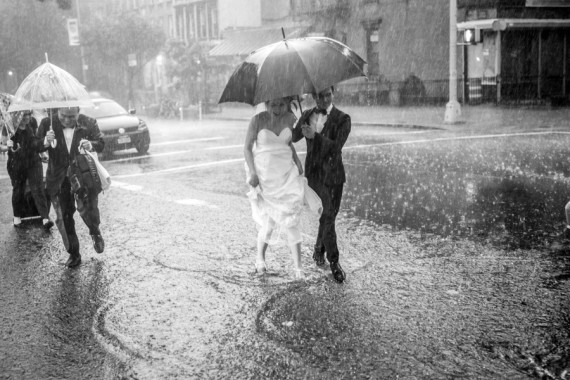 Photo by Kamila Harris
If You Need A Helping Hand
Watch this video uploaded last week featuring an elephant calf and his trusted comrades. After collapsing on a road in South Africa's Kruger National Park, the little one's herd comes to the rescue, helping it back up and escorting it off the road.
If You're Losing Faith In Tech-Obsessed Teens
Meet Hailey Fort, a 9-year-old combatting homelessness in her community. With the support of a grant, Fort plans to build 11 individual "mobile sleeping" shelters to give to the homeless in Bremerton, Washington.
If You're Feeling A Dark Cloud Overhead
Bask in the inspiration of this Brooklyn couple. Stephanie Pepin and Max Santiago's wedding day was plagued with thunder, lightning and rainy weather -- but that couldn't wipe the smiles off the faces of the newlywed couple.
If You're Sick Of Waiting
Remember to see the bright side of things. Take a note from the cast members of Broadway's "The Lion King" and "Aladdin," who started a spontaneous sing-off while delayed for six hours at LaGuardia Airport.
If You're Hungry For A Snack
Fill up with this good news: thanks to Maryland's Hunger Free Schools Act of 2015, Baltimore children attending public schools can get both breakfast and lunch for free at a time when childhood hunger is a mounting issue.
Target believes in better choices for all, whether that's your morning read or what your family is having for breakfast. That's why, together with HuffPost, they're bringing you a roundup of the top feel-good stories. So, not only can you start your Mondays with better stories, but now you can shop better choices with the Made to Matter collection, handpicked by Target.
REAL LIFE. REAL NEWS. REAL VOICES.
Help us tell more of the stories that matter from voices that too often remain unheard.