If Monday sneaks up on you like an unwanted run-in with an ex during your early-morning coffee run (before you've changed out of your pajamas), know that you aren't alone.
But at the HuffPost Partner Studio, we're looking to change your mind about the first day of the work week!
We believe that Mondays should start off on the bright side. So we've partnered with Target to bring you our favorite stories, videos and feel-good campaigns of the past week that prove seizing every day, minute and moment truly matters. #MondayMatters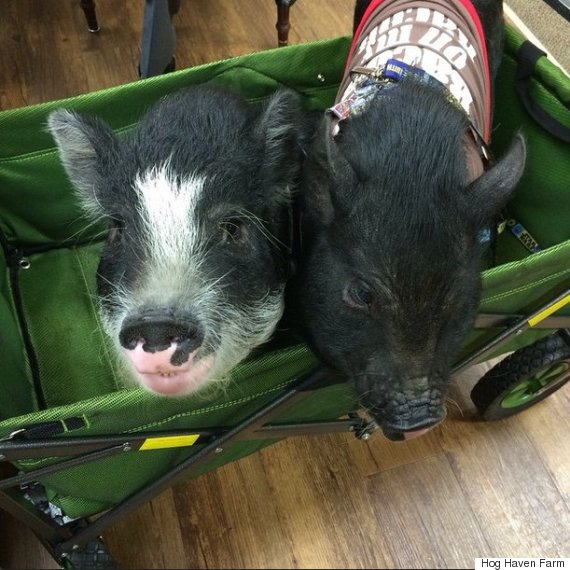 If You Need A Cuddly Fix
Watch this adorable video clip of two tiny bear cubs wrestling in Yosemite National Park. Though originally shot in 2011, the video just recently became a viral vine (and warmed our hearts) last week.
If You're Feeling Impatient
Know that good things come to those who wait. At least, they did for these Delta passengers, who were treated to an impromptu pizza party after heavy rains grounded their aircrafts and left their flights delayed.
If You Need A Reminder To Never Give Up
Meet Theo, the dog with a big stick who never backs down, even when faced with the impossible: A narrow bridge.
If You Need A Hug
Watch Pumba and Boris, two mini pot-bellied pigs, bring charm and entertainment to residents with Alzheimer's disease at an assisted living community in Littleton, Colorado.
If You're Feeling Tired
Feel the energy radiate from California, where low-income communities are getting free solar panels -- typically a costly upgrade -- courtesy of nonprofit firm Grid Alternatives, in an effort to increase their access to clean energy.
Target believes in better choices for all, whether that's your morning read or what your family is having for breakfast. That's why, together with HuffPost, they're bringing you a roundup of the top feel-good stories. So, not only can you start your Mondays with better stories, but now you can shop better choices with the Made to Matter collection, handpicked by Target.
REAL LIFE. REAL NEWS. REAL VOICES.
Help us tell more of the stories that matter from voices that too often remain unheard.