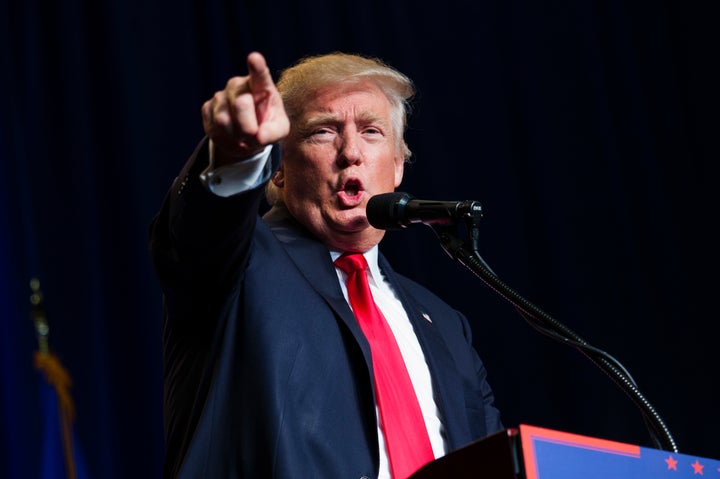 TOP STORIES
TRUMP AIMS FOR A 'REBOOT' The GOP nominee hopes an economic speech in Detroit today can reset his presidential campaign after last week's tanking poll numbers. Take a look at the 16 gaffes that set a new low for a terrible week in presidential politics. And this week's First to Last examines what a real Donald Trump reset looks like. [Christina Wilkie, HuffPost]
PHELPS, LEDECKY WIN GOLD For Michael Phelps, the 4x100 relay gold win was his 19th. Katie Ledecky not only won gold in the 400 meter freestyle, she destroyed the world record in the process. Dana Vollmer, who gave birth 17 months ago, won a bronze in the 100-meter butterfly. The U.S. women's gymnastics team blew its competition out of the waterin the team qualifiers. And here's what to watch today. [Andy Campbell and Nick Visser, HuffPost]
JAPANESE EMPEROR INDICATES DESIRE TO ABDICATE IN UNPRECEDENTED VIDEO ADDRESS Japanese Emperor Akihito, who is 82, told the country that he was worried his age was affecting his abilities to carry out his official duties. [Reuters]
DOZENS DEAD IN PAKISTAN AFTER BLAST TARGETING MOURNERS At least 45 have died after a suicide bomber detonated among 100 mourners leaving a hospital emergency room in Quetta. [Reuters]
WE'RE VERY SORRY IF YOU HAD A DELTA FLIGHT BOOKED FOR TODAY Looks like you're in for a wait after a mass computer outage grounded Delta flights globally. [Reuters]
'THINK TANKS BLUR THE LINE' "Think tanks, which position themselves as 'universities without students,' have power in government policy debates because they are seen as researchers independent of moneyed interests. But in the chase for funds, think tanks are pushing agendas important to corporate donors, at times blurring the line between researchers and lobbyists." [NYT]
For more video news from The Huffington Post, check out this morning's newsbrief. 
WHAT'S BREWING
RENEE ZELLWEGER: 'WE CAN DO BETTER' "I'm writing because to be fair to myself, I must make some claim on the truths of my life, and because witnessing the transmutation of tabloid fodder from speculation to truth is deeply troubling." [HuffPost]
THAT'S IT FOR A-ROD The Yankees are releasing the superstar from his contract and hiring him as an advisor for the team. Alex Rodriguez will play his last game Friday. The New York Times takes a look at his"complicated legacy." [Reuters]
SO MUCH FOR THOSE BAD REVIEWS "Suicide Squad" crushed the competition with a $135.1 million debut. [HuffPost]
'JUSTICE IS SERVED BEHIND CLOSED DOORS' Inside the death of the jury trial. [NYT]
THANKFULLY, LESLIE JONES IS COMING TO THE OLYMPICS NBC decided her commentary was too good to just be on Twitter. Can they bring along Samuel L. Jackson and Britain's gold medalist Adam Peaty's grandma too? [HuffPost]
APPARENTLY A LOT OF PEOPLE ARE BETTING ON BAD THINGS HAPPENING Welcome to the world of catastrophe bonds. [WSJ | Paywall]
WHAT'S WORKING
MEET TEAM REFUGEES "Team Refugees, the Olympic Games' first ever team of refugee athletes, received a standing ovation on Friday night when they entered the stadium during the games' opening ceremony in Rio de Janeiro, Brazil. " [HuffPost]
For more, sign up for the What's Working newsletter.
BEFORE YOU GO
Calling all HuffPost superfans!
Sign up for membership to become a founding member and help shape HuffPost's next chapter