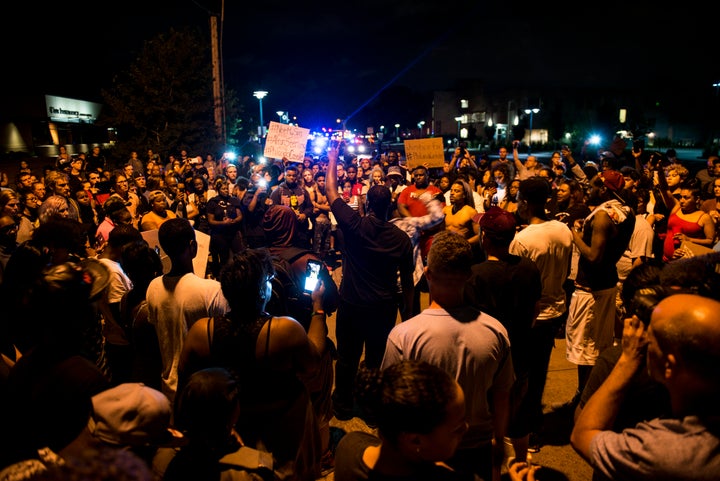 TOP STORIES
HUNDREDS ARRESTED IN PROTESTS ACROSS THE COUNTRY "Protests against the shootings of two black men by police officers shut down main arteries in a number of U.S. cities on Saturday, leading to numerous arrests, scuffles and injuries in confrontations between police and demonstrators." Here's the Black Lives Matter protest photo being compared to Tiananmen Square's "Tank Man." [Reuters]
DALLAS KILLER PLOTTED MORE TERROR Micah Johnson had practiced using explosives and planned a larger assault, according to the Dallas Police Department. He also wrote cryptic messages in his own blood during his final standoff with police. [Reuters] 
LAST OPPOSITION DROPS OUT OF BRITISH PM RACE Leaving Theresa May as the next presumptive Prime Minister. [Reuters]
FORGET CANADA Supreme Court Justice Ruth Bader Ginsberg is lobbying for a move to New Zealand if Donald Trump wins. [Ed Mazza, HuffPost]
THE VOTERS JUMPING PARTY LINES In an already crazy election, meet the folks looking to hop the aisle. [WSJ | Paywall]
'ONE YEAR OUT' "On July 13, 2015, President Obama commuted the prison sentences of 46 nonviolent drug offenders. Here's what their lives are like now." [WaPo]
PREPARING FOR AMAZON PRIME DAY Less than 24 hours to go. [CNN]
THE REPUBLICANS UNDER TRUMP'S SKIN Inside the dumpster fire and reelection barbs getting to the GOP nominee. [Howard Fineman, Jason Linkins and Lauren Weber, HuffPost]
For more video news from The Huffington Post, check out this morning's newsbrief.
WHAT'S BREWING
TURNS OUT MILLENNIALS NEED TO STOP KEEPING SO MUCH CASH AROUND "Young, rich people are reportedly keeping a third of their wealth in cash ― but it's not a strategy peers with decades of potential compound interest should mimic." [The Guardian]
'THE SECRET LIFE OF PETS' IS A MASSIVE SUCCESS The film raked in over $103 million. [HuffPost]
THE RISE OF EMBEZZLING In children's sports. [NYT]
LLAMAS KEEP DERAILING THE TOUR DE FRANCE Rather large obstacles. [Atlas Obscura]
BEHIND THE ADDICTIVE POWER OF POKEMON GO "Go actually represents years and years of development by a group of talented people who know what they're doing." The game has added $9 billion in market value to Nintendo. [Fast Company]
WE FINALLY KNOW SOMETHING ABOUT THE AMY SCHUMER MOTHER-DAUGHTER COMEDY OF YOUR DREAMS Basically she takes your mom on a crazy vacation, and everything your mom thinks would go wrong does. [Vulture]
WHAT'S WORKING
GAMBIA BANS CHILD MARRIAGE "Gambia called for an immediate ban on child marriage on Friday and will punish parents, spouses and involved religious leaders who violate the law, according to reports. ... In the West African country, 46.5 percent of girls marry before they turn 18, according to UNICEF." [HuffPost]
For more, sign up for the What's Working newsletter.
BEFORE YOU GO
Calling all HuffPost superfans!
Sign up for membership to become a founding member and help shape HuffPost's next chapter