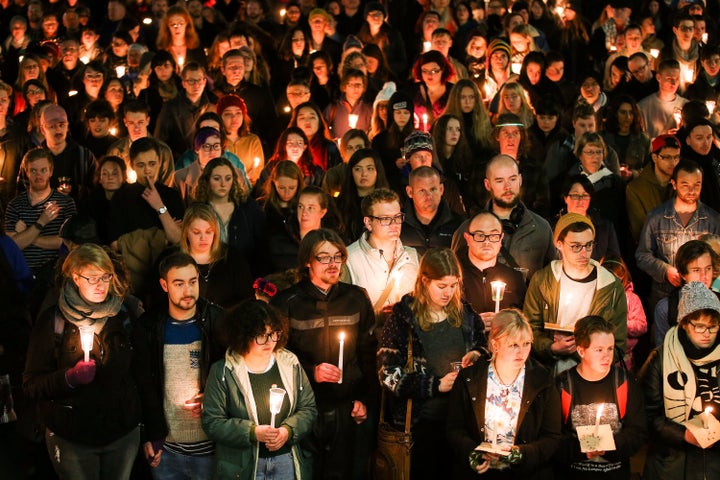 TOP STORIES
THE AFTERMATH OF THE DEADLIEST MASS SHOOTING IN U.S. HISTORY Omar Mateen walked into the Orlando gay nightclub Pulse early Sunday morning and opened fire, killing 50 people and injuring 53 in the worst terror shooting in U.S. history. Authorities had previously interviewed Mateen, who was killed by a SWAT team, twice for his ties to terrorism, and he called 911 mid-attack to pledge allegiance to the Islamic State before continuing the slaughter. Witnesses detailed the horror as club-goers ran for their lives. [Andy Campbell, Roque Planas and Sebastian Murdock, HuffPost] 
REMEMBERING THE VICTIMS A look at the 50 lives lost. [Paige Lavender and Dominique Mosbergen, HuffPost]
HOW THEY GOT THEIR GUNS Here's where the last 16 mass shooters have gotten their weapon of choice, and why this shooting was so deadly. [NYT]
ITALY'S COAST GUARD RESCUED 3,000 MIGRANTS In three days. [Reuters]
THE LAST DAYS OF THE SANDERS CAMPAIGN Bernie Sanders is set to meet with Hillary Clinton Thursday. [Sam Stein, HuffPost]
PITTSBURGH PENGUINS RETAKE STANLEY CUP It's the team's first title since 2009. [Reuters]
THE FIGHT FOR FALLUJAH "The Iraqi army said on Sunday it had secured the first safe exit route for civilians to leave Islamic State's besieged stronghold Fallujah, and a Norwegian aid group said thousands of people had already used it to flee in the first day it was open." [Reuters]
For more video news from The Huffington Post, check out this morning's newsbrief.
WHAT'S BREWING
TRIBUTES POUR IN FOR CHRISTINA GRIMMIE The singer, who finished third on "The Voice" in season six, was shot and killed by areportedly "deranged fan." [HuffPost]
ALL THE TONY AWARD WINNERS "Hamilton," "Hamilton" and more "Hamilton." [HuffPost]
OHHHH, AH AH AH AH More "All That" reunions are on the way. [HuffPost]
'THE CHINESE HACKERS IN THE BACK OFFICE' "Like many small businesses, they have a dusty old computer humming away in the back office. On this one, however, an unusual spy-versus-spy battle is playing out: The machine has been taken over by Chinese hackers." [NYT]
DOUBLE CHECK THE PAVEMENT HEAT If you can't hold your hand on the ground for five seconds or more, your pets' paws shouldn't be on it. [The Dodo]
OF COURSE PRINCESS CHARLOTTE STOLE THE SHOW In one of her first official appearances for her great-grandmother's birthday celebration. [HuffPost]
WHAT'S WORKING
THE BAR FOR RECOVERING ADDICTS "The Other Side is a sober bar where recovering addicts can hang out over non-alcoholic beverages. The bar, which launched in 2013, is run as part of nonprofitNew Directions Addiction Recovery Services, and is meant to give recovering addicts a place to socialize, as well as a community to lean on." [HuffPost]
For more, sign up for the What's Working newsletter.
BEFORE YOU GO
~ Can we be photoshopped into this "Friday Night Lights" reunion photo? Please?~ Iceland's leading the climate change fight by turning carbon dioxide emissions into stone.
~ That creepy purple friend of Ronald McDonald has a name, and it's Grimace. Here's his story.
Calling all HuffPost superfans!
Sign up for membership to become a founding member and help shape HuffPost's next chapter