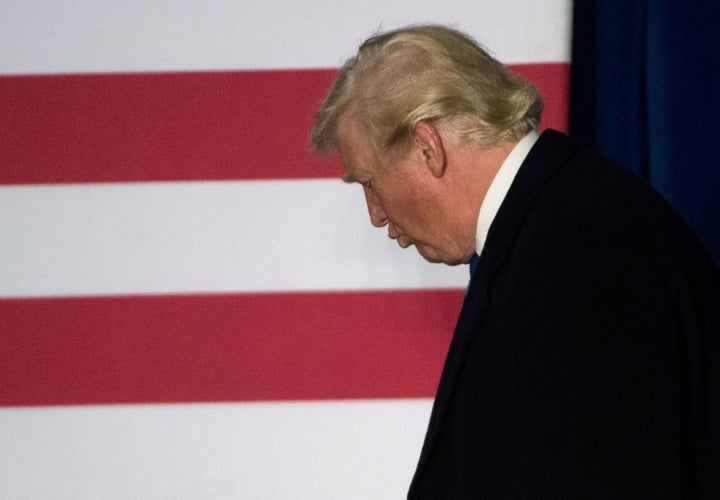 TOP STORIES
FINAL DAY BEFORE ELECTION DAY HuffPost Pollster's Natalie Jackson shares how to make sense of the final onslaught of polls. Read Donald Trump and Hillary Clinton's dueling op-eds on why you should vote for them. Here's a look at how the Hispanic vote has mobilized "like never before in the 2016 election," as well as a video on how it all beganfor the Democratic nominee. And don't forget ― when it all gets to be too much, the Weather Channel is running 24/7 "calming weather video." [Natalie Jackson, HuffPost]
AS FOR THOSE EMAILS... FBI Director James Comey announced Sunday in a letter to Congress that Clinton would not face charges over the newly discovered emails. According to Trump, the FBI's latest actions are more proof the system is "rigged." [Sam Stein and Ryan Reilly, HuffPost]
AND AS IT ALL DRAWS TO A CLOSE The "First to Last" team takes a look at all the things we learned this miserable, endless election year. [Howard Fineman, Jason Linkins and Lauren Weber, HuffPost]
JANET RENO, FIRST FEMALE ATTORNEY GENERAL, DEAD AT 78 Reno, who was the longest-serving attorney general, died of complications from Parkinson's. [Alana Horowitz-Satlin, HuffPost]
HOW RUSSIA TRACKS DOWN ITS POLITICAL ENEMIES AROUND THE WORLD "Determined to punish domestic opponents who flee abroad, as well as non-Russians whose lives and finances it wants to disrupt, Moscow has developed an elaborate and well-funded strategy in recent years of using — critics say abusing — foreign courts and law enforcement systems to go after its enemies." [NYT]
PHILADELPHIA TRANSIT STRIKE TO END Just in time for Election Day. [Dave Jamieson, HuffPost]
WHAT HAPPENED TO A YEMENI CHILD BRIDE AFTER CLINTON'S INTEREST When a feel-good story doesn't have the fairy tale ending. [Akbar Shahid Ahmed, HuffPost]
WHAT'S BREWING
PATTON OSWALT TALKS PERFORMING WHILE GRIEVING "'A lot of the pop-culture heroes that we love — Batman, John Wick, even Buckaroo Banzai — are all widowers or have had someone they love ripped away from them, and the first thing they do is start working out and becoming a badass,' he muses. 'I didn't go the CrossFit route when my wife died. I went the "I'll be up until four A.M. re-watching The Princess Bride and eating Sun Chips for breakfast" [route].'" [Vanity Fair] 
POLICE FOUND A KOALA AFTER THIS ARREST More of an adorable bust than the usual drug sting. [HuffPost]
A NEW KIND OF ENGAGEMENT RING: THE MAN-MADE KIND What happens to the diamond market that "depends on a perception of relative scarcity." [WSJ | Paywall]
BRAD PITT FILED FOR JOINT PHYSICAL CUSTODY Meaning his divorce from Angelina Jolie could go to court. [HuffPost]
'DR. STRANGE' ISN'T TOO STRANGE FOR AUDIENCES The dad puns continue. The movie hauled in $85 million this weekend. [Reuters]
THE HEART-BREAKING ROYAL SCANDAL ON 'THE CROWN' Inside the love affair that tore Queen Elizabeth II and her sister Princess Margaret apart. [Vanity Fair] 
BEFORE YOU GO
~ We're a tad traumatized by this brutal video of a "homewrecking" penguin's aftermath. Yes, "homewrecking."
~ This 68-year-old homeowner fired an arrow into a fleeing burglar's butt. 
~ Watch out for fake retail apps this holiday season.
~ Everyone hate-loves the guy who managed to make Amazon's Alexa speak through one of those talking fish.
~ Happy Monday ― as you slog through pouring that first cup of coffee, this guy could reset his world record for finishing a Rubik's Cube.
Calling all HuffPost superfans!
Sign up for membership to become a founding member and help shape HuffPost's next chapter