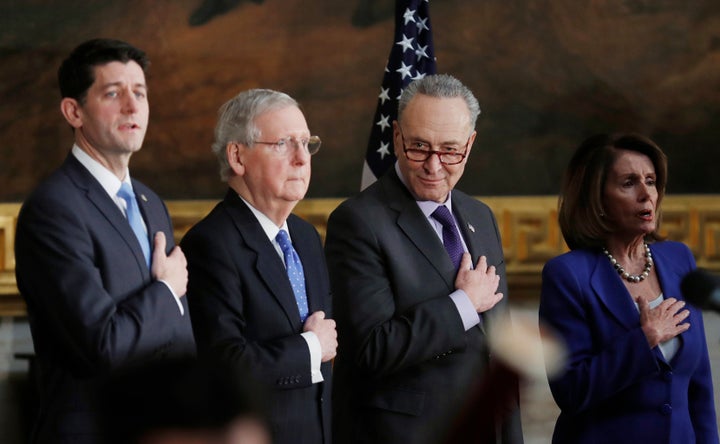 TOP STORIES
(And want to get The Morning Email each weekday? Sign up here.)
Thanks again to Ariel Edwards-Levy for filling in ― back to the regular scheduled programming! 
SHUTDOWN HEADS INTO DAY THREE The Senate is set to vote todayon a three-week funding bill to reopen the government ― but it's not clear if it can pass. The shutdown is about to get a lot more visible as it extends into the work week and federal workers are forced to go without pay. Republican Sen. Lindsey Graham (S.C.) blasted White House aide Stephen Miller for making negotiations, which have revolved around immigration, "difficult." [HuffPost] [Tweet | Share on Facebook]
RUSSIAN BOTS ARE AMPLIFYING THE #SCHUMERSHUTDOWN HASHTAG "#SchumerShutdown has surpassed #ReleaseTheMemo as the highest trending hashtag among Russian influence campaigns." [HuffPost]
THE SECOND WOMEN'S MARCH DRAWS TENS OF THOUSANDS OF WOMEN NATIONWIDE Here's what it felt like a year later. Check out the best signs, as well as Viola Davis' must-watch speech. And take a look at what Trump had to say about it. [HuffPost]
TWO IED'S EXPLODE AT FLORIDA MALL No one was injured in the blasts at the mall 30 minutes outside of Tampa. [HuffPost]
ROSANNA ARQUETTE TEARED UP THANKING FELLOW 'SILENCE BREAKERS' AT THE SAG AWARDS Arquette is one of the many to accuse Harvey Weinstein. Here's what Alison Brie had to say about her brother-in-law, James Franco, who attended the SAG Awards amid sexual misconduct allegations. Aziz Ansari opted out of appearing, and no one clapped when his name was read as a nominee. Sterling K. Brown made awards show history for the second time this year. And of course ― check out all the red carpet looks and this year's winners. [HuffPost]
IF YOU DON'T LIVE ON THE EAST COAST The Super Bowl will be one you watch for the commercials as the Eagles and Patriots advance to the big game. Speaking of the Patriots, folks were none-too-pleased about the team everyone loves to hate (this reporter is still not over Spygate). [HuffPost]
'ONE SON, FOUR OVERDOSES, SIX HOURS' What happens when you follow a family struggling with addiction for a year. [NYT]
HUFFPOST OPINION: HAVE WE LEARNED NOTHING FROM HEATH LEDGER'S DEATH, TEN YEARS ON? "Some of the bigger names include Michael Jackson (2009, propofol and alprazolam); Whitney Houston (2012, cocaine, alprazolam and muscle relaxers); "Glee" star Cory Monteith (2013, heroin and alcohol); Philip Seymour Hoffman (2014, a mix of heroin, cocaine, alprazolam and amphetamines); Prince (2016, fentanyl); and Tom Petty (2017, fentanyl, oxycodone and alprazolam). For close observers, the pharmacopeia of this grim tally contained clues as to the nature and evolution of the opioid epidemic." [HuffPost]
WHAT'S BREWING
A LOOK BACK AT LAST YEAR'S GLORIOUSLY BRUTAL AND ABSURD CABLE TV CHYRONS From gems like "TRUMP DEFENDS TWEET RANTS WITH NEW TWEET RANT" to "TRUMP GETS 2 SCOOPS OF ICE CREAM, EVERYONE ELSE 1." [HuffPost]
BAD NEWS, AMAZON PRIME MONTHLY FANS Your bill for the nifty service is about to get 18% more costly a month ― unless you shift to buying by the year. We see what you're up to, Amazon. [Yahoo]
CONGRATS TO ED SHEERAN ON HIS ENGAGEMENT TO HIS CHILDHOOD FRIEND, CHERRY SEABORN He's already Thinking Out Loud about his Perfect future wedding. No word yet if it's at a Castle On The Hill (sorry, couldn't help it). [HuffPost]
IN CASE YOU'RE INSPIRED BY THE KARDASHIAN NAME CHOICE Since everyone has an opinion about Kim and Kanye naming their daughter Chicago West, here are some other popular city name choices. [HuffPost]
PEOPLE ARE SADLY STILL EATING TIDE PODS Seriously. This is not shaping up to be less of a dumpster fire year. [HuffPost]
BEFORE YOU GO
REAL LIFE. REAL NEWS. REAL VOICES.
Help us tell more of the stories that matter from voices that too often remain unheard.