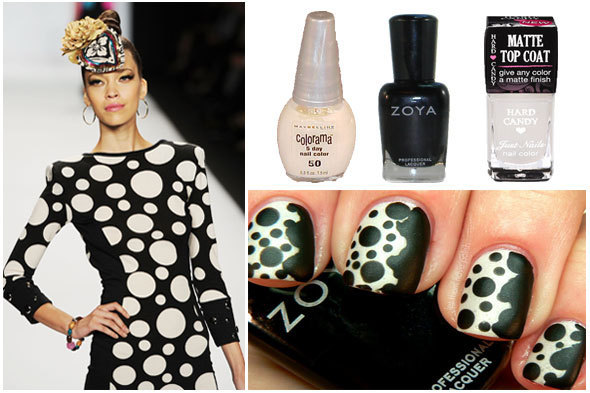 Photos: Mondo Guerra design at "Project Runway" Spring 2011 fashion show, Frazer Harrison/Getty Images for IMG; Maybelline Colorama in Cupid's Wing; Zoya Raven nail polish; Hard Candy Matte-ly in Love; Mondo Guerra-inspired nail art by Cristina of Let Them Have Polish.
I try to infuse as much color into my style, but my go-to pieces are always black and white. And while I may ride the fine line of basic, I've discovered a manicure made up of the simple shades is anything but boring.
"I knew immediately that was the dress that would inspire that manicure," she told Stylelist. "Mondo should have won."
For this look, Cristina first applied three coats of Maybelline Colorama in Cupid's Wing. Then she used Zoya nail polish in Raven to create dots in various sizes. Try dipping polish in a bobby pin or small pencil to perfect shape if your hands aren't as steady. Once dry, she stuck on strips of tape cut with a wavy craft scissors and painted the black corners to mimic the side panels of the dress. She finished with two coats of Hard Candy Matte-ly in Love.
What do you think about this Mondo Guerra-inspired manicure? Tell us in the comments section.