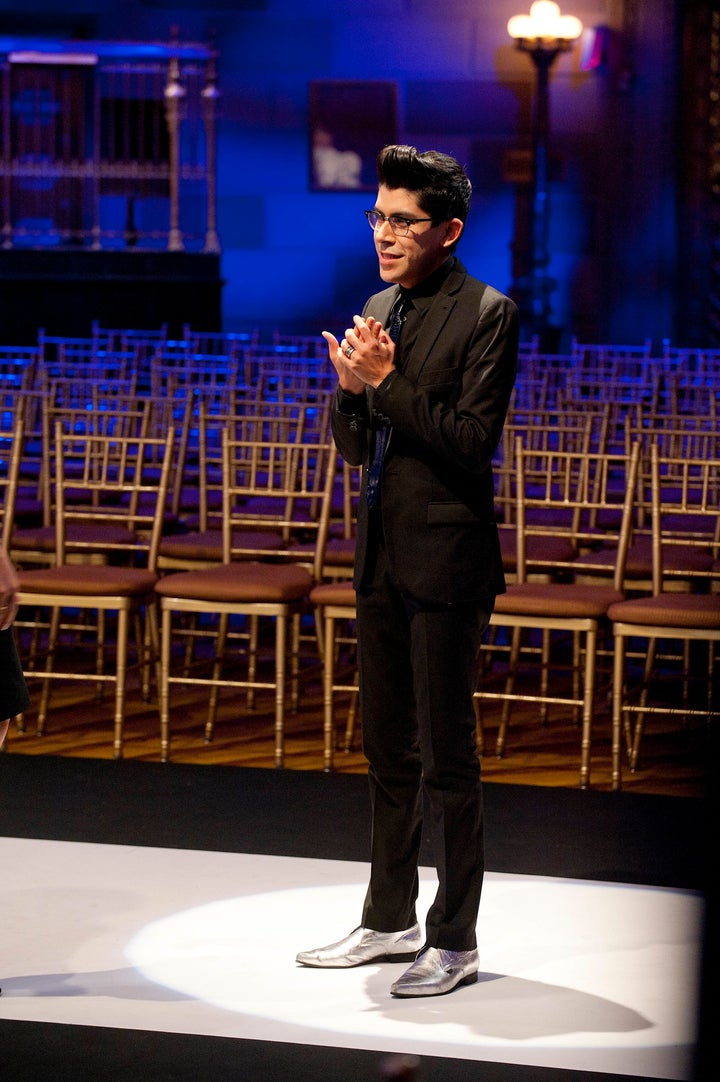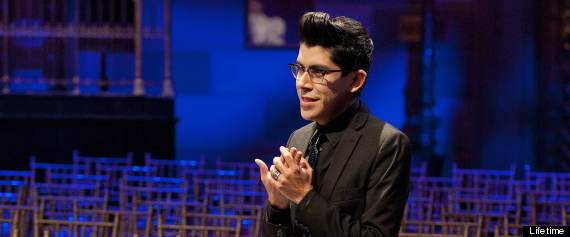 There's something surreal about picking up the phone and hearing Mondo Guerra's distinctly subdued voice pronounce my name. After all these months of watching the designer compete -- and eventually win -- on Lifetime's "Project Runway All Stars," this is like a breaking of the fourth wall. As much as we know we're watching reality TV, we still think of the contestants as characters, not actual people, right?
And yet here is the season's winner Mondo Guerra in the flesh (well, via cordless phone) ready to chat about his experience on this season's show.
After narrowly losing "Project Runway" Season 8 to Portland-based designer Gretchen Jones, the quirky designer -- who famously shared his HIV positive status with the world during a poignant moment on the runway that season -- returned to fight the ultimate fashion battle against other past runners up.
Find out what he had to say about his haters, the part of his reaction to winning that was cut from the episode, feeling "fashion shell shock," his relationship with Michael and more below!
How long ago did you wrap shooting? It must have been so hard to keep that information to yourself!
I think we wrapped in July. Oh my God, yes. It's insane. I've been sitting on this information forever. And people have no shame: They will come up to you on the street and ask, "Did you win?" And you're like, "Awkward." It's so good that it's all out. At least for the last few months I've been able to say, "Watch the show. You'll find out." I still say that.
Do you remember the moment you won or was it too chaotic and shocking?
In the moments before, I was breathing and trying to stay calm and was so nervous. And then when they announced [the winner], it took me a moment. What they didn't show was that I looked up at the ceiling and let go a yelp and I don't know where it came from.
When we all watched the show early, so we could shoot, "After The Runway," people noticed that missing.
Wait, you watched the finale all together?
Yes. And that definitely is very awkward. There's a lot of "I'm sorry" going around the room. But it's a competition. You don't expect people to be nice all the time, do you? That's why you watch the show.
It must be strange to see how you've been edited.
Yeah. That's kind of scary. Especially the week before [this final episode] was really hard for me because they showed a different side of me. It was about me having to take a moment to get away from it all, so I shut my door. You put yourself out there for viewers to scrutinize who you are, even though at the end of the day, it's about my design work. We forget that we're all just human beings.
People can be mean on the Internet, hiding behind their computer screens.
The blogs can be a little nasty sometimes. I try not to pay attention. They're one opinion. But the comments are the worst! Out of a million positive reactions, there's one bad apple and that really ruins it all. There's always someone who wants to piss on your parade.
What I'm really doing is sharing my experience. More than anything, I'm an artist and to expose your process, that is such a precious thing that we keep close to ourselves. It makes you very vulnerable. We have to remember to respect people.
Now having done this twice, after the show ends, are you thrilled to have the cameras out of your face? How long does it take to get used to normal life again?
I still dream about being on the final runway again and the outcome is always different. I wake up and ask myself, "Has it happened already?" I have kind of fashion shell shock. I don't think I have adjusted to normal life yet. I feel like there's still a camera hidden somewhere. And you don't ever want to be in my apartment.
What was your favorite moment of the season?
My favorite moment was going into the finale with Michael. I was called first and Austin was called second. We knew it would either be Kenley or Michael and, when Micahel walked through the door, I was so happy for him. Michael is such a positive person. He really learns from his experiences and he did such a wonderful job this season. He's such an amazing guy.
So, you guys are still close?
We text and talk everyday. I actually talked to him this morning about the little behind-the-scenes things we cherish and keep to ourselves. We're kind of therapy for each other. We did the show together two years in a row.
What was the lowest moment?
Being critiqued in the "Fashion Face Off," when my look wasn't well-received. Cynthia Rowley couldn't find the words to describe how disgusted she was with my look and that being a gift to my mother for her birthday [made it worse]. I got a little too attached to the idea. That was definitely the hardest moment.
Did you have a favorite piece that you created during the season? I loved that first look at the finale show.
I loved my Broadway challenge. I thought that was really beautiful. I also liked the challenge where we had to go get clothes off people's backs. I met a wonderful woman named Grace who was my muse and we've continued to talk.
Did you think you would win the season? A lot of people thought that from the beginning.
I didn't go in thinking I was going to win. I don't go into anything in general with expectations. If you put in the work and do it with love, you will always be rewarded. I was there to share my art with the viewers. I wanted to win.
How was this different then the first "Project Runway" experience?
It was a different level of competition. Everyone had experienced the production process before, so they came back with an idea of how to play the game. When Rami was kicked off, we all were like: "Oh, well, none of us are guaranteed to make it to the final."
What are you going to do with the money and the editorship? Are you actually in the Marie Claire offices or not so much?
I am so excited! Joanna and I communicate via email on a weekly basis and just sort of bounce ideas off each other. They're really excited to have someone like me, who is not necessarily an editor, but an admirer of fashion. It's a chance to celebrate self expression.
In terms of the money, right now, I'm just letting it sink in. I may take a bit off the top for a little bit of a vacay. I've always wanted to go to Spain. After I won the avant-garde challenge on Season 8, I bought myself a really nice Louis Vuitton bag that I always wanted and I would never have been able to afford. I arrived with $14 in my bank account, so this has come full circle. It sounds cheesy, but "Project Runway" saved my life. It really did change my life.

Support HuffPost
The Stakes Have Never Been Higher
Related
Popular in the Community