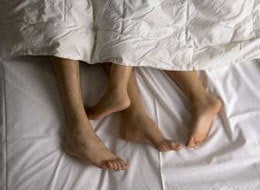 Indicators as diverse as yarn sales and trends in prostitution are pointing to a more connected (and sexual) America.

Last weekend, a friend pulled me into a local knitting shop -- her hobby, not mine. I was under-caffeinated, and feared this might trigger a narcoleptic response. To my surprise, the shop was bustling, the credit card machine chattering out receipts as energetically as the sales people were prattling on about needles, yarn, buttons and "projects." Meanwhile, the rest of the businesses in the neighborhood were virtually empty.

Good yarn isn't cheap -- a scarf's-worth of decent wool can cost upwards of $100 -- but this premium market didn't seem to be suffering from weak demand. Curious, I approached the owner. She confirmed the obvious: store sales are up, and business is hopping. I added this to my mental tally of indications that while the markets may be bust, it's going to be a boom time for love.

Let me explain.

Today, between an economic crisis, melting polar icecaps and a war of indeterminate outcomes, we have a lot on our minds. We're already seeing some interesting repercussions of what someday somebody will finally declare was a recession, and taking the glass-half-full perspective, some of these repercussions are actually positive. We could all use some stability in these uncertain times, and I suspect our search for terra firma will pay unexpected dividends.

The other day the IKEA catalog flopped through the mail slot proclaiming "Home is the most important place in the world," a proclamation based on a survey they conducted wherein 94% of those polled agreed with the sentiment. (I'm not sure what the alternatives were -- uh, "Work is the most important place in the world"?) Certainly, this is a self-serving message for a furniture company, but I think they're right.

Home is going to be the sun of our personal solar systems for the foreseeable future. With gas prices up and disposable incomes down, there will be more home cooking than nights on the town, more Tivo and Netflix than multiplex, and more gifts made than purchased. Many who were cash-rich and time-poor will find their surpluses inverted, and their priorities realigned to favor the ever elusive "quality time" -- a concept that we might want to take more seriously.

When the weather's bad (either meteorologically or economically), people turn more readily to "indoor sports" (and I don't mean Wii, though October video game sales were indeed up 18% year over year). At Jimmyjane, the design-centric sexual accessories brand I launched in 2005, we're seeing strong evidence of this -- 2008 online sales will double last year's figures, and products emphasizing connection have been particularly popular.

Meanwhile, according to CNBC, the high-end escort business is "thriving", even in this down economy. There's a new trend on the rise in that market -- the "GFE". The "Girlfriend Experience" includes talking, cuddling, foreplay and -- contrary to what we all learned from "Pretty Woman" -- kissing. The GFE is taking over where the "PSE" or "Porn Star Experience" used to reign. Apparently, even Johns are seeking connection (albeit a fabricated one).

At Jimmyjane, we recently sent out a newsletter about holding hands, and it was among our most popular this year. Though the delivery was tongue-in-cheek, the sentiment is genuine -- let's get back to basics. Our search for solid ground will have us moving from the conceptual to the tangible, from surface to substance. Nothing's as reassuring as resting your head on a loved one's chest, and perhaps what's underway is a metaphoric shift from fake boobs to real bosom.

There are indications that the economic adversity we face will reinforce personal bonds, and "significant others" will redouble their significance. More than ever, emotions are running close to the surface and people are actively seeking an outlet. Interestingly, the biggest step you can take toward great sex is to improve your communication and connection with your partner, and an unexpected benefit of our uncertain times is that they conspire to strengthen both.

So if, in the turmoil of the coming months you're wondering about the quality of the sex going on in your neighborhood, stop by your local knitting shop. Nothing says love like a handmade scarf, and I think we'll be seeing a lot of them this holiday.

What America needs is a return to the tactile, a grounding in the present, and an emphasis on connection. Is our nation vulnerable right now? Absolutely. And vulnerability is one of the most important contributions you can bring to any relationship. So, knit one, purl two, and let's get back to love.