Money isn't everything. These days, when people start complaining about their daily misfortunes, a friend or therapist might suggest that they sit down and draw up a "gratitude list" in order to better appreciate their assets and blessings which they so often take for granted.
While many people think of gratitude lists as an outgrowth of 12-step programs or the ever-expanding genre of self-help books, precious few are aware of their link to a 1946 hit musical with music and lyrics by Irving Berlin. One of the many songs made famous by Ethel Merman was Annie Oakley's Act II production number entitled "I Got The Sun in the Mornin' and the Moon at Night." Here's a clip of Merman performing the song during the Music Theatre of Lincoln Center's 1966 revival of Annie Get Your Gun.
The Merm put her stamp on lots of songs by such Broadway titans as Irving Berlin, George Gershwin, Vincent Youmans, Cole Porter, and Jule Styne. Ironically, one of the duets which she introduced in 1939's Du Barry Was A Lady was given a second life when it was added to the score of a 1954 television version of Cole Porter's Anything Goes that co-starred Frank Sinatra and Bert Lahr (Merman's original partner from the stage version of DuBarry Was A Lady).
"Friendship" returned to the musical stage in a 1962 off-Broadway revival of Anything Goes that starred Eileen Rodgers. Since then, it has become an integral part of most productions of that beloved Broadway show.
To my knowledge, there was no original cast recording of Cole Porter's score for Du Barry Was A Lady. That's a real shame because it glows with the songwriter's mischievous wit in his lyrics for "It Ain't Etiquette" and "But In The Morning, No!"
I'd never come across "When Loved Beckoned" and "Katie Went to Haiti," but "Well, Did You Evah!" was recycled for the 1955 movie musical, High Society. In 1975, the song was used by Peter Bogdanovich in At Long Last Love. In the following clip it is performed by Cybill Shepherd, Madeline Kahn, Burt Reynolds, and Duilio Del Prete.
Another gem from Du Barry Was A Lady was "Give Him The Ooh-La-La." Although Merman never recorded the number, Carol Burnett performed it in a 1956 segment of Omnibus.
San Francisco's 42nd Street Moon recently revived Du Barry Was A Lady with Bruce Vilanch starring as Louie Blor (the role created by Bert Lahr on Broadway). The plot revolves around a simple device: Blor is the ladies washroom attendant at a nightclub who has won the lottery. Although he's in love with singer May Daly, she's in love with her friend Alice Barton's brother, Alex.
When Louie's replacement, Charley (Jordan Sidfield), suggests that Louie can succeed at wooing May by giving Alex a Mickey Finn, Blor gets distracted and forgets which drink is intended for Alex. After passing out, he dreams that he is really France's King Louis XV and that May is the beautiful Madame Du Barry. Complications quickly ensue.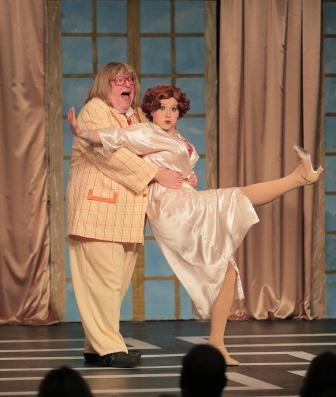 Louie Blor (Bruce Vilanch) and May Daly (Ashley Rae Little)
in Du Barry Was A Lady (Photo by: Patrick O'Connor)
As it turns out, Louis XV's chances of hooking up with Madame du Barry are equally dismal. But the show allows for some delightful costume work, visual sight gags, and a great deal of mugging on Vilanch's part.
What becomes most apparent from watching Du Barry Was A Lady onstage is that they no longer write new musicals for actors with the kind of personality and stage appeal that a great comic like Bert Lahr developed while working in vaudeville and burlesque. Nor are there any unique voices around today (like Merman's) which might inspire a Broadway composer to write a show with one particular singer in mind for the leading role.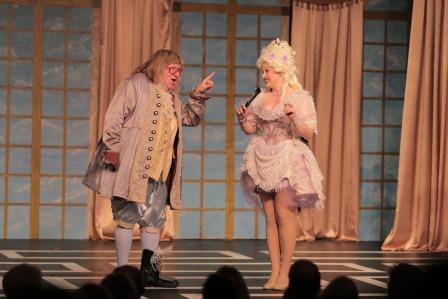 King Louis XV (Bruce Vilanch) with Madame du Barry (Ashley Rae
Little) in Du Barry Was A Lady (Photo by: Patrick O'Connor)
It's difficult to resist the bawdy charms of a script whose minor roles include Fondue, Paingrillé, La Marquise de Gruyere and La Comtesse de Roquefort. While Vilanch delighted the audience whenever he was onstage, 42nd Street Moon's production of Du Barry Was A Lady benefitted handsomely from Ashley Rae Little's brassy performance as May Daly as well as Zack Thomas Wilde's direction and choreography.
As Alex, Jack Mosbacher scored strongly with Porter's romantic ballad, "Do I Love You?" In supporting roles, Nicole Renée Chapman doubled as Alice Barton and Alisande de Vernay while Jordan Sidfield (whose toothy smile evokes memories of Robert Morse and Tommy Steele) drew comic relief as the streetwise Charley and the goofy Dauphin who has a fetish for taking apart watches. Others in the cast included company regulars Ryan Drummond, Rudy Guerrero, and Nathaniel Rothrock.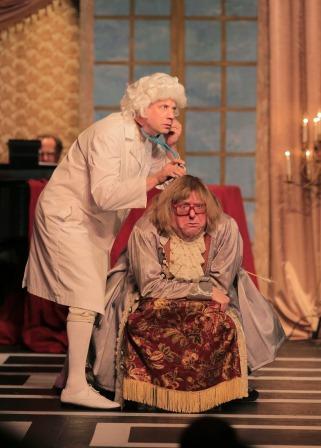 A doctor (Ryan Drummond) attempts to cure King
Louis XV (Bruce Vilanch) in Du Barry Was A Lady
(Photo by: Patrick O'Connor)
While this may not be Porter's strongest score, it's great to have a chance to see a Broadway hit that has fallen into oblivion (the 1943 film starring Red Skelton and Lucille Ball with a young Zero Mostel as "Rami the Swami" is a real clunker).
Don't try to pigeonhole Eastern Boys, a new French film written and directed by Robin Campillo that was recently screened at the 2014 San Francisco International Film Festival. On one hand, it's the story of an intergenerational relationship between a Frenchman in his 50s and a Ukrainian refugee who speaks no French. On the other hand, it's hardly an idealized fairy-tale of an orphaned hustler who's down on his luck but gets a second chance in life from a sugar daddy.
What Campillo does exceeding well is balance an atmosphere of increasing tension, suspense, physical danger, and gay politics in a narrative which will have some people on the edge of their seats and others wondering if the protagonist is the most gullible fool in Paris.
The truth is that Daniel (Olivier Rabourdin) obviously has enough money in the bank to survive having his condominium looted by a band of young thugs. Or perhaps he was just waiting for a reason to change the decor in his home from middle-aged gay chic to IKEA-style austerity.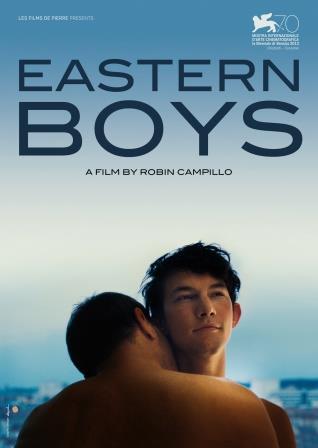 Poster art for Eastern Boys
The action begins as an overhead camera follows a group of young man making their way through the crowds in and around the Gare du Nord. These "Eastern boys" are under the leadership of their charismatic Boss (Danil Vorobyev), a Russian thug who takes great pride in his athletic body. Among the man's charges is a young Ukrainian whose working name is Marek but (as the audience subsequently learns) whose real name is Rouslan.
It doesn't take long for Marek to capture the attention of Daniel who, after a traditional cruising pattern of hide-and-seek, tries to negotiate a hookup. When Daniel gives the young man his address and sets a time and date to get together, one can almost sense the audience inwardly groaning at the sheer stupidity of his action. It's like offering an open invitation to the modern equivalent of Fagin's boys from Oliver Twist.
Daniel's doorbell rings at the appointed time, but his condo is quickly filled with the Boss's gang, who methodically loot the place of any item that could possibly have any value. As their shocked victim stands by, numbly calculating his losses, Marek appears, looking a bit sheepish.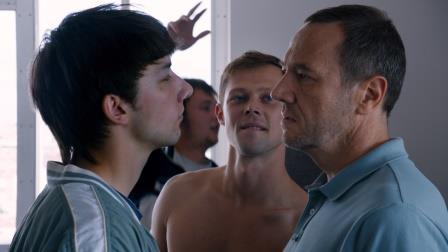 Mareki (Kirill Emelyanov), his boss (Daniil Vorobyov), and Daniel
(Olivier Rabourdin) in the looting scene from Eastern Boys
Marek returns the next evening, calmly telling Daniel "You want fuck me? Is all right. I don't mind." His fee of 50 Euros is once again agreed upon and a quick, loveless fuck follows. Soon Marek is dropping by two or three times a week and the cost of his visits has grown substantially.
There are, of course, risks and challenges. Marek (who is quickly learning French from Daniel) can't let his Boss know about his extracurricular activities. As the young man begins to trust Daniel (and explains how he knows that his parents are dead), the Frenchman's concern for the boy's safety starts to grow into a mentor-like form of supervision. Soon, Daniel is insisting that Marek/Rouslan sleep in a separate room as he methodically embarks on a process to rescue his young friend from a life of crime.
Once the Boss catches Marek attempting to break into his locker at the hotel where the gang stays, Campillo's film takes a hair-raising turn and quickly becomes a hostage situation whose resolution is aided by the hotel's black concierge, Chelsea (Edéa Darcque). Rouslan's rescue, escape, and the plot's final pivot will leave viewers shocked, scared, and surprisingly satisfied.
Why? At the end of Eastern Boys, true love triumphs over treachery and lust. Here's the trailer:
Popular in the Community