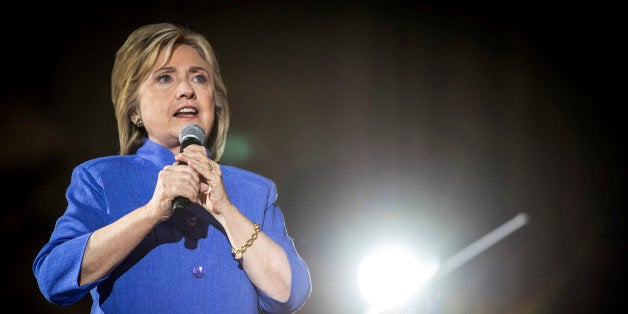 Among Iowa caucus goers, there aren't too many issues that bring people together from all across the political spectrum. Caucus goers hold wide-ranging beliefs about the government, the Supreme Court, how our president is doing, and many other issues. But there is one thing they can all agree on: they're fed up with the amount of money in our political system. According to a Bloomberg Politics/Des Moines Register Iowa poll in August, for both Democratic and Republican caucus-goers, more than nine in ten describe themselves as either unsatisfied or "mad as hell" about big money in elections.
So when CBS News host John Dickerson and his colleagues take the stage for the Democratic presidential debate on Saturday in Des Moines, they should ask about the candidates' plans for getting big money out of politics.
The Democratic candidates have outlined policies they support to reform our broken campaign finance system, including small donor public financing, increased disclosure of political spending, and a constitutional amendment to overturn decisions like Citizens United. Their proposals are strong, but now candidates need to go further and talk about their implementation plans: how will they actually put these plans into effect?
Take Hillary Clinton for example. In April, Clinton announced that campaign finance reform would be one of the pillars of her campaign. In September, she released a robust policy platform detailing her plan for money in politics reform. This was a critical step that should be applauded, but Clinton can do more to champion this issue during her campaign. If elected, will she make these reform measures a priority in her first 100 days in office? How will she help make sure these policy solutions actually take root? Consistently lifting up her plans for reform and connecting money in politics to the issues everyday Americans care most about, from the environment to health care to schools, will show voters that she is committed to reclaiming our democracy from wealthy special interests.
Voters both in Iowa and across the country already know there's a problem. Eighty-four percent of Americans think money has too much influence in political campaigns, and the same number (85 percent) believe we need significant, ground-up changes to our campaign finance system. The New York Times reported that support for money in politics reform shows "near unanimity." On how many other issues do Democrats, Republicans, and independents show that kind of agreement?
Despite voters' unified focus on money in politics, so far the moderators of the Democratic presidential debates have missed the opportunity to ask the candidates about this issue, with not a single question on it yet. The moderators this weekend - John Dickerson, Nancy Cordes, Kevin Cooney, and Kathie Obradovich - should disrupt this trend and put money in politics reform measures front and center in the debate. And candidates should show voters that they are serious about fixing this crisis by laying out the specifics of their plans to address the big-money takeover of our democracy. 
On money in politics, it's no longer enough to call out the problem. Voters need to hear about how the candidates plan to put policy solutions into practice.
REAL LIFE. REAL NEWS. REAL VOICES.
Help us tell more of the stories that matter from voices that too often remain unheard.