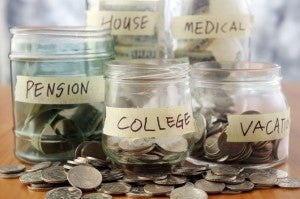 There was a time when you banked at your local branch in your community, and with a bit of luck you got free checking and a toaster upon opening an account. End of story.
Today, it's a consumer's field day for finance. There are online banks with no branches, companies that specialize in minding your finances, others that help you invest or obtain credit. You can make payments online, on mobile devices, across borders and boundaries, all almost instantaneously.
For consumers, the good news is that the bar to entering the world of finance is lower than ever, thanks to new fintech products that make it easy to save, transact, invest, or borrow. Hundreds of new fintech companies have entered the fray. Most use easy to understand user-friendly menus to take the place of mind-numbing banking garble. They've eliminated the wait times as things like monthly statements become relics. And in theory, they are safer than cash because it's easier to track digital transactions than money trails. But the proliferation of fintech products also make it pretty easy to feel numbed into inaction. Plus, there's always the gnawing feeling that you've a better deal or made a bad choice.
Beyond Payments: Focusing on Saving and Investing
A new study that looks at our emotional relationship to money and how banks can capitalize on this, published by Cognizant (based on research conducted by Cognizant and ReD Associates), advises banks to better understand their customers' relationship to money and focus on where those needs are not being met.
Phillipe Dintrans, Chief Digital Officer of Cognizant Consulting's Banking & Financial Services Practice of Cognizant, agrees that "the profusion of products and services being offered certainly add to the stress.. But he points out that fintechs have been more successful in providing solutions for what he calls, "quick money." Quick money is the type of payments you make every day -- paying the bills and buying the groceries. "Slow money," in contrast, is the kind of planned money transactions you make, be it retirement, college, or home buying. Fintechs, like Mint or Acorn, he says, have moved the dial for providing better quick money solutions.
"The least digital progress has been made for the types of money that require the most assistance," says the study. The opportunity for banks and fintech is to look towards helping customers with more personalized experiences.
"Banks," says Laurence Cooke, Founder and CEO, of Nanopay, a global currency digital payment system, "lost 40% of market share in person to person remittances." They run the risk, he says, of becoming a custodian for assets unless they start providing the services their clients need on a personalized basis.
Walking through the aisles of last month's Money2020, the trade show for the financial industry, I sought out products that might guide consumers to these loftier, more disciplined "slow" money goals. A quick look at some of the new players?
Nerd Wallet, This 8-year-old company calls itself your financial GPS. It promises to integrate all aspects of your financial life in one place, helping you evaluate the best credit cards, mortgages, home loans, life insurance and more all in one place. I like the site because it's well organized and offers simple tutorials to get better at things like long-term savings.
MoneyLion is another young fintech making it easier to invest. "We want to show someone who has no savings how to build up to $2,000 by helping them choose products that will reduce fees and take out good loans. "Non-prime consumers spend a lot on overdraft fees for example, said Tim Hong the company's Chief Marketing Officer, "we show them how to cut those fees and take a disciplined look at saving and investing. The company's newest product, MoneyLion Plus, combines guided savings, simple investing, access to low-cost loans, and other management and reward earning tools with the goal of helping a consumers build their credit, their first $2,000 in savings, all for a small monthly fee.
Marcus by Goldman Sachs is the 148 year old company's first foray into consumer fintech. They'll make fast, low interest, unsecured loans to help people consolidate credit card debt. Similarly, Oakam in the UK has made its speciality offering low cost unsecured loans to subprime consumers by measuring a variety of psychometrics attitudes to determine their ability to pay back loans. Adding gamification techniques to enforce good habits helps the customer, but also helps the company build a digital footprint of their customers to help monitor success.
Even companies like Cisco were evangelizing a new customer journey for their clients, working to transform the processes so that finance employees could spend more of their time helping customers with personalized relevant services. Jason Bettinger, Global Director of Consumer Industries, said that "the network that can make faster decisions, mitigate security threats and manage the unprecedented scale of data and devices to deliver a differentiated experience for your financial services platform is where the company is heading and it looks to maximize the interplay of humans and data at the institutions."
Meanwhile, the statistics are sobering. Forty-four percent of the US population can't come up with $400 in cash to deal with an emergency. AI and other emerging technologies from both fintechs and traditional banks will make a more personalized environment for saving and investing, but the gig economy, health insurance uncertainties will continue to add a level of stress to slow money savings.
Related
Popular in the Community