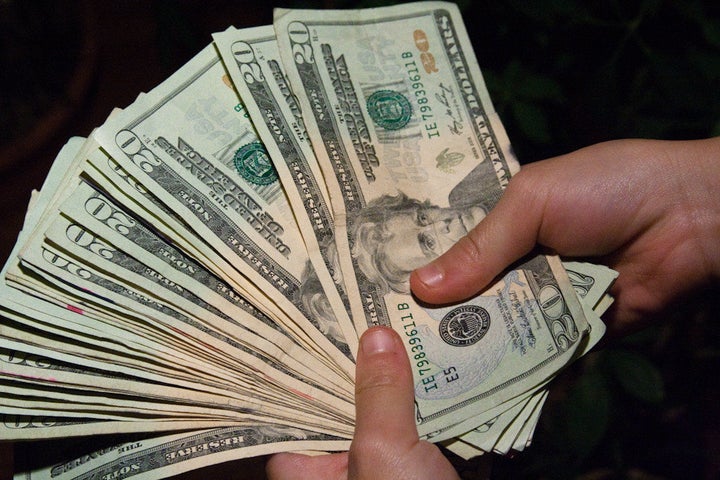 Is your portfolio manager "HOT"? That is, are they Honest, Open and Trustworthy?
You don't just want smart people to manage your money, you want smart people you can trust -- who are comfortable with the 21st century culture of transparency, not the 20th century secretive approach. To that end, you can test these eight world-class ways with anyone who touches your money -- from your investment advisor, broker, mutual fund managers, and even your 401(k) provider.
1. Open about their whole life, not just professional expertise

Always check out the people managing your money. If you can't easily find the actual portfolio manager's expertise, then how can you trust them? Examine their track record, career path and training. But investing can be personal too -- some even share their personal life. At Baker Avenue Asset Management, every adviser has two photos: one professional, one personal (CEO Simon Baker, pictured with his English sheep dog Mr. Riley, plays soccer). Investing can be personal, so get to know the complete person. Honesty builds relationships.
2. Credentials are truthful at every source
Because all investment advisers and brokers need to be registered with the SEC or with the State, you can look up your current (or potential) investment adviser at AdviserInfo.SEC.gov, and broker at FINRA.org. Read the official prospectuses of the mutual funds and exchange traded funds (ETFs) you invest in -- but check the holdings to the strategy. Funds go "off strategy" sometimes -- without properly alerting their investors. While there should be no surprises, you must trust but verify.
3. Open disclosure -- including financial position
How open is your financial firm about their financials? If you are with a publicly-listed company (JP Morgan Chase, Bank of America/Merrill Lynch, Wells Fargo), you can read their overall financial statements online at Google Finance or Morningstar. Private companies do not typically share detailed financials, but FOLIOfn shares its audited balance sheet at the bottom of every page of its website. In the SEC and Finra reports above, you can check "assets under management" for that firm's size. Transparency generates trust.
4. Committed managers tend to invest in their own portfolios
Walk the talk. Investors want to see that their financial managers follow their own advice While each family has different timeframes and tolerance for risk, it's a good sign when a portfolio manager has "skin in the game." Don't be afraid to ask how much in dollars or percentage terms your manager has in what they recommend. Do remember that advisers and brokers typically need to trade their own accounts at different times than clients to avoid actual or perceived impropriety. Joint approaches to investing can build trust.
5. Happy staff = Great service!
In volatile investing markets, keeping both investor-clients and staff happy can be challenging. Fortune's Best Companies to Work For names a select few financial firms: Edward Jones, Intuit, Goldman Sachs and Capital One. Barron's list of 1,000 Top Advisors ratings value long-time customer relationships and low turnover. Always check the Better Business Bureau for complaints or The American Customer Satisfaction Index. The more staff you know at the firm, the better sense you have of the culture towards honesty, openness and trust.
6. You get asked smart questions about goals and risks
To realize a positive return on your portfolio requires risk. Lower risk typically yields lower potential returns. Higher risk can achieve higher potential returns -- or losses. What questions does your money manager ask about risk? Charles Schwab has a very simple questionnaire to help, outlining your "time horizon" for when you need to use your money, and "risk tolerance" for how much downside you are prepared to weather. An independently administered online risk profile is offered by Finametrica, and some advisers of First Affirmative Financial Network. The core of a financial plan begins with documenting who you are and what goals you have, like the detailed profile Blossom Wealth Management posts on its website. Great money managers keep clients attentive to their life goals.
7. Your own expertise is invited and valued
At RSF Social Finance, which makes loans to enterprises that seek to "do good" as well as pay interest, customers are invited to sit down with staff and the entrepreneurs getting loans to discuss the interest rates that should be paid on that debt. This stakeholder-determined customized rate is called "RSF Prime." Venture-capital investors who are "accredited" or "qualified" (essentially, high net worth investors) can provide input and expertise to open decision-making processes, like at the Patient Capital Collaborative. Some business banks even ask questions about the customer's commitment and actions towards positive social and environmental good, like New Resource Bank does. "Going inside" the process builds mutual trust -- and understanding of the challenges of investing. Investors like Meyer Family Enterprises even open-source the insights they jointly learn with their investment adviser -- and invite other family offices and foundations to do so as well.
8. Proprietary processes are open-sourced -- and quantify unique metrics
Traditional finance and Wall Street analysts tend to be secretive -- a "black box." However, open sharing of forward thinking and meaningful data -- like the risks and opportunities from human, social and environmental factors -- are considered as outside the scope of financial downside and upside potential. Ask your financial manager what criteria they use in evaluating investments. In the case of impact investing, more than $3 trillion of investor assets professionally managed, or about 12 percent, is seeking positive benefit to human, social and environmental criteria as well as potential profit, according to the Social Investment Forum. Inflection Point Capital Management describes its five-factor "iceberg" model in detail -- reflecting the reality that more than 75 percent of stock market values are based on "intangible assets" like human capital and environmental sustainability. At my firm, HIP Investor, we have pioneered the practice of regular reporting to investors on quantifiable human, social and environmental benefits and liabilities. These "impact reports" score each security, roll it up by asset class (equities, real estate, muni bonds, hedge funds) and then summarize the whole portfolio -- which can be compared to a target, like "100 percent invested for impact by the year 2020." Money managers honestly committed to understanding all risks -- and communicating openly about them -- can help prepare portfolios for roller-coasters and surprises, and seek to mitigate those risks and capture new opportunities.
Remember: You are the owner of your portfolio. Smart money managers listen closely to clients and build trust through open, honest conversations about goals, risks and opportunities. The best money managers collaborate with clients, engage their expertise, and seek out pathways to a more fulfilling life as well as more sound investment portfolio.
Test your money manager, broker or adviser against the world-class habits above. It's your money -- only you can ensure that those managing it are honest, open and trustworthy, and work for you.
NOTE: This is not an offer of securities nor a solicitation. The information presented is for information and education purposes, and does NOT imply any investment recommendations. Past performance is not indicative of future results. All investing risks loss of principal. The author, HIP Investor and HIP's clients may invest in the securities mentioned above or have relationships with the entities mentioned above. Details and full disclosures are at: www.HIPinvestor.com
Related