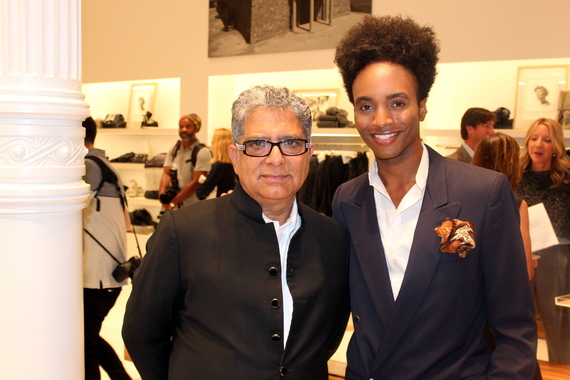 Deepak Chopra and Tony Triumph at the Harper's Bazaar x Brunello Cucinelli event in Soho, NY.
Neatly tucked into an oasis of calm beyond the usual madness of New York Fashion Week, speaking 1-on-1 with Deepak Chopra was the cornerstone of common sense, sensibility, and gratitude needed for my brain to recondition.
As I joined Harper's Bazaar and Brunello Cucinelli's Soho Flagship for an intimate cocktail event and panel conversation, I was welcomed by clean beachy hues and a lush, luminous atmosphere. Arriving a little late, I Instantly felt safe and alleviated from the pressures of my day, and of course, my journey through rush hour traffic getting downtown. There was a hidden somber to the room. "The Deepak effect," I thought.
Exclusive to friends of Deepak Chopra and Brunello Cucinelli VIPs, the room comfortably held about 60 of us. As the epochal Deepak Chopra perched a white seated lounge, along with Brunello Cucinelli President, Massimo Caronna, Bazaar executive Fashion & Beauty Director, Avril Graham kicked off the conversation with highlights to Deepak's latest book, Radical Beauty.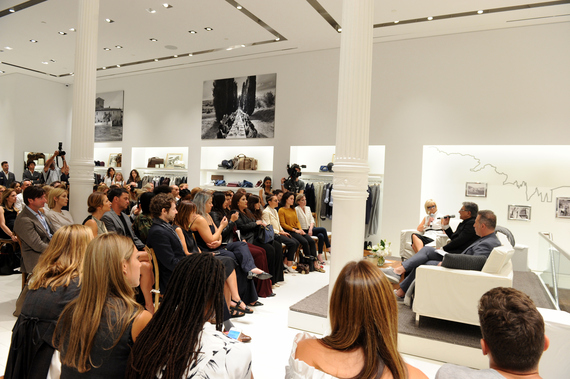 Shifting into the atmosphere, my brain suddenly did a shuffle, organizing my thoughts and examining my experiences from this New York Fashion Week in order of importance. "You can evoke it right now. Just turn your attention to who's doing the listening." I heard Deepak say. Which I took as an ethereal response to my digression of the moment, but mostly to Graham's first question, "What is Beauty?"
"If you feel a presence, it's your being. Not your mind saying you should've gone to the bathroom before this presentation started." Deepak continued, finessing a bit of laughter to the room.
"If you take this presence wherever you go you will radiate beauty. It is a presence- it's not a thought, it's not a feeling, it's not an emotion, it's not your physical body. Take your presence wherever you go and you will radiate beauty and light from the sun."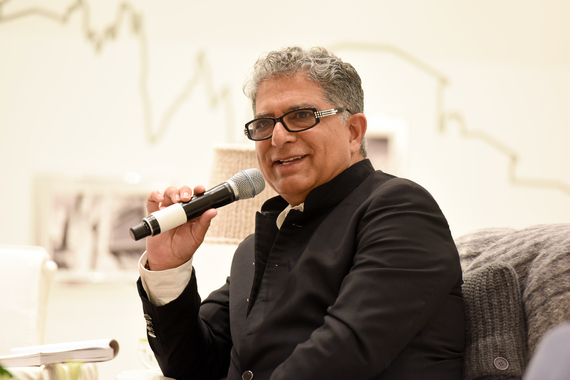 As each guest sat and soaked in Deepak's ideologies, the room whirled silent more times than I could count, each of us pondering in those famous 'Ah-ha' moments that we always hear Oprah speak about. Occasionally chiming in, Massimo Caronna offered us his wisdom and insight on the overall structure of the Brunello Cucinelli brand. Seemingly, no employee is allowed to be communicated with after the closing hours of 5:30pm, and as Brunello Cucinelli is the first person in, he is also the first person to leave at closing hours.
This conversation would remain intimate, open and candid, with Graham making reference to the annual Bazaar Icons party hosted on the previous Friday, Kanye West's performance, and Deepak's response that he'd in fact once taught meditation to Mr. West himself.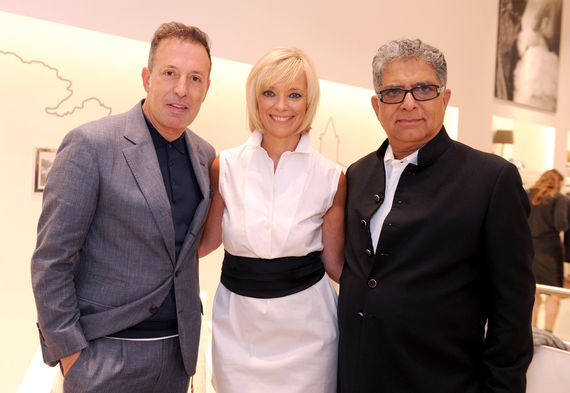 Brunello Cucinelli President Massimo Carrona, BAZAAR Executive Fashion & Beauty Editor Avril Graham, and Deepak Chopra joined forces for an intimate panel conversation at the Brunello Cucinelli flagship in SoHo, NY.
Yet before any panel discussions, and before Avril Graham took the mic and introduced Deepak to the intimate room of celebrities, VIPS, special invited guests, and thousands streaming live via social media, I was fortunate enough to get in my own set of questions with Deepak 1-on-1.
Chiming in on the topics of Money, Millennials, and Finding Happiness, tune-in below for my exclusive chat with the iconic Deepak Chopra:
Tony Triumph: As many of us desire health and wellness within Arts & Entertainment, what do you recommend for us to maintain our bliss, beauty, and balance?
Deepak Chopra: If you really feel centered all the time, if your body feels energetic and joyful, if your heart feels loving and compassionate, if your mind is restful, alert and quiet, and you are carefree, you can achieve anything. It doesn't matter what.
Tony Triumph: How do you feel about millennials and the impact they have on society ?
Deepak Chopra: Overall I feel very encouraged by the millennials, because they have a lot of idealism, they have passion and they are wanting to change the world.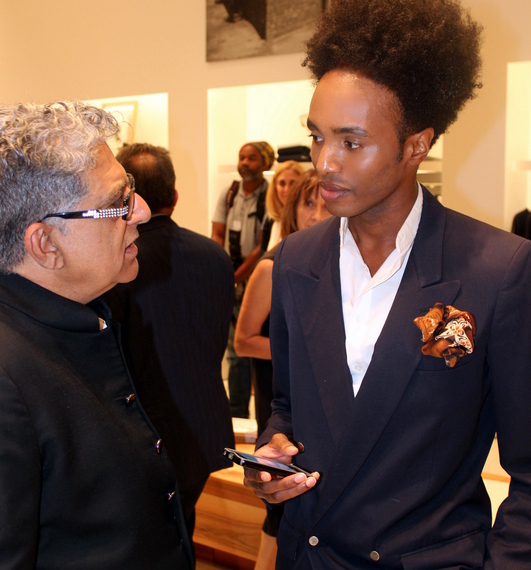 Tony Triumph: What are 5 key things that we can do to change our lives now?

Deepak Chopra: Get good sleep every night, manage your stress, cultivate healthy emotions- like love, compassion, joy, and peace of mind, move- if possible, do a little yoga and meditation, read, and eat food that nourishes your body and soul.
Tony Triumph: What is your business advice to millennials who are overwhelmed by their goals in this fast-changing world?
Deepak: I do believe in smart goals, so you should always stretch more than you think you can achieve. You should make sure everything is measurable, you should have a good team behind you that supports you, you should record your process, and you should set time limits.
An expert in the field of mind-body healing, Deepak Chopra, MD, FACP is a world-renowned speaker and author on the subject of alternative medicine. He is the author of more than 80 books translated in over 43 languages, including 22 New York Times bestsellers.

For more info on Deepak Chopra's latest book, Radical Beauty, visit Chopra.com
REAL LIFE. REAL NEWS. REAL VOICES.
Help us tell more of the stories that matter from voices that too often remain unheard.