When Annie Hart got out of her car in East Los Angeles earlier this month, she was expecting to find two white-furred, abandoned dogs who had been wandering around the streets together for weeks. What she didn't expect, however, was to find a canine couple whose friendship would astound and inspire her.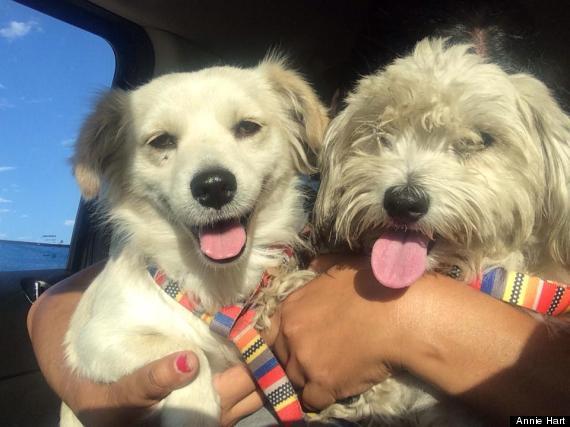 In the video above, watch as Hart, founder of the Los Angeles-based animal rescue organization Rescue from the Hart, approaches Monica and Chandler on the street and works to gain their trust. Monica was initially more skittish and fearful than Chandler, Hart said, and kept warning her companion to stay away from the humans.
Finally though, Hart was able to lure Monica into a trap, and her best friend was eager to follow.
"Chandler is very dependent on Monica and takes his cues from her," Hart told The Huffington Post in an email Tuesday. "As soon as he saw that she was in the trap, he came over to make sure she was okay and that we weren't going to hurt her. And seeing that this was the case, he quickly offered himself up to be rescued as well. He really did want to make sure he got to go wherever she was going."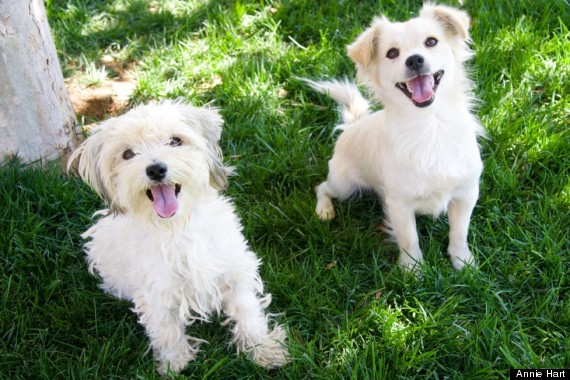 Today, Monica and Chandler — who both suffered from giardia and severe flea and tick infestations when they were first rescued — are reportedly in the pink and currently living with a foster family.
"Both pups are doing amazingly well now, considering how nervous they were on the streets," Hart said. "It never ceases to amaze me how resilient dogs are and their capacity to let go of the past and embrace a second chance."
As for the bond between Monica and Chandler? It seems as strong as ever, Hart said, and continues to amaze everyone who comes into contact with them. Animal rescue workers are now working hard to get them both to a happy forever home — together, of course.
"Monica adores having Chandler constantly by her side and looking out for her. And Chandler takes this job quite seriously, even doing his best to entertain Monica and make sure she's having fun," Hart told HuffPost. "Neither one likes being separated from the other for more than a few minutes, and seeing how healthy of a love they have for each other, we agree they need to be adopted together."
To find out how you can help or adopt Monica and Chandler or other pups like them, visit the websites of Rescue from the Hart and Hands, Paws & Hearts, a dog rescue organization that is helping to provide foster care for the canine couple and is helping them find a forever home.
Before You Go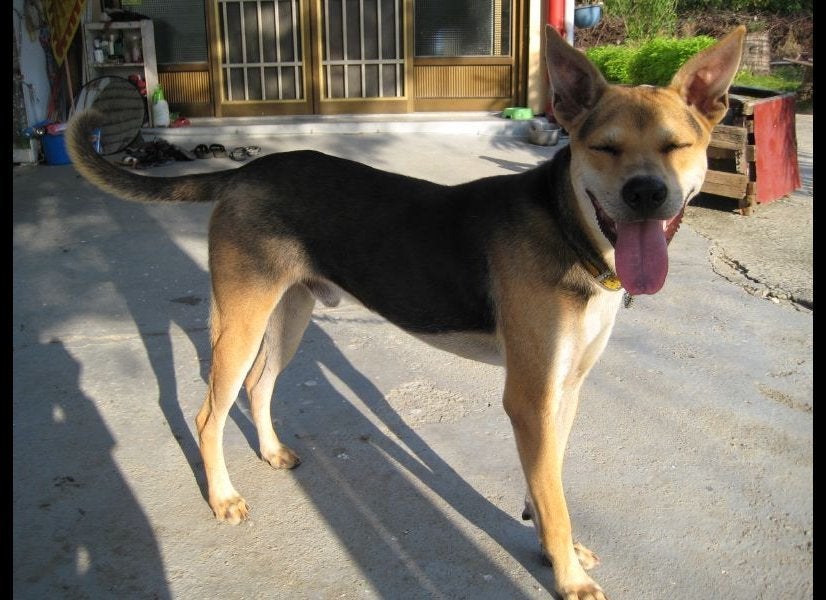 Dogs Who Can't Stop Giggling
Popular in the Community