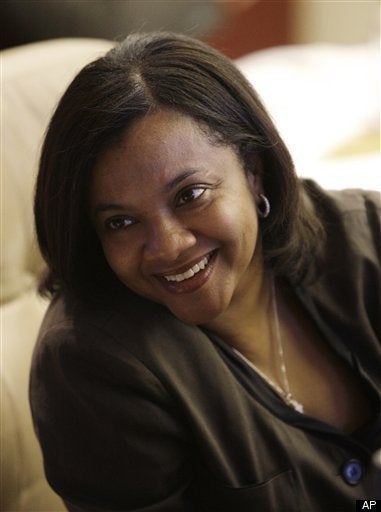 DETROIT (AP) — A former Detroit city councilwoman was sentenced to more than three years in prison Wednesday for bribery after a federal judge refused to set aside her guilty plea during a stormy court hearing dominated by a dispute over evidence of other payoffs.
As guards cleared the packed courtroom, Monica Conyers yelled that she planned to appeal. The wife of U.S. Rep. John Conyers, D-Mich., wanted to withdraw her guilty plea, suggesting she was the victim of "badgering" last year when she admitted taking cash to support a Houston company's sludge contract with the city.
But U.S. District Judge Avern Cohn, reviewing a transcript of the June hearing, said Conyers had denied any coercion and voluntarily pleaded guilty to conspiracy.
Conyers, 45, is the biggest catch so far in the FBI's wide-ranging investigation of corruption in Detroit city government. Nine people have pleaded guilty, including two former directors of the downtown convention center, and prosecutors have promised more charges are coming.
"Bribery is a betrayal of trust," Cohn told Conyers after announcing a 37-month prison term for her "egregious" crime. She quit the council after pleading guilty in June.
Conyers' plea deal was limited to taking bribes to support a contract with Synagro worth $47 million a year. But the recent trial of her former aide, Sam Riddle, exposed a series of alleged schemes involving others making payoffs to do business at city hall.
Prosecutors said Riddle and Conyers collected $69,500 by shaking people down and urged Cohn to consider the alleged crimes when sentencing her. Defense lawyer Steve Fishman firmly objected and demanded a separate hearing.
Conyers declared, "I'm not going to jail for something I didn't do."
Cohn had handled the Riddle trial and said he agreed with prosecutors that the evidence was relevant. Considering it in the sentencing would have boosted Conyers' guidelines and given the judge justification to send her to prison for as long as five years. But Cohn changed his mind – and she got a break.
"The sentence will be based solely on conviction," Cohn said.
Earlier this year, jurors at the Riddle trial heard secretly taped phone calls in which he and Conyers discussed money, bank deposits and how to split cash.
In a November 2007 call, Conyers told Riddle, "You'd better get my loot." On another call, businessman Rayford Jackson, who passed bribes to Conyers for her sludge vote, said, "You're my girl. Don't forget that."
Conyers told the judge some taped conversations would exonerate her.
During the hearing, Conyers screamed "If they have their tapes, I have my tapes too." Before her outburst, Conyers said "If I have to, I'll go to jail for what I've done, but I won't go for what I didn't do."
Fishman asked Cohn to keep Conyers out of prison and urged him to consider factors filed in a sealed document. At one point, Conyers said she had been examined by a mental-health expert at the judge's request.
She wants to appeal but her plea deal with prosecutors prevents her from objecting to a sentence of under five years.
"This case is over," Fishman said outside court.
Before the hearing, Conyers moved around the courtroom like a playful host, blowing kisses to supporters while wearing dark sunglasses. Her husband, who has an office in the federal courthouse, was not in the courtroom. Spokesman Jonathan Godfrey said he didn't know his whereabouts.
Associated Press Writer Corey Williams contributed to this report.
Watch: WXYZ-TV report about Conyers' sentencing
Popular in the Community