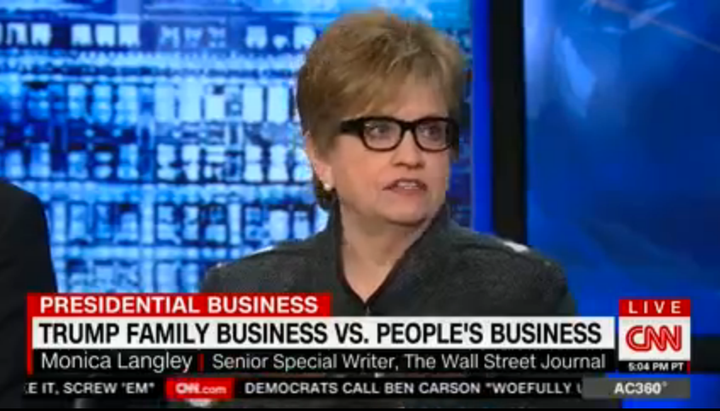 NEW YORK ― While most reporters camp out in the Trump Tower lobby and pepper visitors with questions, The Wall Street Journal's Monica Langley heads straight upstairs.  
Trump spoke to Langley from his "speeding SUV" during the "last hours of his presidential campaign," and again four days later for his first post-election interview, conducted in his office on the tower's 26th floor. Langley returned to Trump Tower on Nov. 28 and relayed insights gleaned from her discussions with the transition team that night on CNN.
CNN host Anderson Cooper introduced Langley on Monday night as the network's newest political analyst and someone who has spent "a lot of time at Trump Tower." She then proceeded to run through some likely scenarios for Trump's family in the coming months. An internal CNN announcement sent two days later noted Langley "will continue to cover Trump as he moves into the White House."
Langley is not in the same mold of past CNN contributors, who worked directly for Trump (Corey Lewandowski) or were brought on board because they were boosters for his campaign (Jeffrey Lord). But the access she has to the president-elect may be just as deep. Some of her peers seem jealous of her relationship with Trump, but more show derision for the light touch they claim she gives him.
Langley interviewed Trump more than a half-dozen times during the campaign, and her history with him sparked speculation inside and outside the Journal that she could be in line for a job as press secretary ― the public face of the White House, sparring with reporters daily in the briefing room. But Langley has no plans to join the incoming White House team, a Journal spokesman told The Huffington Post.
The spokesman said Langley's "job has been, and will remain, to cover billionaires and CEOs," while "the Journal's White House reporters will cover the Trump Administration on a daily basis."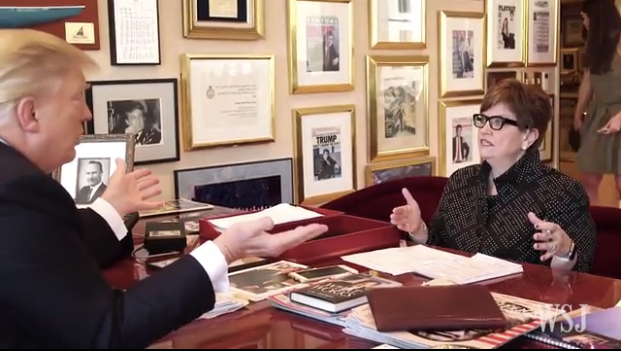 Though Langley won't be reporting daily on Trump, her direct line to the soon-to-be-president should ensure future scoops for the paper. Her ascension to a contributor role at CNN may further elevate her importance to the famously cable-news-obsessed president-elect.
Langley has never been a full-time political reporter for the Journal, but holds the title of senior special writer. Her speciality, according to her Twitter bio, is "page-one profiles of CEOs, billionaires, presidential candidates and key news figures."
The candidate in Langley's articles over the past 15 months bears little resemblance to the dishonest demagogue and misogynist Trump has been depicted elsewhere in the media. At the end of her pen, Trump comes across as a hands-on executive and political outsider guided by instinct ― a not wholly inaccurate portrayal, but one that brushes aside criticism that Trump is unqualified and temperamentally unfit for the presidency. 
Langley conducted a series of interviews with Trump early in the presidential race in his Trump Tower office and on his private jet, with the pair appearing in a photo she tweeted along with one of her articles. 
Trump has turned to Langley several times during moments of crisis. He gave her the first interview following the October publication of a 2005 "Access Hollywood" outtake in which Trump bragged about sexually assaulting women. "I never, ever give up," Trump told Langley amid calls to quit the race.
Days later, Langley described Trump as being "upbeat" and "re-energized" as the controversy played out, according to advisers, resolving "to fight harder against his opponents" inside and outside the Republican Party. Trump told Langley during another moment of campaign tumult that he'd "do whatever it takes and do it the way I think will win."
And when Mexican president Enrique Peña Nieto disputed Trump's claim the two men didn't discuss costs for Trump's proposed border wall, the Republican candidate gave his version of events to Langley that night.
She also wrote favorably about others in Trump's orbit, including Lewandowski, who boasted in a February article about his then-boss working 20-hour days. Later in the article, Trump returned the compliment (and added another), telling Langely that Lewandowski "has tremendous energy, a wonderful vision for politics and the greatest candidate ever."
Members of Trump's family also have provided Langley with access and praise. "Monica, we love you," Eric Trump said to Langley during the Republican National Convention, a day after he and brother Don Jr. spoke to her for a story on how the Trump children would be taking center stage that week.
The soft treatment and close relationships have caused some discomfort within the Journal's ranks, as reporters worry their coverage of the next president has been colored by the splashy, largely friendly takes from his preferred reporter. Langley continues to enjoy access since the election, while others digging into topics uncomfortable for Trump may not get their calls returned. 
On Thursday, the Journal published an investigation into Trump's opaque business operation and the difficulty of assessing the extent of his many conflicts of interest around the world. The article noted that "aides to Mr. Trump didn't respond to multiple requests for comment."
Calling all HuffPost superfans!
Sign up for membership to become a founding member and help shape HuffPost's next chapter
BEFORE YOU GO