 As a senior at the University of Virginia, Monica Wright earned ACC Player of the Year, ACC Defensive Player of the Year, and National Defensive Player of the Year honors. She was the second overall pick in the 2010 WNBA Draft and is already a two-time champion with the Minnesota Lynx. And yet, for the 25-year-old Wright, her on-court success -- while fulfilling -- wasn't the only thing she wanted to accomplish.
"I just really feel a call to reach out to kids," she said.
Wright, who grew up in basketball-rich Woodbridge, Va., noticed that the more time she spent giving back to her community, the better she felt about herself. Helping kids learn the tools to be successful basketball players -- and, more generally, successful people -- was important to her, so she decided to commit more time and resources to it, creating the Monica Wright Basketball Academy in 2014.
"Growing up, everybody played basketball, so it's definitely a place that I knew I had to give back to," she told The Huffington Post. "The kids probably don't know, but it really helps me more than it probably helps them. Just feeling that fulfillment of pouring into a younger generation and pouring into their well being, whether it be just listening to them or helping them on or off the court. Because growing up, sometimes at that weird age, you feel like, 'Nobody understands me.'"
Throughout her career, Wright -- who also captured two state titles as an All-American high school star -- has grown accustomed to the limelight because of the opportunities that basketball has created. She has played professionally in Turkey, Australia and South Korea, in addition to her esteemed college and WNBA career. But Wright believes that giving back to children can serve as an important use of her public stage, though she certainly isn't in it for the photo ops.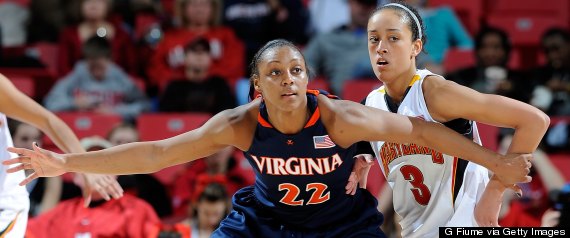 "Sometimes, as professional athletes, we can get sucked into doing community service just for the pictures," she said. "That just doesn't feel real; you never see those kids again. For me, it's more about going deeper and doing more. Inconveniencing yourself to help someone, because they expect you to be in and out, so to go above the expectation [is important]."
The learning curve for Wright has been steep, but also illuminating -- particularly when working with some of the young women she has met. Unsurprisingly, she has learned that they are experiencing many of the same questions and concerns she once did at the same age.
"If a kid is hurting," she added, "they usually can sniff out who is real and who is not. I've noticed that ... I think girls face a different challenge and [I want to] expose them to things -- such as taking care of themselves health wise -- talking to them about beauty and self-image. Empowering them," she says. "Growing up, I know that there were a lot of things that I wasn't prepared for, especially as a black woman in America."
What comes next in Wright's career remains to be seen. She will continue starring for the Lynx and perhaps going overseas to play during the WNBA offseason. What is quite clear however, is the pride she has for making a valuable impact in the same community that helped shape her.
Email me at jordan.schultz@huffingtonpost.com or ask me questions about anything sports-related at @Schultz_Report and follow me on Instagram @Schultz_Report. Also, be sure and catch my NBC Sports Radio show, Kup and Schultz, which airs Sunday mornings from 9-12 ET, right here.
Calling all HuffPost superfans!
Sign up for membership to become a founding member and help shape HuffPost's next chapter