"The female is supposed to be well-groomed, well-cultured, and bring all of this to marriage. So, from very early in my life, this was my training. As early as kindergarten I was taking art classes, so art was always part of my life. I also played several musical instruments and trained as a dancer. My high school experience was rich and full, and every waking moment was turned over to some pursuit."
One could assume then, that Monika Lin never struggled with her identity as a visual artist, though she did struggle with her identity in other ways. Those other struggles have enlarged and enriched, and are a major preoccupation of the art that she produces today.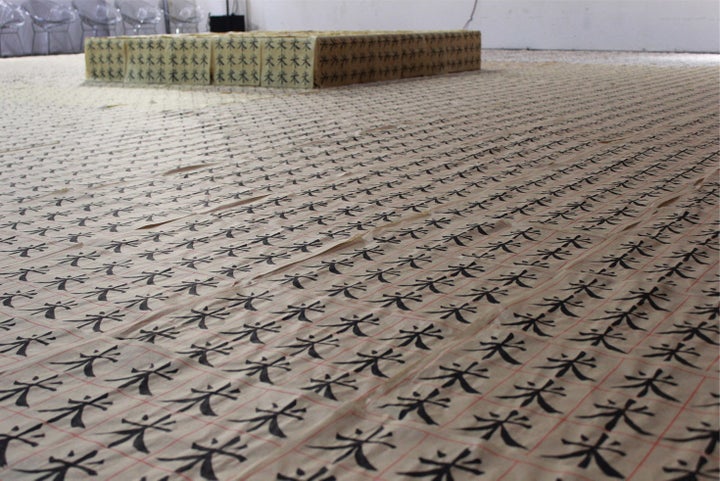 Born in Manhattan to birth-parents whom she never knew, Monika was adopted by a Swiss mother and a Chinese father who chose her because of their racial identities. Raised between New Jersey and California in the early 1960s and 1970s, she found life difficult and confusing. On the one hand, says the artist, her adoptive parents conveyed to her the sense that she was truly wanted; yet, her beginnings as someone who was given up for adoption at birth conveyed a sense of tremendous rejection.
Says the artist, "My case was the first adoption case that the lawyer in question handled. As such, he made some fundamental errors in what he was doing. Years later, at the age of 27 actually, when I started asking tough questions of my adoptive mother and really started to want to know more about my birth mother, she handed me my adoption file. At the bottom of that file was a handwritten piece of paper, a questionnaire, that let me know that my birth mother was quite young when she had me, and she was ethnically Chinese. The big surprise for me though, was that my father's last name was given as Ramos. That was a very interesting revelation and indicates some other possible cultural reality."
These days the artist identifies as Asian Latina American.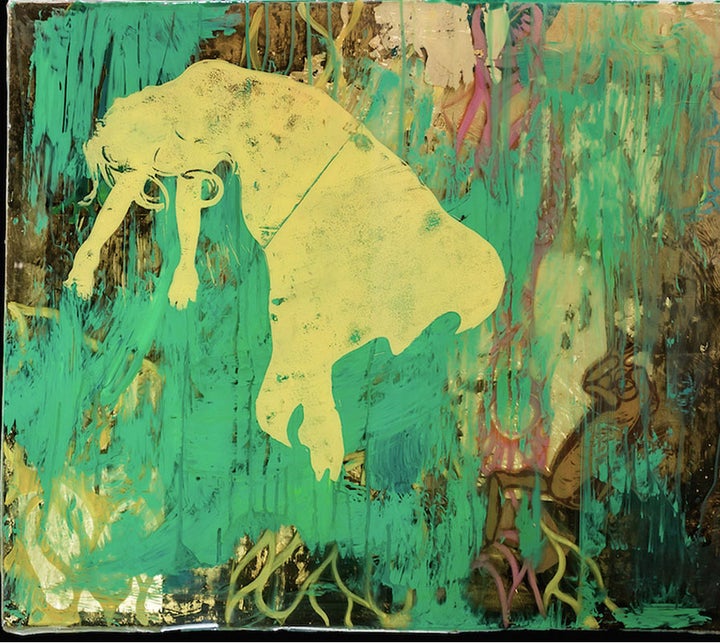 When she was still quite young, the family moved from New Jersey to California, in close proximity to the Bay Area. For Lin, her childhood is defined by the time before and after the family moved to the Bay Area. Says Lin, "I went to high school in an economically diverse farmland area. White collar professionals were moving into these farmland communities where blue collar families had lived and worked for decades. I guess you could say that my family, too, was part of the white-collar influx although I was one of only six non-white students in a 650-student body campus."
Nearby San Francisco, with a more diverse body of people, was her refuge and provided the visibility lacking in her suburban community.
In high school, the artist found herself producing angry, banal paintings in a classical style. "One was of two birds of prey fighting each other which I titled Love Birds." By then, she was beginning to articulate feelings of ostracism and loneliness. Lin's work caught the eye of a teacher at her high school who applied to various colleges on her behalf. Lin ended up getting a scholarship to the College of Creative Studies at UC, Santa Barbara.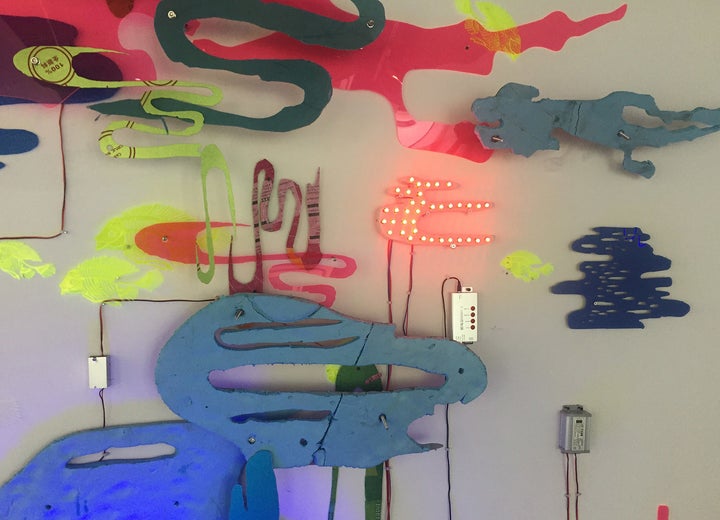 "This is a small, intimate college that admits a small number of students over the four years that one is there," Monika Lin shared. "It is a multi-disciplinary institution and has no grades." Following a class on mythology, Lin started making paintings from mythology and narratives, but what she found herself doing was repositioning what it meant to be the hero and 'heroic' in a myth. She also started challenging what kind of characters could be heroic.
"These were quite large paintings, and in them I jumbled the story of the hero and the myth. What that means is that in a painting you would have a little boy standing on a chair that I would title Neptune. Implicitly, the question I was asking in that work was – How does a young and vulnerable child grow into a god figure? When I think back about that time and that work now, I keep asking myself one major question over and over again – What happened to the female figures? Why was I not working with any female figures in these paintings?"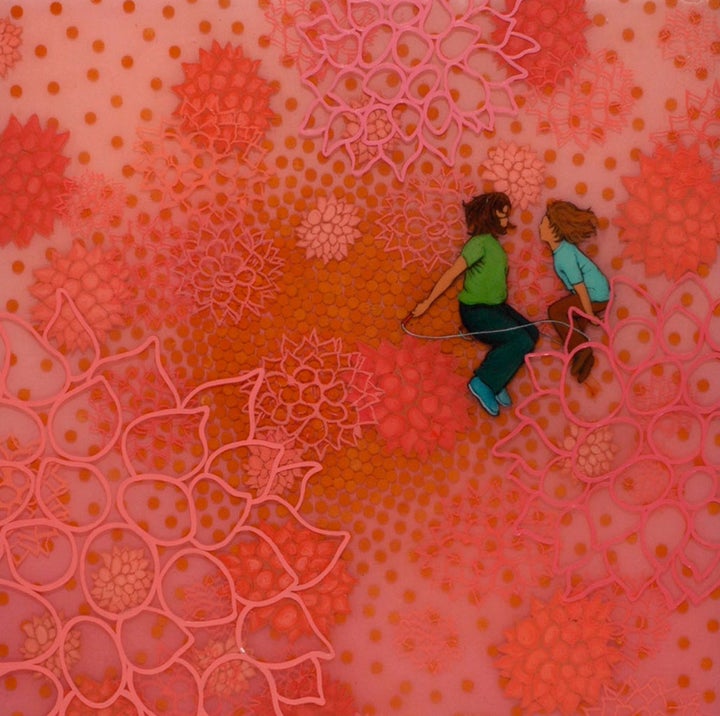 Monika Lin ended up leaving this undergraduate institution. For a couple of years, she worked alone in her studio and started laying the groundwork for doing community outreach before she enrolled in Mills College to finish her bachelor's degree. She found Mills a very intimate, comfortable and expansive experience. She particularly recalls a number of art historians who helped her to become a thinking artist; and research and writing became an integral part of her process. It was at Mills that Monika Lin had her first course in non-Eurocentric art and identity politics courses, and this led to a desire to know more about herself – racially and ethnically – and also led to her incorporating three-dimensional work and social practice into her art.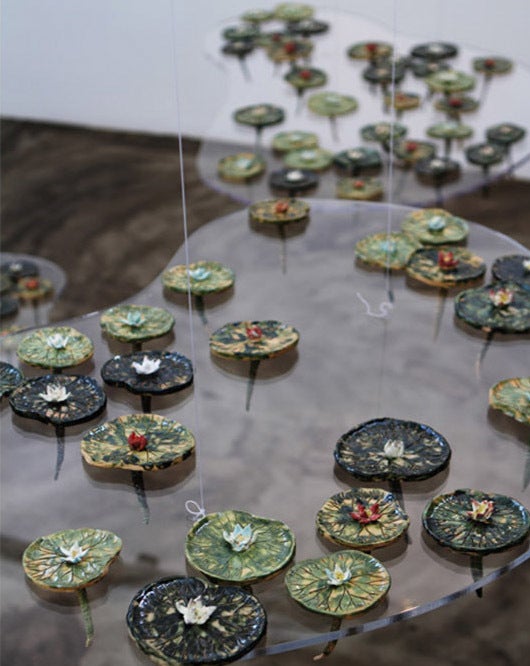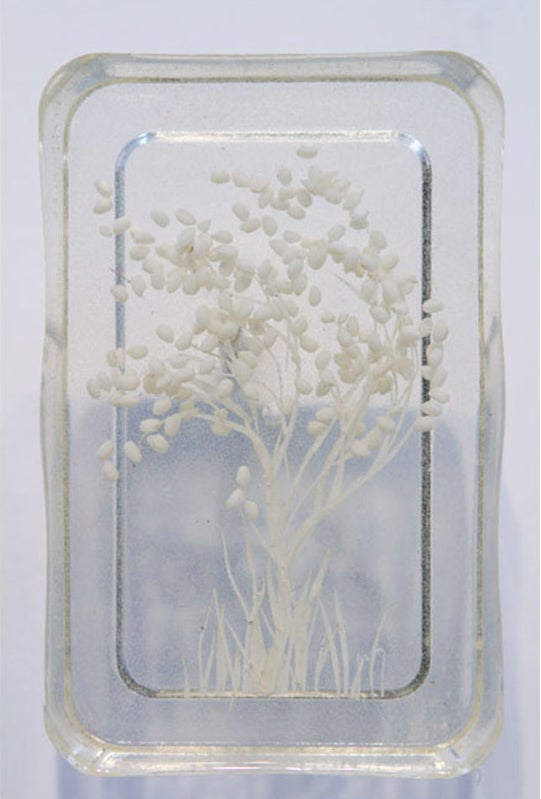 Most notable of her time at Mills College was a work entitled 45 Seconds which consists of women sharing their encounters with sexual violence. The work all started when the artist came across a poster that said that every 45 seconds a woman is raped. Lin got women to record their stories of rape and sexual violence. She then utilized sheets of plexi-glass like mirrors, so viewers saw themselves reflected more clearly as they walked through the piece. Often, as they walked through, they would hear a woman speak her story. 45 Seconds formed part of Monika Lin's thesis show from Mills College and would lead to her being picked up by several galleries right away.
For the next two decades Monika Lin would work at refining her work. She also started a non-profit art organization, Nika Gallery Inc., which found spaces not in use and had artists use these spaces to do outreach and education work. For the past 11 years, the artist has been living and working in Shanghai, where her work has been well received. She also returned to the School of Visual Arts in Manhattan to complete her MFA degree.
The artist's most recent exhibition in New York returns to the question that has always haunted her work – Where are the women in mythology? Her latest body of work centers quite forcefully around narrative and mythology, but this time around women in heroic positions. In Monika Lin's new works, she shifts around oral tales and the people who have power and agency in these tales.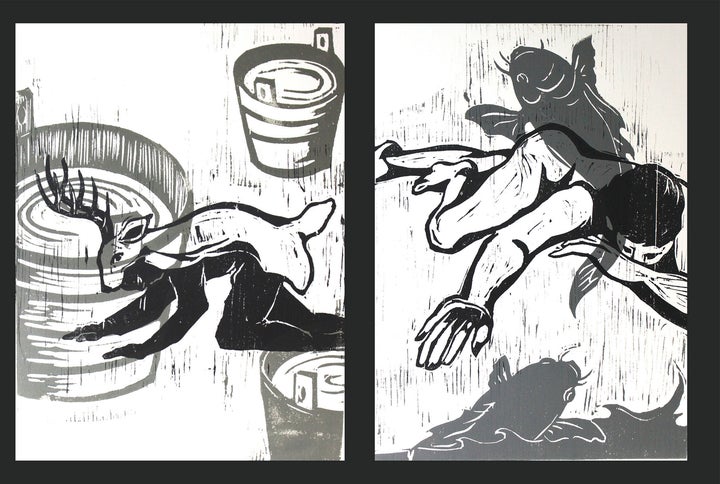 "In the past, our folk and fairy tales were for the common folk. It was only when they were transformed from oral tales into literary tales that they became something for the elites. When the elites became involved the oral tales developed moralistic elements and gender disparities and gender issues became more pronounced. For me, I want the wildness back, and I want the sensuality and the pleasure."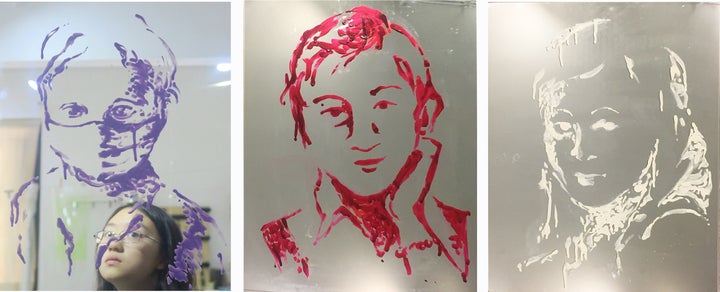 Consequently, her most recent works are an ode to enchantment and reference Japanese 'Octopus women' – women seen in pleasure, ecstasy, and enjoying their sexuality either with themselves or others. But for Lin, women's reality is not one dimensional, and so she took on the beauty myth in a work in which she interviewed nail-polish workers in salons in Shanghai and asked to paint their portraits with nail polish and nailbrush.
"This work is most directly related to my 45 Seconds work because it is lush and beautiful at the start, but gets increasingly noxious as it goes along. I had to constantly be taking a break from the nail polish fumes. I could take a break from the paintings, but the women working in the salons, the ones making us beautiful, the ones breathing in these fumes day in and day out, they cannot take a break from what it is that they are inhaling. All in the name of making us beautiful. This, too, is part of women's daily lives."
Popular in the Community