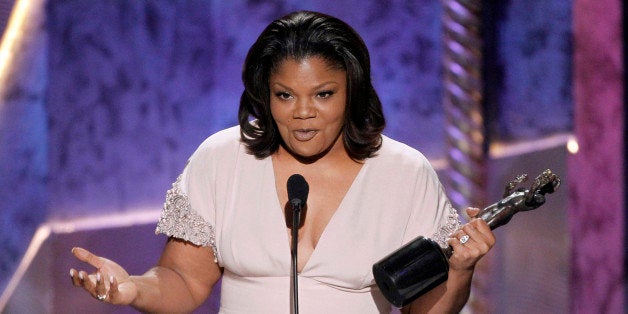 Reality television's evolution from bug-eating contests to 15-minutes-of-fame glamour shots was swift. There may be no show to evidence that more than "Charm School." For three seasons from 2007 to 2009, the VH1 series chronicled "Flavor of Love" and "Rock of Love" castoffs being taught so-called conventional etiquette in hopes of being crowned charm-school queen and winning $50,000. Its debut season's viewership reached an impressive 5 million, but the show arguably wouldn't even garner a green light today because of the retrograde femininity standards it promoted.
Mo'Nique hosted the inaugural season, so when HuffPost Entertainment talked to her last week about the new movie "Blackbird" and her ongoing "blackballed" fracas, we asked what she thought about the show's mark on reality television almost a decade after it aired. Insisting she doesn't turn a critical eye to the values perpetuated in "Charm School," Mo'Nique told us its intent was not to instruct women how to behave.
"I wish there could have been a charm school that I could have attended because I believe there are things that we can learn and be taught that oftentimes we don't get," she said. "So when they called me for 'Charm School,' my thought was, 'Let's go in here and love up on each other and figure out how we can make each other better.'"
"Charm School" recruited Essence beauty director Mikki Taylor and talent agent Keith Lewis to aid Mo'Nique in tutoring participants on proper manners and dress. The New York Times noted the show's murky gender and race politics back in 2007, when a VH1 executive was quoted saying the Flavor Flav franchise had an "urban vibe."
"Well, that makes you say, what's an ideal woman? What's the ideal woman?" Monique said when we asked her about "Charm School" promoting a specific type of womanhood. "Should we present ourselves with respect? Yes. With love? Yes. With kindness? Yes. With no judgment? Yes. Now, does it depend on what skirt you have on? No. Does it depend on whether you have long hair or short hair? No. If you're fat or skinny? No. If you're white, black, Asian, Latina? No. We're just asking for you to be principled. That's all."
Still, even Mo'Nique admits that those principles stem in part from the general reality-television craze, which prompts people to subscribe to all sorts of ideas in order to experience the sensation of faux-fame.
"People want to know what you are doing in your bedroom, in you bathroom, in your kitchen, in your basement, in you backyard, in your front yard, in your car, on your yacht," she said. "People want to know that. I don't knock it. Whatever floats your boat because, again, we're asking people with this movie 'Blackbird,' 'Don't judge.' Right? We're saying, 'Don't judge me,' so how can we then turn around and judge? So I don't judge it."