We must say, with its ultra-feminine gowns in lace and tulle, punctuated by sultry lace-covered peep-toe pumps, the petite designer achieved her goal of crafting a "dream-like" collection.
HuffPost Weddings caught up with Lhuillier after the show to ask about her latest collection and her thoughts on current bridal trends.
What was the inspiration for the collection?
I wanted this to feel very dreamlike, fantasy-like -- like they were fairies floating in the room. I stripped a lot of layers out. These gowns have a lot of intricate detail, whether it's the draping or the use of lace or the overlays. What I really believe in is the long-sleeve column gown -- I showed it multiple times. How I created volume was the overskirt, that just showed you that there was something full about it but you didn't have the weight of past seasons, so it was the stripping of layers, and making it more sensual.
What are the three biggest trends you're seeing right now?
Sleeves are very strong in my eyes, long sleeves with a column silhouette. I also think dresses with a lot of draping in lace are another strong silhouette. And I think the overskirt is going to be a very popular accessory. Girls love to transform their gowns, so this is just having two looks in one night. All of the overskirts [on my dresses] come off, so you can have two looks.
I know shoes are a new endeavor for you this season. Tell me about them.
These shoes are very elegant; they're sexy because they're cut open on the front, and then they have a lace overlay on them. It's just a nice finishing touch to the ensemble. I've been [designing dresses] for many years now and brides have always said, 'Monique, what shoes do I get to wear with this dress?' so this is me finishing the look from head to toe.
Who is the 'Monique Lhuillier' bride?
I think the girl who gravitates to my look is fashionable, she wants to look elegant, she wants to feel sexy on her wedding day and she appreciates the workmanship that goes into the gowns. She knows that this is a really special experience and moment in her life, and she wants to make sure she gets that.
Click through the slideshow below to see photos of Monique Lhuillier's Fall 2013 collection and the designer after her presentation on Saturday. Photos by Damon Dahlen, AOL.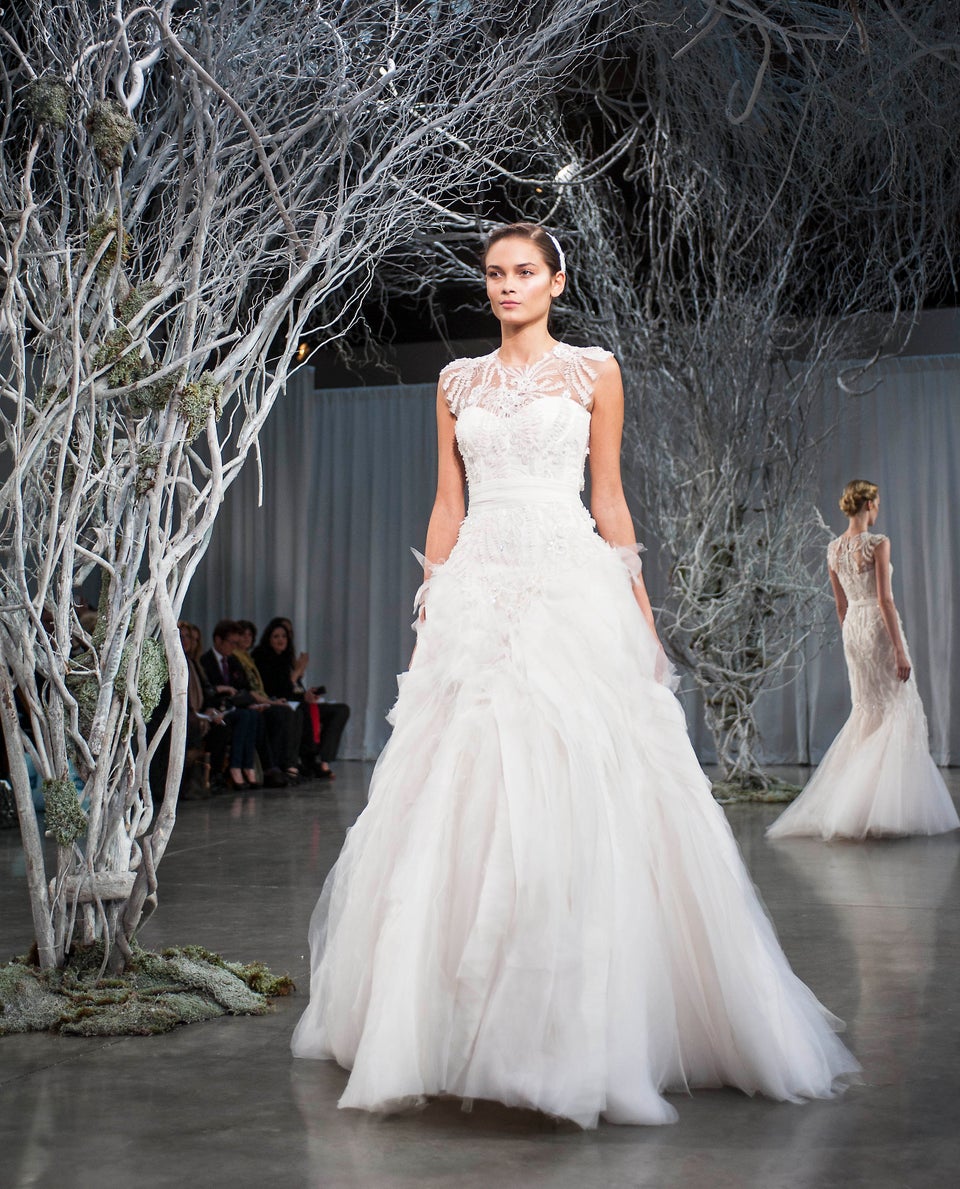 Monique Lhuillier Fall 2013
Related