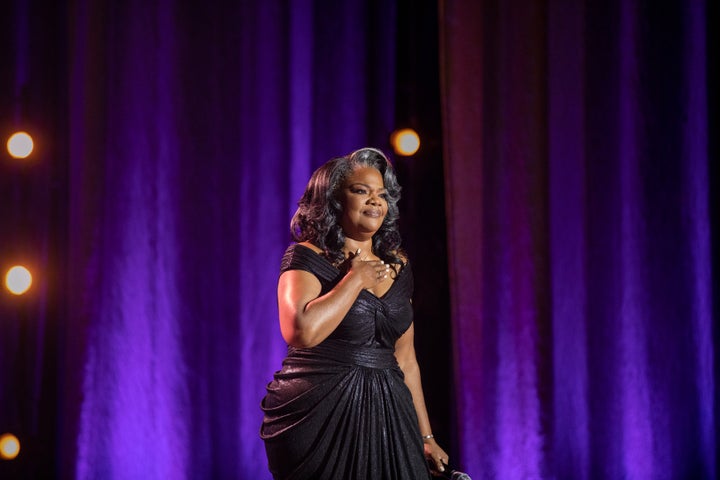 It took a lawsuit, a settlement and a new multimillion-dollar deal, but "My Name Is Mo'Nique" finally premiered on Netflix on Tuesday.
The Oscar winner had every right to fight for the pay she felt she deserved. But the actor-comedian, who notably portrayed Nicole "Nikki" Ann Parker Oglevee on the iconic sitcom "The Parkers," is so funny — and not enough conversations about Mo'Nique in recent years have centered just on that. This stand-up special ― her seventh overall, first for Netflix and first since 2016 ― is rightly being hailed as a "reintroduction."
Throughout the special, Mo'Nique speaks with self-assurance and conviction, showing she has a gift for making hard topics and stories about difficult people funny.
The special begins with Mo'Nique en route to the stage as we hear a voice saying "Mo'Nique is a legend" while another says "She burned too many bridges and her career is over." There is also audio of Charlamagne Tha God calling her "Donkey of the Day" on the popular radio show "The Breakfast Club."
After she hits the stage, Mo'Nique assures the Atlanta crowd that by the end of her set, we will come to understand why she takes the stances she does.
"Y'all looking at a bitch from special education," Mo'Nique explains in the opening minutes of the revelatory stand-up special, which is a little over an hour.
When Mo'Nique arrived in middle school, she found herself in classes that she did not belong in for 7th, 8th and 9th grade, she says. This was a tragedy on its own, but along the way, she also learned that her mother was illiterate (how she likely ended up in this predicament to begin with).
It was during those same years that Mo'Nique developed her instincts to protect those perceived as vulnerable. In one instance, she approached the bullies in her school for mocking her classmate in special education. In another, she stood up to a racist school administrator that noticeably segregated the students by race.
Her compassion also extends to the queer members of her family that have been largely rejected by everyone else.
Like her Uncle Donald, whom she describes as "very dark and very gay." When he was growing up in the 1930s and 1940s, those two things were reasons enough for his own family members to isolate him.
Or as she puts it, to "throw him away."
And Uncle Tina, whom she uses to touch on the role church plays in breaking up families.
Mo'Nique explains that her grandmother, a devout Christian, thought she was a failure because she brought a gay child into the world.
I know intimately what that experience feels like, so I understand deeply how it impacted her to watch her Uncle Tina struggle with alcoholism because her mother couldn't love her the way she needed to be loved. How it made Mo'Nique afraid to reveal to her grandmother who she really was due to the fear of losing her family.
As Mo'Nique shares, she had fantasies about women and felt "cowardly" when her grandmother died because she never told her. Because she wanted to keep that love intact. Because she liked feeling like her grandmother's "prize."
She was famous and rich, but couldn't deal with that type of rejection.
Overall, Mo'Nique tackles hard subject matter and talks about the worst in people, including or especially family. She describes her mother as a gambler, her father as an alcoholic, one brother as a molester and another as a thief who tried to commit fraud in her name.
There is lighter fare in the set. This same grandmother also gave Mo'Nique the kind of instructions about giving head that lead to involuntary hospitalization at a psychiatric ward. And by the time she came to grips with her attractions to men and women, Mo'Nique still had to tell her current, and third, husband, she shares.
So much has happened to Mo'Nique, but she says she has made peace with her past. Some of the people she's publicly fought now understand her — including Lee Daniels, whom she mentions in her set and is sitting in the audience. The two are once again working together — first on the BET+ film "The Reading," which premiered in February, and next on "The Deliverance," an upcoming horror film for Netflix.
By the end, I, too, came away with a better understanding of Mo'Nique. She has seen and experienced a lot and has a better grasp of why she fights for herself so hard.
It makes for a funny special, and if you've been a fan of the comedy veteran since "The Queens of Comedy," hopefully you're in agreement that it's worth the wait.
Popular in the Community