Actress Mo'Nique and her husband, Sidney Hicks, have been married for 10 years, and they credit some of their success to their open relationship.
This week, the couple sat down for an interview on "The Preachers." While the talk show's hosts thought the arrangement was Hicks' idea, they were mistaken.
"When we first came out with it, everybody said 'Oh my god, how could Mo'Nique let that man do that to her? Because she's this big woman and he's this good-looking man, and because she has this money she gonna let that man do whatever he want to do just to say she has a fine man.' Here's what makes it beautiful ... It was my idea."
Mo'Nique explained how, as an entertainer on the road, "there may be times I want to be with other men," and she wanted to be honest with her partner and best friend.
"Who am I to tell her what she can and cannot do?" Hicks added.
For years, the "Precious" star has been forthcoming about her marriage, dating back as far as 2007. And it's all about building a foundation of trust and reciprocity.
"Defining what makes a marriage work is like asking one's interpretation of success," Hicks told The New York Times in March. "It's defined a different way by every person you ask."
Before You Go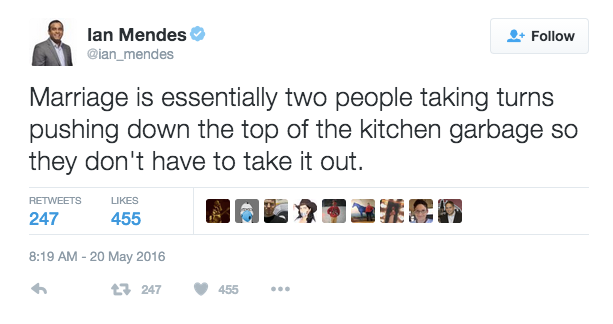 Spot-On Marriage Tweets
Popular in the Community