A master metalworker once told Monir Shahroudy Farmanfarmaian that "everything is in geometry." The Iranian artist, now 90 years old, took those words to heart, using geometric forms to connect the mathematical patterns of Iranian tradition with the minimalist shapes of Western abstraction.
"My work is largely based on geometry," Monir explained to ArtForum, "which, as you know, always begins with a single point and can move from there into a circle. Or a point can become three leading to a triangle, or four to a square, five to a pentagon, hexagon, octagon, and so on -- it's endless. I was inspired by the geometry I found in old mosques with their tile, metal, wood, and plaster work.
A comprehensive exhibition of Monir's work, spanning from 1974 to 2014, is now on view at the Guggenheim, marking her first large-scale show in the United States. The exhibition, titled "Infinite Possibility," features the artist's early wood, plaster, and mirror reliefs, geometric mirror sculptures, and works on paper, providing a thorough (and long overdue) encapsulation of the artist's career.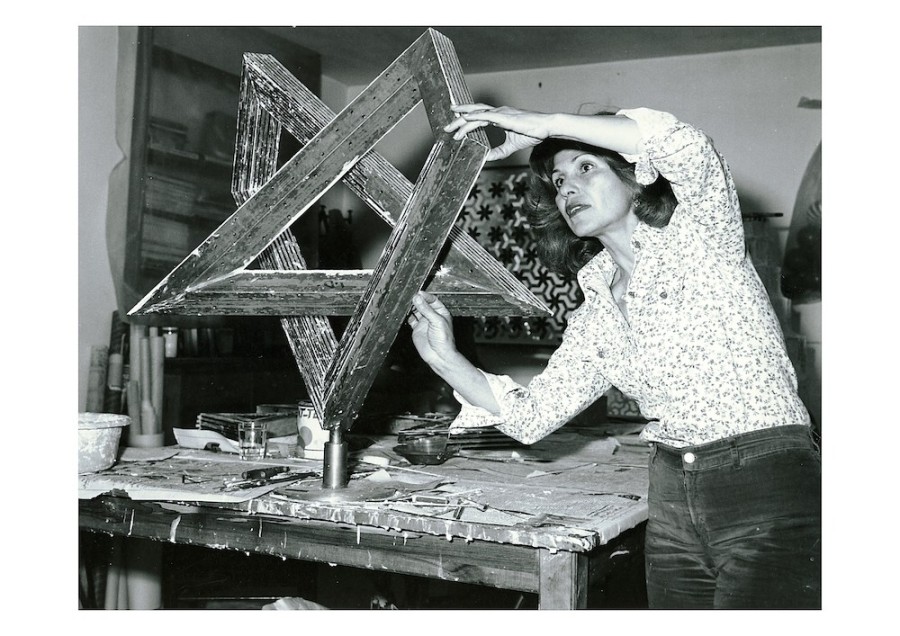 Monir Shahroudy Farmanfarmaian in her studio working on Heptagon Star, Tehran, 1975. Photo: Courtesy of the artist and The Third Line, Dubai
The artist is primarily known for two artistic techniques, almost mystically bridging past and present, West and Middle East in their kaleidoscopic beauty. The first consists of mirror mosaics, made when fragments of mirrors and glass are set in intricate designs in plaster. The second, reverse glass painting, involves images painted on sheets of glass that are meant to be viewed from the other side. Both take inspiration from Persian architecture and Islamic patterns, appropriating the ancient traditions to contribute to the modern art conversation.
Monir was born in 1924 in the ancient Persian city of Qazvin, and, according to Art Agenda, "spent her childhood in a grand old house replete with stained glass, wall paintings, and nightingales." At 20 years old, she moved to New York, where she studied at Cornell University and Parsons School of Design. She served as an illustrator at Vogue and flew in circles with the artists including Willem de Kooning, Joan Mitchell, Jackson Pollock and Frank Stella, among others. The burgeoning modernist aesthetic seeped into Monir's artistic vision, inscribing sharp-edged forms and refined color palettes into her practice.
But New York's influence was only a flicker in the mirror compared to that of Monir's home country of Iran. She returned there in 1957, where her work was influenced by Turkoman jewelry, coffeehouse paintings, mathematical Islamic patterns, Sufi cosmology and Iranian architecture, specifically that of religious sanctuaries. "Around 1971, I went to a certain shrine," she told The Guardian, "and I became very awed with the way the mirror pieces were reflecting back images of the people there – the beggars, the holy men. It was so beautiful, so magnificent. I was crying like a baby."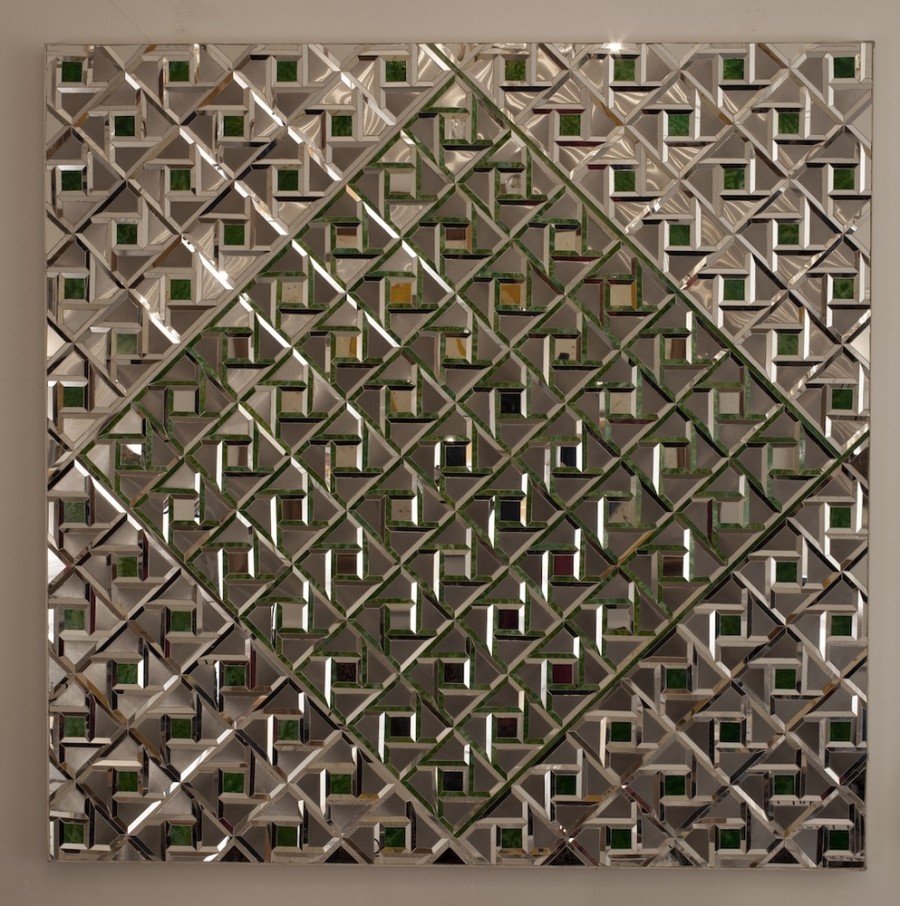 Monir Shahroudy Farmanfarmaian, Geometry of Hope, 1976, Reverse painted glass, mirrored glass, stainless steel, plaster, and wood, 128 x 128 x 5 cm, Private collection, London. Courtesy Rose Issa Projects, London, © Monir Shahroudy Farmanfarmaian. Image: Courtesy the artist and Rose Issa Projects, London
Mirrors play a crucial role in Monir's hypnotic oeuvre, in which both visuals and traditions reflect off one another, creating a space-less portal to infinity. Triangles, squares, pentagons, and hexagons give birth to infinite permutations of simple dots and lines, creating silvery pretzels and refined disco balls that bring the aesthetic of mosaic Mosques to the realm of fine art. She refers to these sculptures as "geometric families," continuing the ever-present duality of comfort and modernity.
In 1979, Monir lost work to the Islamic Revolution, a time during which many artworks were tragically confiscated and destroyed. The artist began a 26-year exile in New York, eventually returning to Tehran and setting up a permanent studio in 2004. During her time in America, Monir felt the shroud of difference cast upon her as Iranian. "In America, after the revolution, after the [Gulf] war, nobody wanted to do anything with Iran," she said. "None of the galleries wanted to talk to me. And after September 11 –- my God. No way. Rather than being a woman, it was difficult just being Iranian."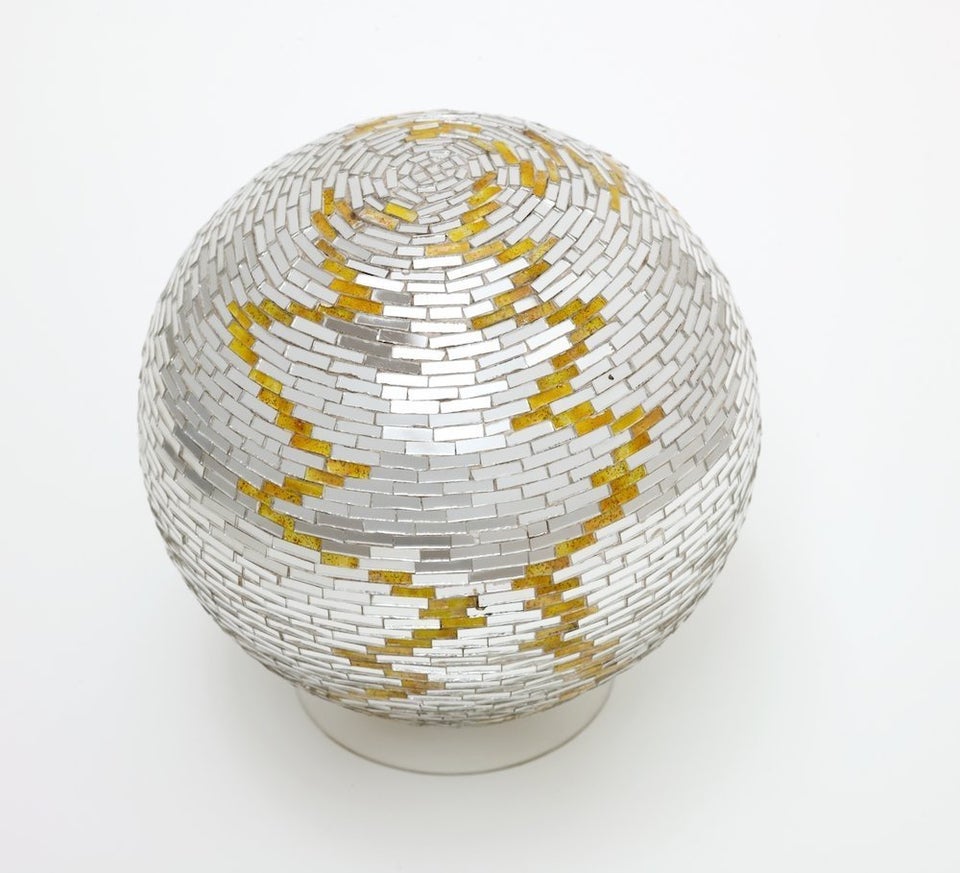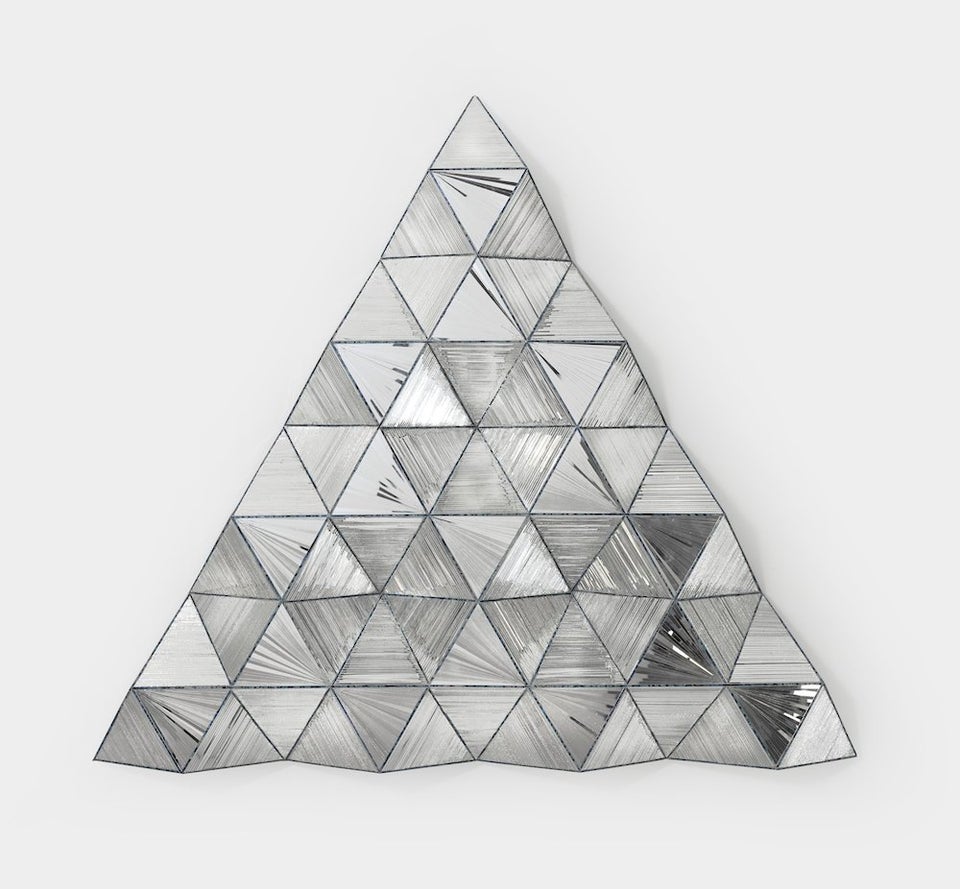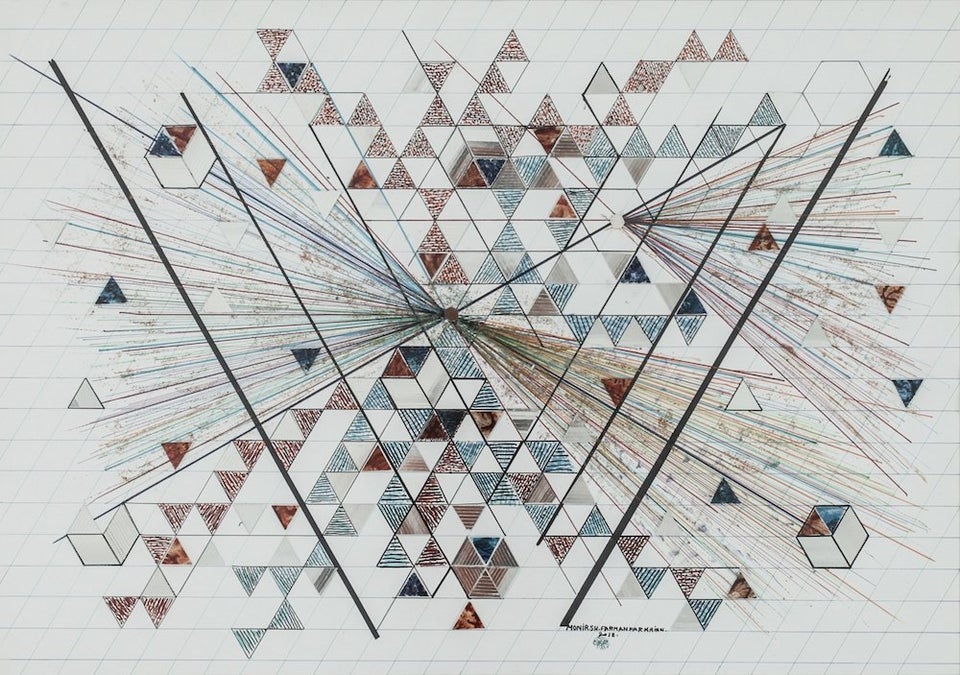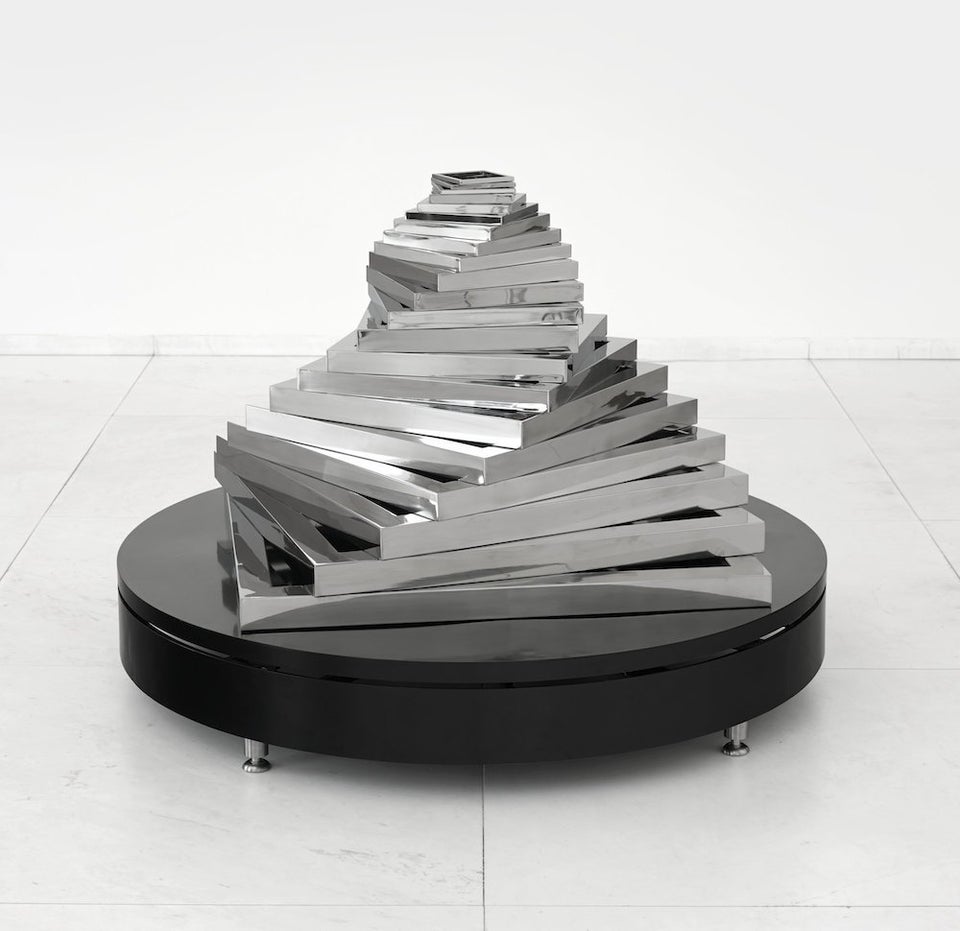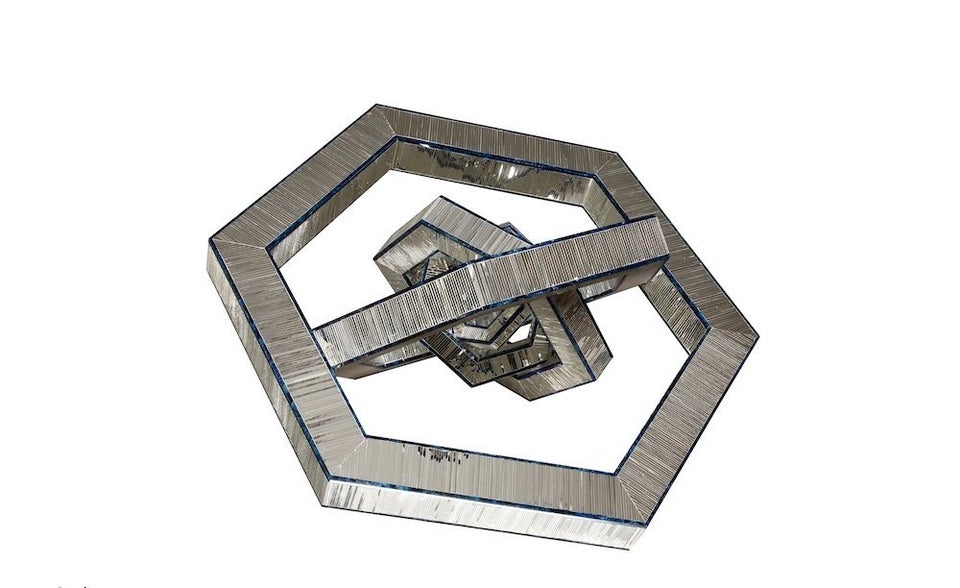 Support HuffPost
The Stakes Have Never Been Higher
Related
Before You Go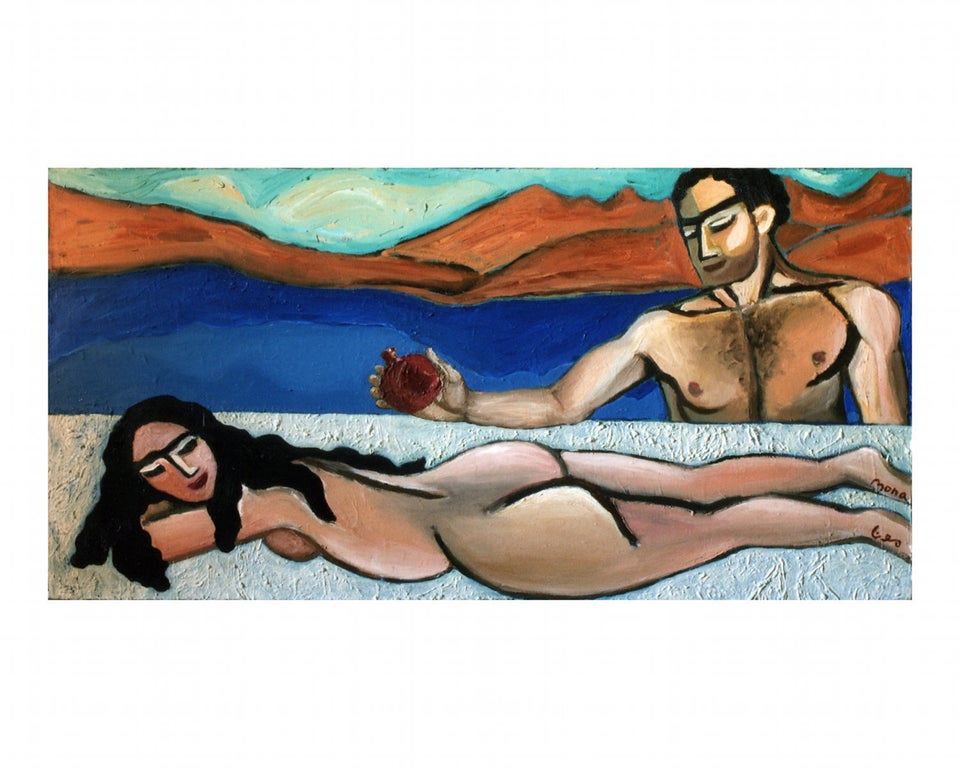 Mona Shomali
Popular in the Community