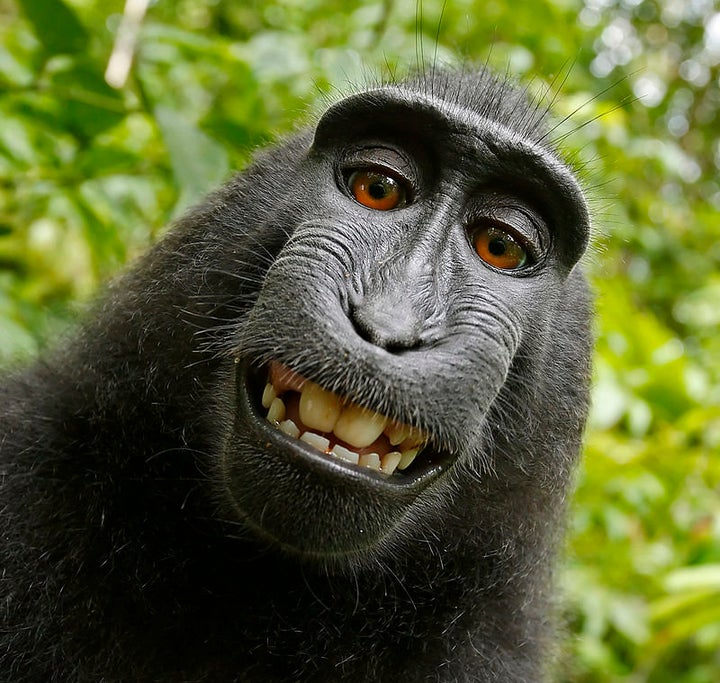 It was the selfie seen around the world; a toothy snap taken inadvertently by a grinning macaque monkey.
U.S. District Judge William Orrick said in a tentative opinion that "while Congress and the president can extend the protection of law to animals as well as humans, there is no indication that they did so in the Copyright Act," The Associated Press reported.
The story of the monkey selfie began in 2011 when British nature photographer David Slater was in Sulawesi, Indonesia, taking photographs of endangered crested macaques.
The photographer left his camera unattended on a tripod for a few moments, and the curious animals snatched the device and began playing with it.
It was then that a macaque named Naruto snapped the famous selfie of himself.
Since then, a battle for the copyright of the photo has raged.
Slater contends that the copyright of the image belongs to him. He has taken issue with people freely distributing the photo, saying he's suffered financial losses since no one's paying him royalties.
When Slater asked Wikimedia Commons to remove the photograph from its online collection, Wikimedia refused, claiming the photo belonged to the public domain as it was taken by an animal and not a human.
"While the claim of authorship by species other than homo sapiens may be novel, 'authorship' under the Copyright Act, 17 U.S.C. § 101 et seq., is sufficiently broad so as to permit the protections of the law to extend to any original work, including those created by Naruto," PETA said in the suit.
Last September, Slater said he was "angry as well as sad" by PETA's actions.
"This makes animal welfare charities look bad which saddens me, deflecting away from the animals and onto stunts like this," he wrote on Facebook.
On Wednesday, Orrick said he would dismiss PETA's suit in an upcoming order, calling the group's argument a "stretch," per Ars Technica.
PETA said it plans to continue fighting for Naruto's rights.
"Despite this setback, legal history was made today because we argued to a federal court why Naruto should be the owner of the copyright rather than been seen as a piece of property himself," said Jeff Kerr, a PETA attorney. "This case is also exposing the hypocrisy of those who exploit animals for their own gain."
"The act grants copyright to authors of original works, with no limit on species," said Kerr last year, per AP. "Copyright law is clear: It's not the person who owns the camera, it's the being who took the photograph."
Related
Popular in the Community