This article is part of HuffPost's Project Zero campaign, a yearlong series on neglected tropical diseases and efforts to fight them.
The 38-year-old biologist also dissects deceased rats, bats and antelopes, and meets people covered in pustulous rashes ― all in the hope of tracing the main animal culprits spreading monkeypox, a painful and contagious virus that has no vaccine and is not well understood.
"That's my work, finding the reservoir or reservoirs of this virus," said Laudisoit, who grew up in a small village in Belgium and came to Congo in 2004 to track plague-carrying rats.
For the past seven years, Laudisoit's team has traveled huge distances on their mission to identify more than a dozen possible monkeypox carriers. They track critters. They track infected people. If a bushmeat hunter kills an animal and the carcass tests positive for monkeypox, Laudisoit's team is on it.
"I'm not afraid ― you just need to be careful where you work," she said, standing among frames of squashed squirrels, stuffed rodents and monkey skulls at the Centre for Biodiversity at the University of Kisangani, in the Democratic Republic of Congo's third largest city.
But when a virus is so overlooked that it doesn't even appear on the World Health Organization's list of neglected diseases, trying to raise awareness means visiting areas where few Westerners have come before ― except to plunder resources.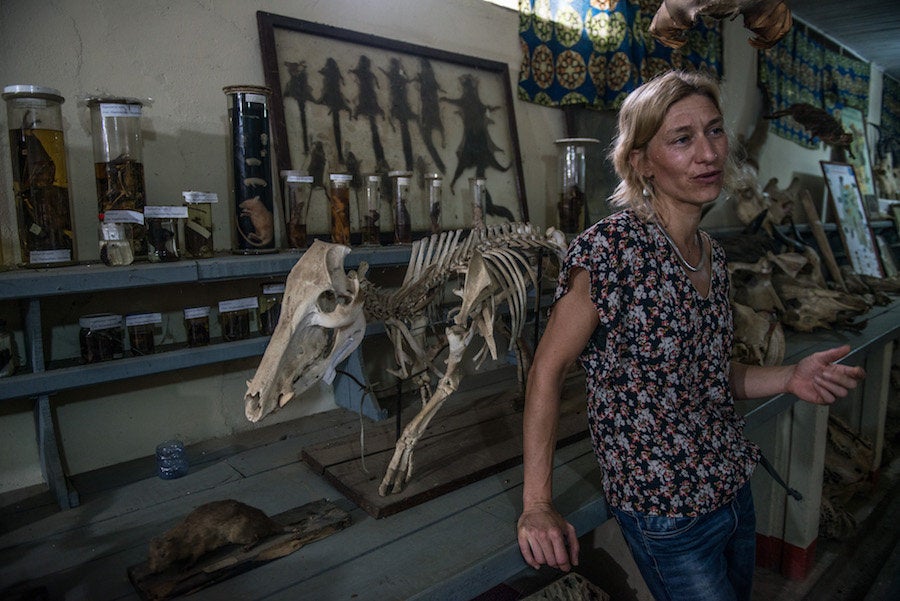 "If you're a white person and you come sailing down the river in a dugout canoe for four days and trekking through the forest, people think you're coming for diamonds and gold," Laudisoit said.
Far from seeking Congo's riches, she is looking for the origin of monkeypox. The disease was named in 1958 after it was discovered in laboratory monkeys brought from Asia to Denmark, but it originated in the forests that Laudisoit now roams.
Monkeypox was traced to Congo in 1970, when it was first found in humans. It initially causes fever, headache, muscle aches and exhaustion, and later painful lesions that blister, scab and can cause fatal infections usually from septicemia, especially in people with weak immune systems.
The virus is now known to be found in remote tropical rainforests and in 10 or so west and central African countries. And it could be spreading on the back of one of mankind's greatest public health successes ― the eradication of smallpox.
In 1980, after some 3,000 years and hundreds of millions of deaths, the world celebrated the global eradication of smallpox, a virus with a 30 percent mortality rate. It was, and remains, the only human infectious disease to be wiped from the planet. But that achievement also meant an end to smallpox inoculations.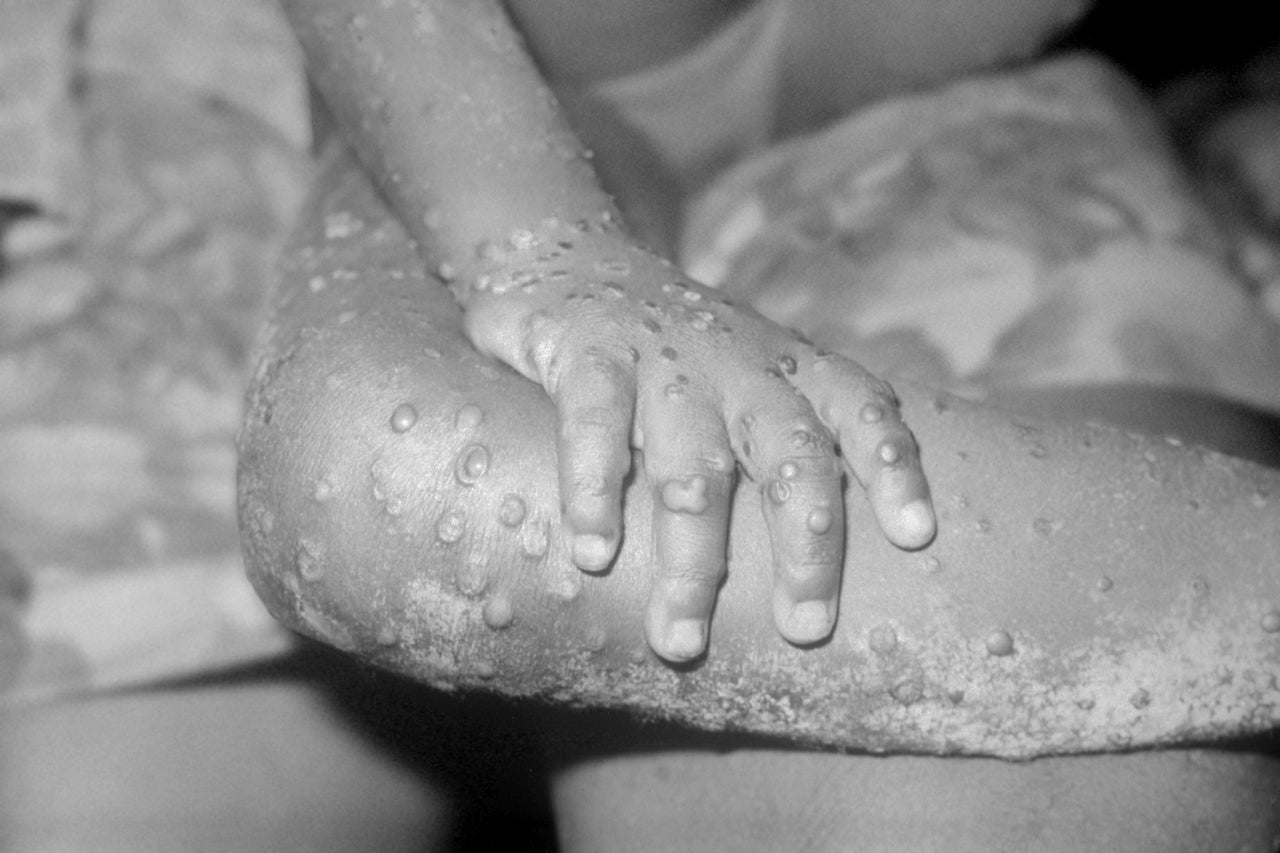 In Congo, home to more than 80 million people, the loss of the smallpox vaccine ― which provides up to 85 percent immunity against monkeypox ― has led to "an increase in cases, primarily among young people, because the herd immunity is going down," Laudisoit said.
According to Laudisoit, there were just under 50 cases of monkeypox in the 1970s. Now, some areas report more than 250 cases each year. And it's not an isolated problem. Of the total 516 health zones that Congo's Ministry of Health monitors, 216 have reported at least one case of monkeypox.
"Almost half a country that is four times as big as France is at risk of developing a disease like smallpox," she said.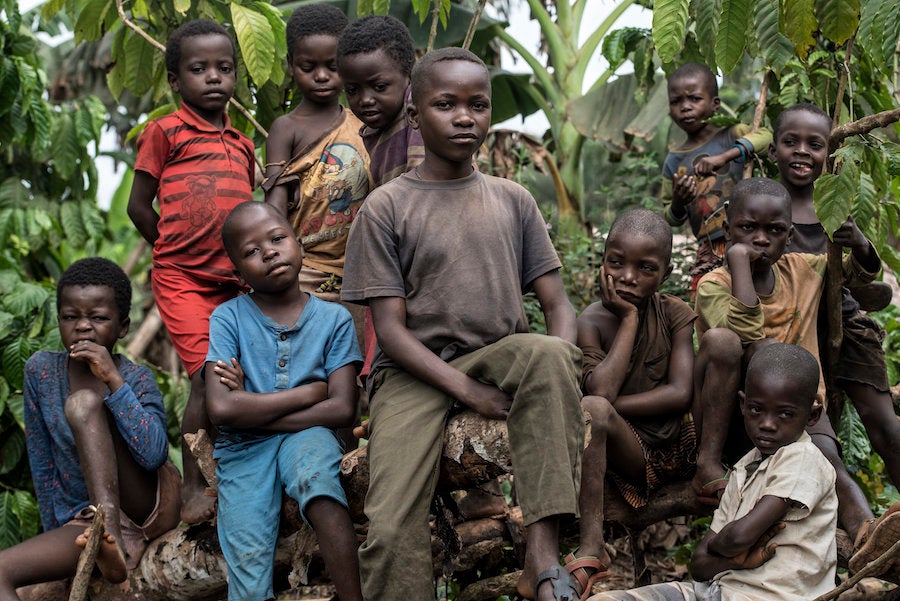 Laudisoit often goes to events held by international health organizations to share her knowledge and concerns about monkeypox. She says she sees the same apathy toward this virus as there once was toward Ebola, which was discovered in Congo in the 1970s.
"They don't care about black people dying in the bush," Laudisoit said. "They knew about Zika for 70 years in Uganda ― but when it affects Olympic Games and golfers, then they care."
"At conferences, I ask, 'If a place as big as France, Spain, Belgium and the Netherlands combined had a case of something like smallpox, wouldn't we have already reacted and already revaccinated people?' You've got to ask, because that's exactly what's happening here."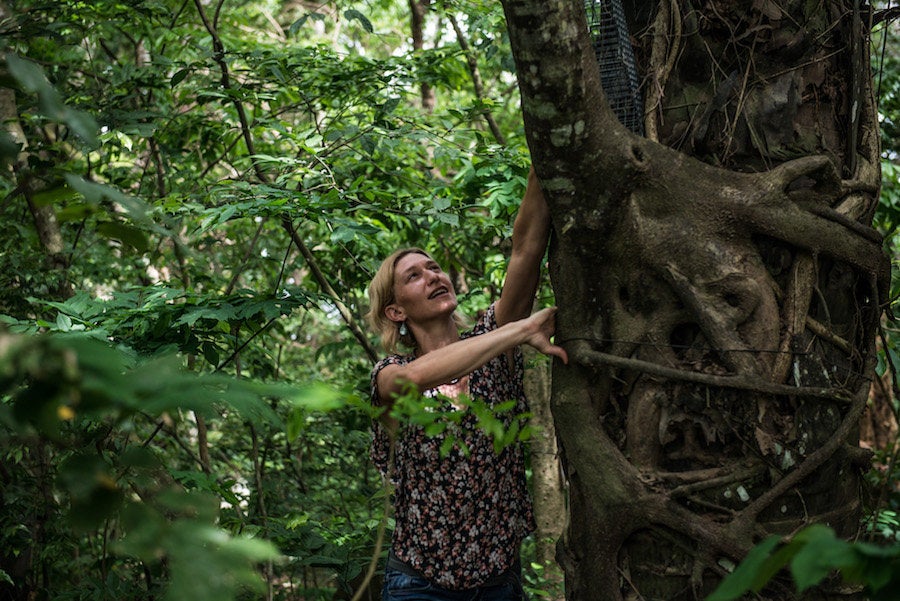 Research into monkeypox is so minimal that Laudisoit's team ― going village to village to record cases and train medics in how to identify the rash ― has cast doubt on existing data. For instance, the World Health Organization estimates that the virus kills between 1 and 10 percent of victims during an outbreak. But Laudisoit and her team have documented mortality rates that are much higher.
"The figures are completely obsolete because there are no recent studies," she said. "Last year, I investigated an epidemic. We went to a village where there were 61 cases, and 12 deaths" ― almost double the stated mortality rate.
There had been little interest in funding research and vaccines for monkeypox until a 2003 outbreak in the U.S. caused by African giant pouched rats imported from Ghana to Texas.
The virus spread from the rats to native prairie dogs at an Illinois pet dealership to more than 70 people across Illinois, Wisconsin, Indiana, Missouri, Kansas and Ohio.
No one died from these first human monkeypox infections outside Africa, and the virus was quickly contained.
But "it could have been a different story," Laudisoit thinks, had the U.S. been hit by the much more virulent Central African strain, which comes from Congo and which, unlike its West African cousin, can kill humans.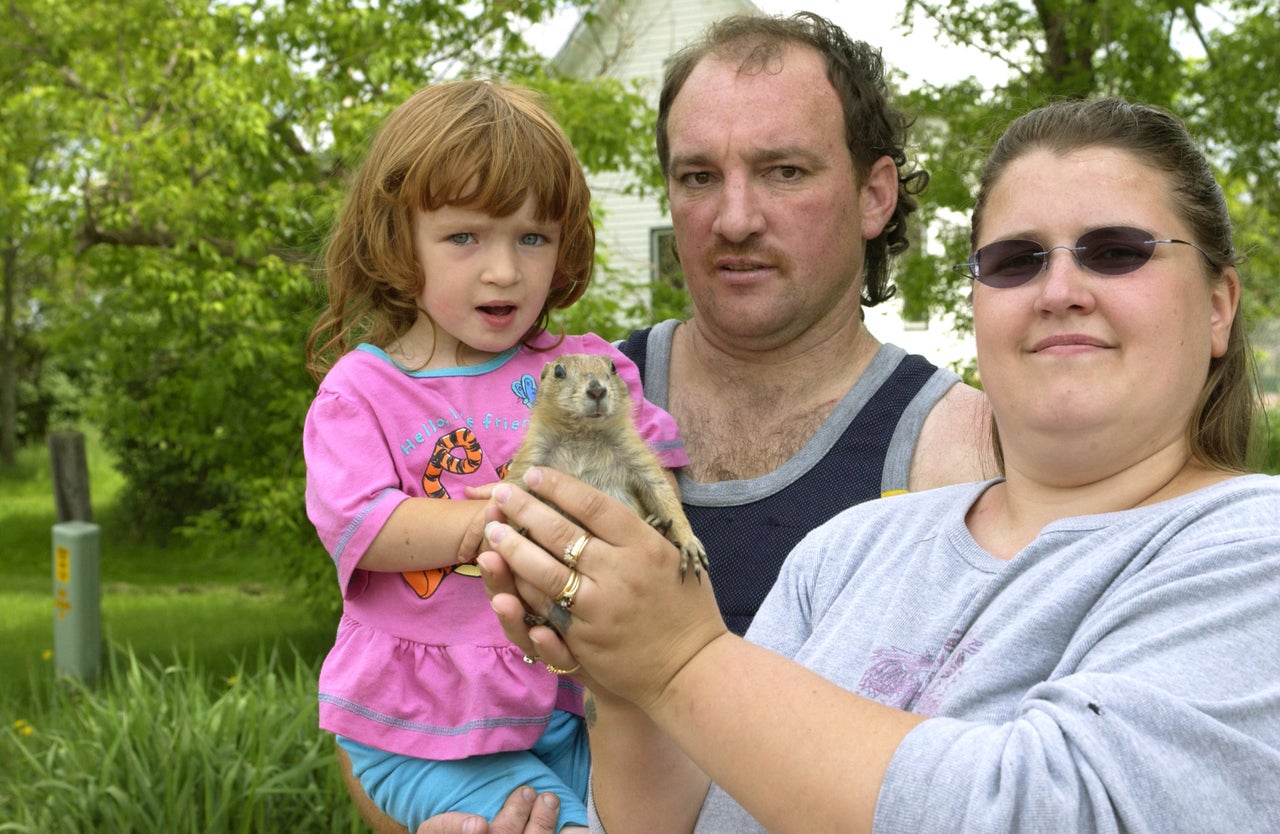 Still, the outbreak resulted in the U.S. tightening restrictions on animals imported from Africa. And the Centers for Disease Control and Prevention ― which lists the Central African strain of monkeypox alongside anthrax, SARS and Ebola as a potential bioweapon ― sent teams to places like Congo to search for the virus.
But while CDC teams focus their efforts on human cases, Laudisoit says she and her team "are interested in finding the animal reservoirs." She wants to see more collaboration between virologists, medics and biologists to crack this disease, which, like Ebola and Zika, could mutate, find new hosts and travel farther to infect more people.
Dr. Jean-Jacques Muyembe ― a top Congolese virologist who treated the first known Ebola cases and helped work on a vaccine that was ignored until the virus hit the U.S. ― is still warning developed countries about overlooked diseases that are increasingly spreading.
"These neglected diseases can become a threat to developed countries," Muyembe said. "With travel and everything we have now, the world has become a village."
"Everything comes from animals," he added, "and [Congo's] ecology is one that favors the emergence of these new diseases."
While smallpox could be eradicated because it only existed in humans, "monkeypox probably has 10 or so animal reservoirs," Laudisoit said. "So we need a vaccine, because we can't exactly kill all the animals."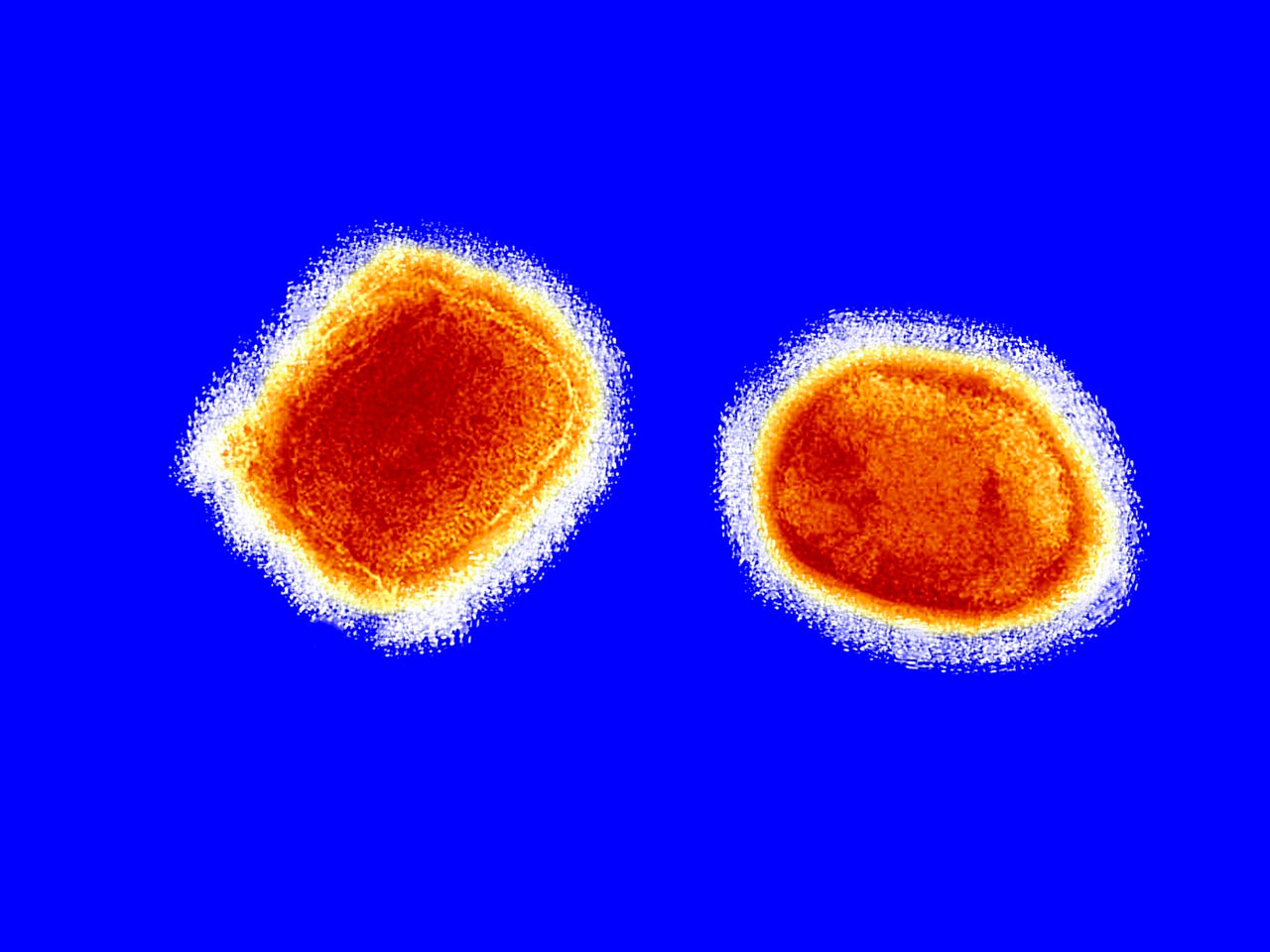 This year, the CDC, in partnership with the Kinshasa School of Public Health and Congo's Ministry of Health, started trials with an injectable vaccine on some 1,000 Congolese health workers in Tshuapa province and some lab workers in the capital.
"Our big push now is trying to get health care workers protected against this," said Benjamin Monroe, a monkeypox specialist at the CDC.
Monroe has seen a resurgence of monkeypox cases in the last couple of years, citing Sierra Leone and the Central African Republic as examples of where more cases are being reported. But he's not worried about a global pandemic.
"I don't think monkeypox will become a mutant, rampant virus and take over the world," he said. "And if it were to, we already have strategies and vaccines from eradicating smallpox. You can pull out that playbook, dust it off and do it again if you had to."
But rolling out a new and expensive monkeypox vaccine to all those at risk would require serious international funding for something that's considered a disease of poverty, Monroe noted.
"Incredibly poor people who are forced into the forest to subsist on what they can are the people we see getting these diseases," he said.
And Laudisoit sees little hope on the horizon for them.
"For as long as there's not a white person who has monkeypox ― with spots like in the '60s from smallpox ― there will be a lack of money," she said. "I assure you that when that happens, within three days, there will be funding, and that's true for all neglected diseases."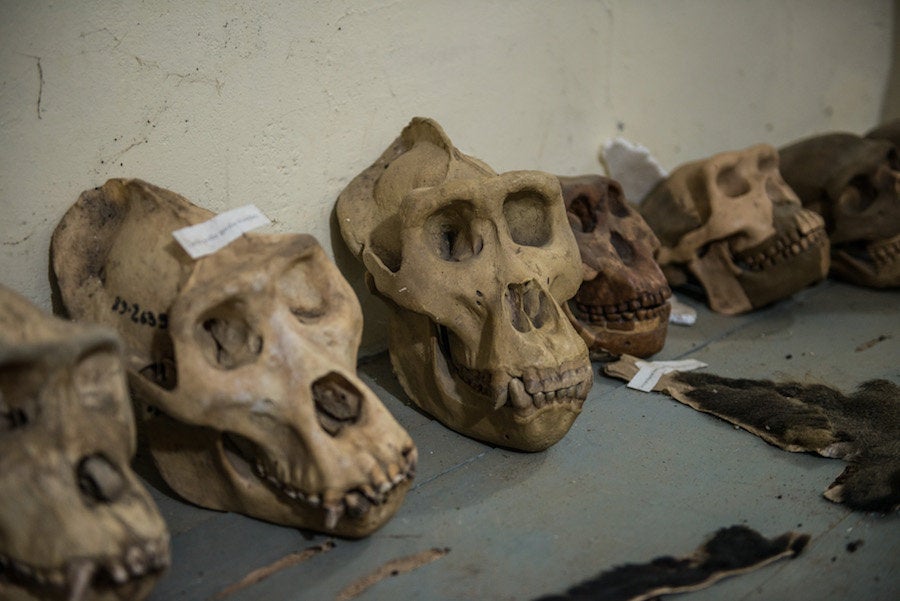 This series is supported, in part, by funding from the Bill & Melinda Gates Foundation. All content is editorially independent, with no influence or input from the foundation. If you'd like to contribute a post to the series, send an email to ProjectZero@huffingtonpost.com. And follow the conversation on social media by using the hashtag #ProjectZero.
Popular in the Community