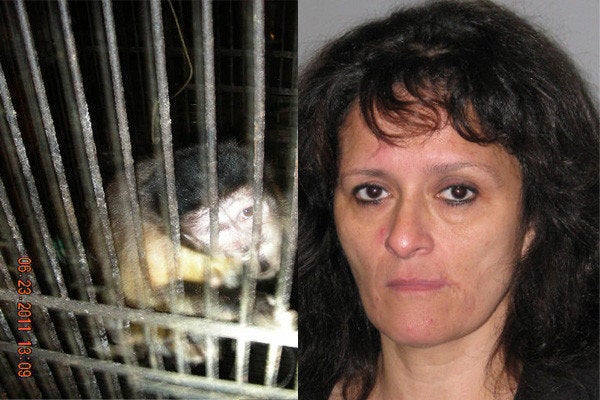 A suburban Chicago woman is charged with possession of a dangerous animal after authorities found two monkeys living in "unsanitary and neglectful conditions" in her elderly mother's home.
Rachel Birkenfeld, age 46, admitted to owning the two Capuchin monkeys, as well as five dogs also found in the home. None of the animals had any food or water, according to a press release from the Cook County Sheriff's Department.
The female monkey was described as "undernourished" and kept in a dog cage; the male was locked in a cage meant for birds. Both cages were covered in animal excrement and cigarette butts, the sheriff's office says.
A social worker performing a house check on Birkenfeld's mother tipped off the Animal Crimes Unit to the conditions of the animals.
Birkenfeld was arrested last Friday after telling authorities that she kept the animals in her mother's house in south suburban Lansing, IL because there was more space there.
The monkeys and dogs were taken to the Animal Welfare League in nearby Chicago Ridge. As for Birkenfeld, she faces two counts of possession of a dangerous animal and four counts of neglect of owner's duties.
"In Illinois," the sheriff's office explains, "primates cannot be possessed without special permits from the state Department of Agriculture because they can attack and spread diseases."
Calling all HuffPost superfans!
Sign up for membership to become a founding member and help shape HuffPost's next chapter