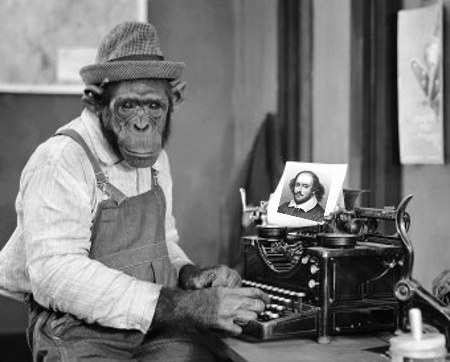 There's an adage that says, "If you put 100 monkeys with typewriters in a room long enough, eventually they'll write Hamlet." It requires just a nanosecond of reflection to realize that the monkeys wouldn't actually be writing. They'd merely be typing. But the idea is they'd be typing fast and furious and eventually create something worth reading.
This is the biggest year I've ever experienced as a writer and there are indeed times when I feel like the aforementioned monkeys. I have four books being published in 2016 -- one each in January, March, April and May. When I mention the four books in conversation, people often regard me with incredulous shock. How is such a thing possible? Do you write non-stop? Did you write all four books simultaneously? Were you actually just monkey-typing?
Writing is a strange business. Nothing happens for years and then through a confluence of events a bunch of things happen all at once. The January novel was originally a novella completed in June 2013. I tried to find a literary agent to represent it but, despite much positive feedback, was unsuccessful. After hearing from yet another agent about how much she loved the story and characters but felt the book was "too small," I asked what that meant. Her response was that it is impossible to sell a novella unless the author is a John Grisham or Stephen King. That was valuable information, though not something I could immediately act on. Why? Because in the three months I spent shopping the novella, I had been working on the March novel and didn't want to interrupt the flow. I completed the March book in February 2014 and began shopping it to agents. I also began rewriting the novella into the full-length January novel, a process I completed in the summer of that year. So by the summer of 2014, I had two completed -- but unsold and unpublished -- novels (January and March). I began shopping both in earnest to literary agents.
Let's now rewind back to 2011 when I began writing the nonfiction April book, which is based in part on one of the classes I teach at Boston College. This was a true labor of love -- albeit slow-moving and intellectually draining. In 2014 I asked a friend, who often guest-lectured in my classes, to join me as co-author. She agreed and together we re-outlined the book, discussed the concepts, wrote chapters, changed direction, and seemed to start over every few months. But in October 2015 we completed it. We've spent the months since then editing and re-editing, building the launch plan, designing a website, and creating marketing materials.
In July 2015, the January novel was accepted by a publisher. In October the same publisher accepted the March novel. So by October 2015 I was an author in search of a new writing project. I'm never at a loss for ideas, but I often start and abandon stories because I can't find the "voice." During this period I started four novels in four different genres: chick-lit, thriller, mainstream, and literary. Then the idea for the May novel burst upon the scene and I dove in headfirst.
That is how I came to have four books published in the first five months of the year. I wish I could have planned better and spread out the release dates. The marketing of books is just as demanding as the writing -- though not nearly as much fun. But I am not complaining. Like all my fellow writers, I write to be read and I can't be read unless the material is published. I doubt I'll ever experience a similar deluge of book releases, but I also know enough to never say never. Somewhere there's a monkey typing away trying desperately to write my next book before I do, and I can't let that happen.
Related
Popular in the Community