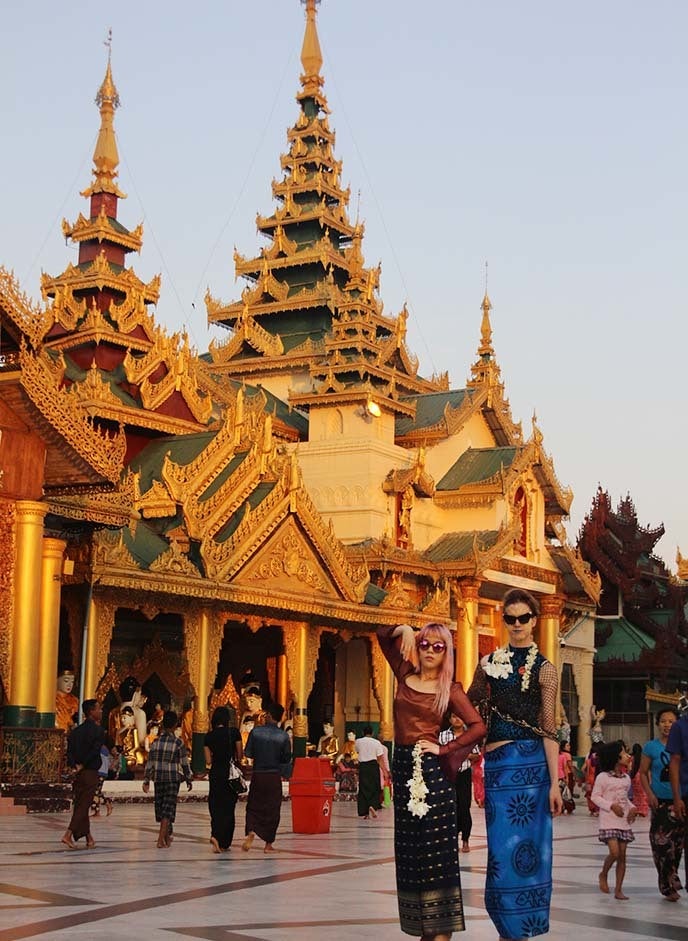 Myanmar is a study in contrasts. The world's most Buddhist country is filled with red-robed monks and gilded temples. At the same time, Yangon has a 1970s-style punk subculture, and passionate young artists who are speaking out after decades of repression.
Until a year or two ago, Myanmar (also known as Burma) was relatively difficult for visitors to access. Now, Aung San Suu Kyi is the democratic leader, and the country has opened its doors.
Today, tourists can get an e-visa by filling out the government application online, and paying the $50 US fee. Airlines such as HK Express have also launched regular short-haul routes from Hong Kong to Yangon.
From colonial dining to monasteries, here are 10 activities that let you experience the unique spirit of the city.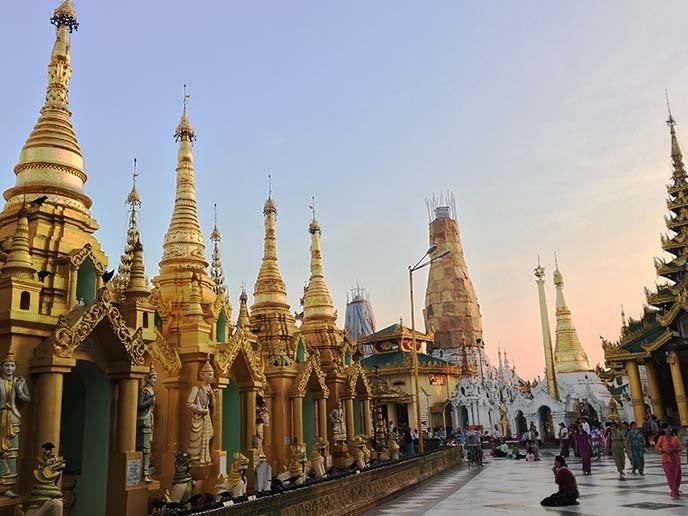 A towering, golden temple complex dominates the Yangon skyline. This is Shwedagon, the largest stupa in the country and a sacred site for Buddhists worldwide.
I recommend arriving around sunrise in order to catch the dawn and avoid the heat of high noon. Visitors must cover their arms and legs out of respect, and remove their shoes. While it's taboo to touch a monk or nun, you may gently ask for permission to take their photos.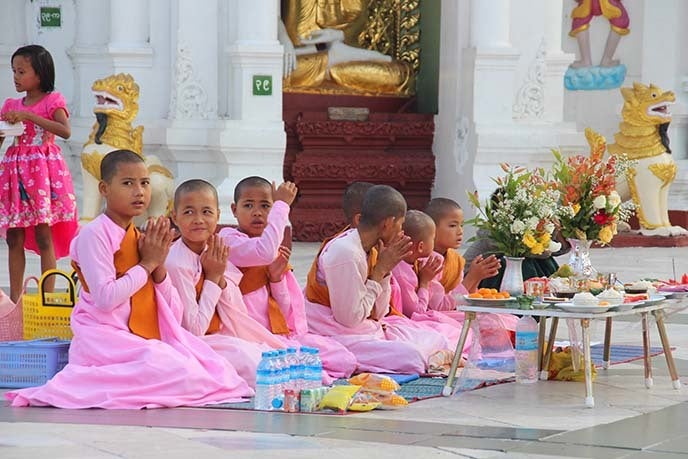 Shwedagon Pagoda is a feast for the senses: the highest peak rises 99 meters, and glitters with thousands of diamonds, rubies and sapphires. I walked past water purification stations, and altars with thousands of Buddha statues. It's impossible not to smile when you pass by young Buddhist children chanting.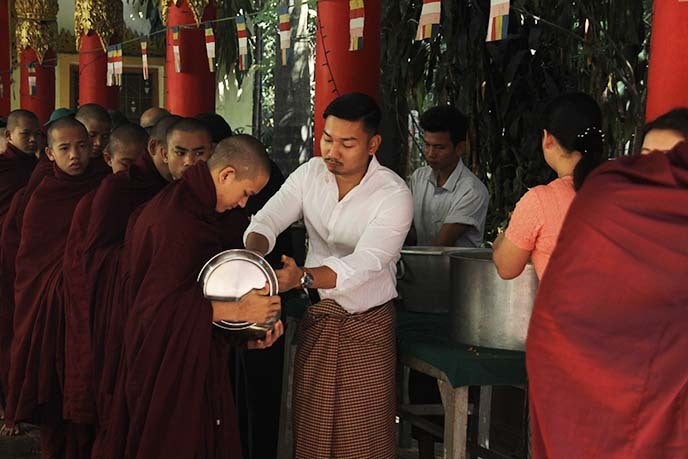 For a more intimate look at Buddhist life, I encourage you to visit Kalaywa Monastery, located about a 20 minute drive from downtown Yangon. Try to arrive around 10:30-11:30am, so that you can witness the lunch procession. A thousand monks and nuns line up, and pass single-file through a food station run by volunteers. They gracefully receive hot food, vegetarian dishes and fresh fruit in their metal alms bowls.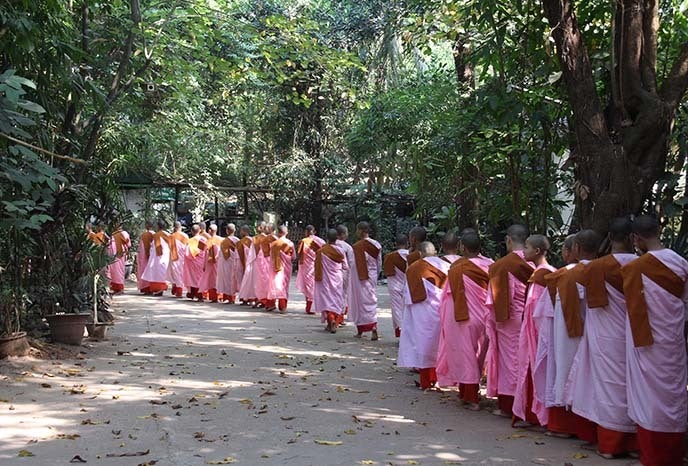 For close to 90% of Burma's population, Buddhism is an important part of daily practice. Local volunteers work together to prepare and serve food, in the spirit of loving-kindness. The community also supports the education and basic needs of these young Buddhists, who live and study at Kalaywa.
Once they received their alms, the practitioners walked over to gender-segregated dining halls. When everyone was seated in the long benches, I saw the monks clasp their hands together and chant. Finally, it was time to eat their meal of the day.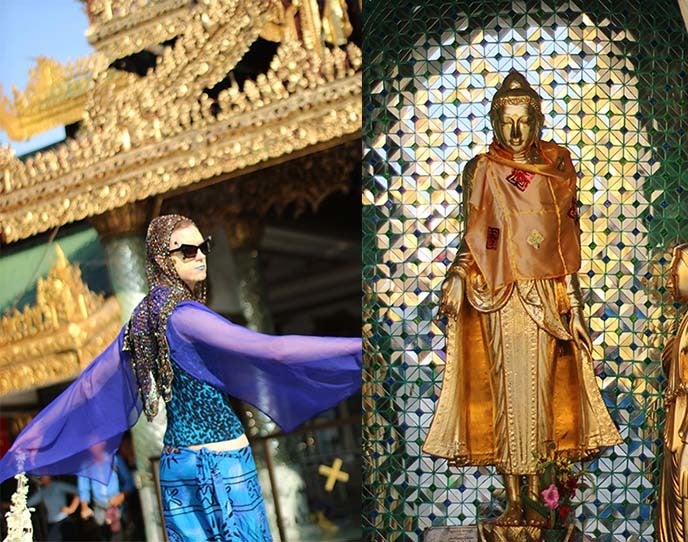 It's easy to spot Sule Pagoda, a glimmering golden dome in the center of Yangon's downtown. The stupa supposedly enshrines a hair of the Buddha. During the era of military rule, this was the focal point of political demonstrations including the 1988 uprisings and 2007 Saffron Revolution. Today, Sule is a peaceful Buddhist temple where city-dwellers can meditate and give offerings.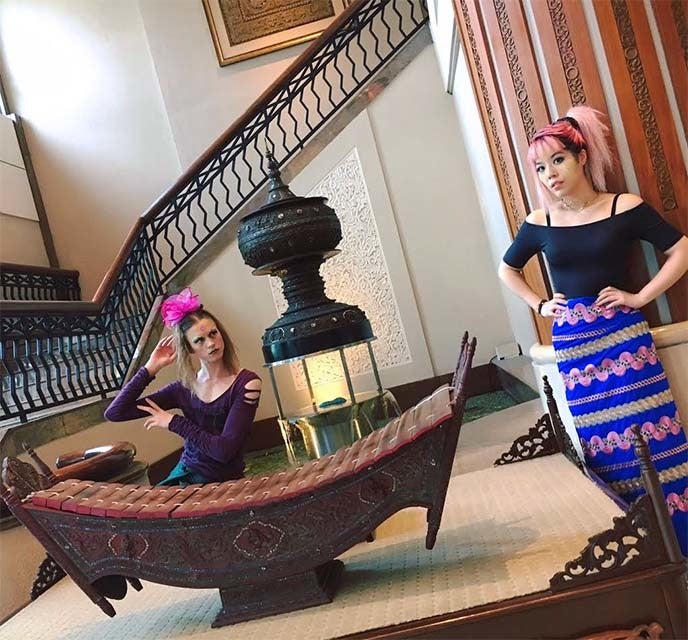 I loved the old-world charm of ParkRoyal Hotel Yangon, where I stayed. My room design featured Burmese art, and I listened to live traditional music in the lobby. The ParkRoyal staff even gifted us with longyi, or long cloth skirts that are tied at the waist, and worn by both men and women in Myanmar.
Every day, I looked forward to eating "mohinga," the national Burmese dish, at the international brunch buffet. Mohinga is a heartwarming fish and rice noodle soup, infused with seemingly every flavor and texture (salty, sour, crunchy, sweet) in perfect balance.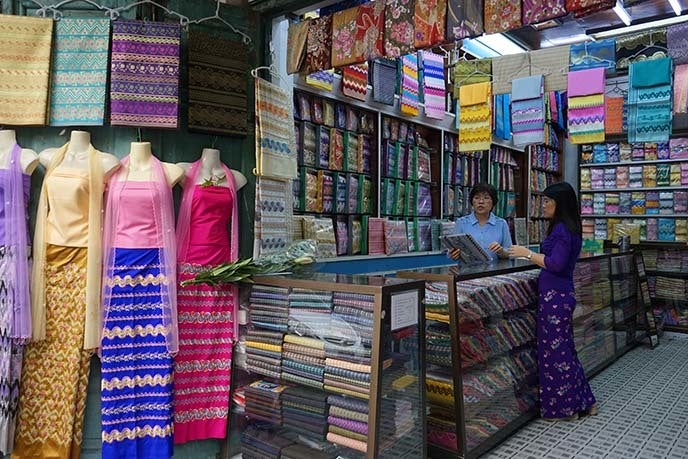 Our hotel was located near all the major attractions in Yangon, including the pagodas and Bogyoke Market. I walked over to the bustling marketplace that was named after Bogyoke (General) Aung San, who led Burma's independence in 1948.
The market has hundreds of vendors, lined up on cobblestone paths. They offer Burmese antiques, jewelry, clothing, art, handicrafts, and more. I especially loved the rainbow-colored fabrics, which can be custom-made into longyi skirts, scarves and tops.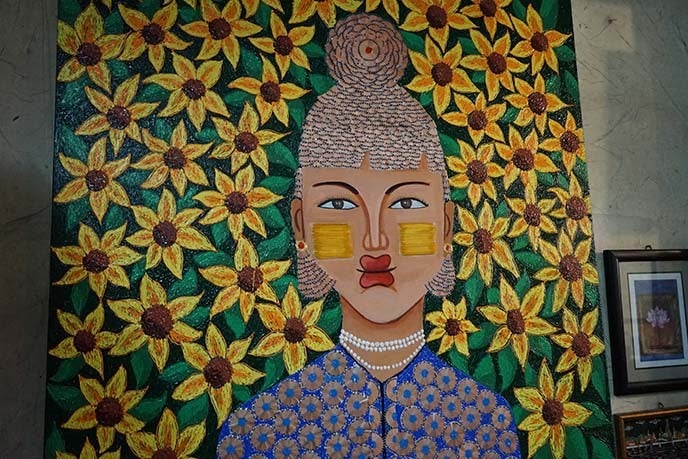 Now that they are free from military censorship, Burmese artists are spreading their wings. With the support of Yangon's progressive galleries, they are able to express themselves in ways that were previously forbidden (such as depicting nudes and political themes).
My favorite was Pansodan Gallery. established in August 2008 by Aung Soe Min and Nance Cunningham. Pansodan is a welcoming space that gives locals artists a chance to present their works to worldwide audiences. The selection ranges from budding artists to older masters, working in a variety of mediums and styles.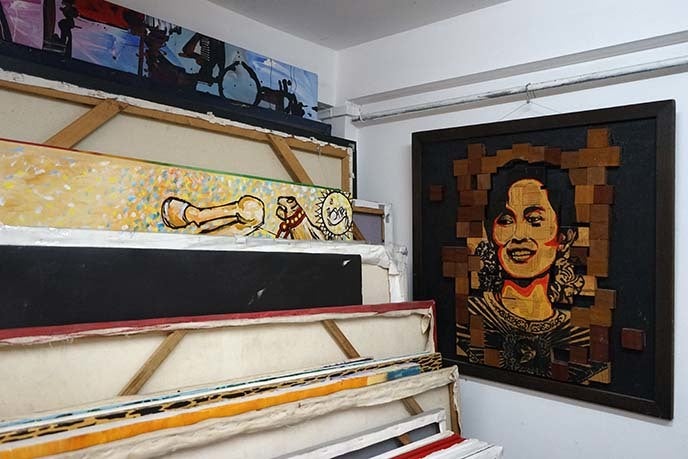 Many choose to depict their leader, Aung San Suu Kyi. Before the current democratic government, it was forbidden to display photos and paintings of her. Now, I saw smiling images of "The Lady" everywhere I went.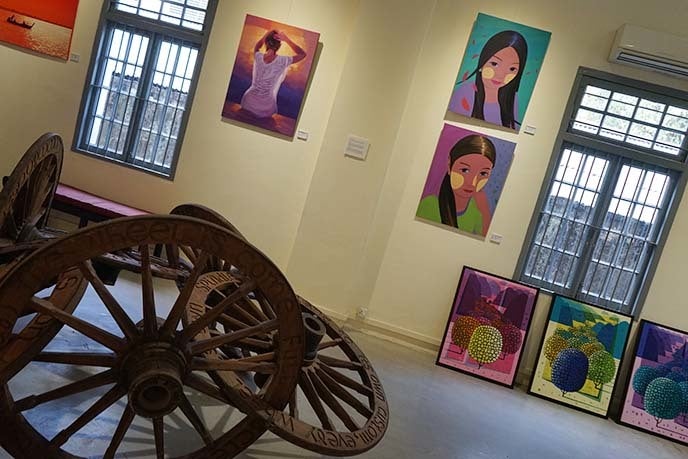 I also toured River Gallery, which showcases the works of Myanmar's contemporary artists. They aim to achieve better representation and exposure for these creators, such as by organising an annual show abroad.
I saw a photography exhibit at Nawaday Tharlar, which holds workshops and a bi-monthly open mic. At Myanmar Deitta gallery, there was a multimedia showcase of stories from all around the country, including conflict regions.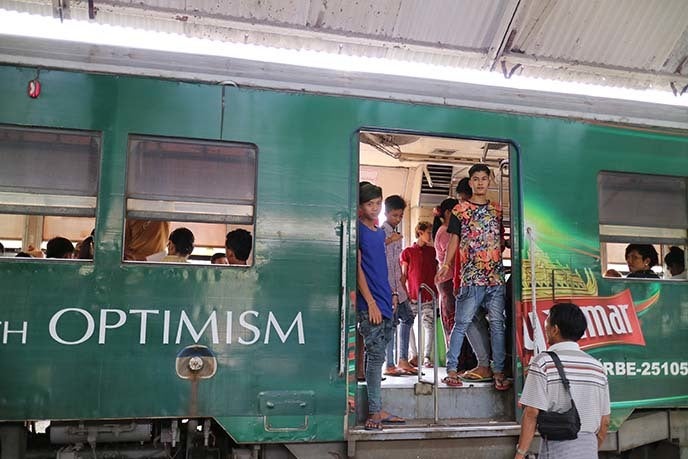 Tourists often ride the Myanmar Railways commuter line in a loop, which takes about three hours, and spans 39 stops over 29 miles. The Circular Rail lets you see different parts of Yangon, and get glimpses of day-to-day life.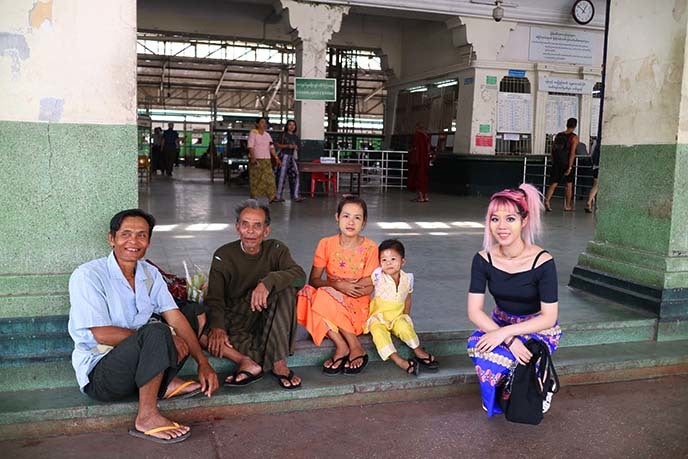 Each train ticket costs the equivalent of 15 cents, thanks to ministry subsidies that keep public transportation system accessible to locals. Since the trains don't have air conditioning, it's best to arrive early and find a seat by the window.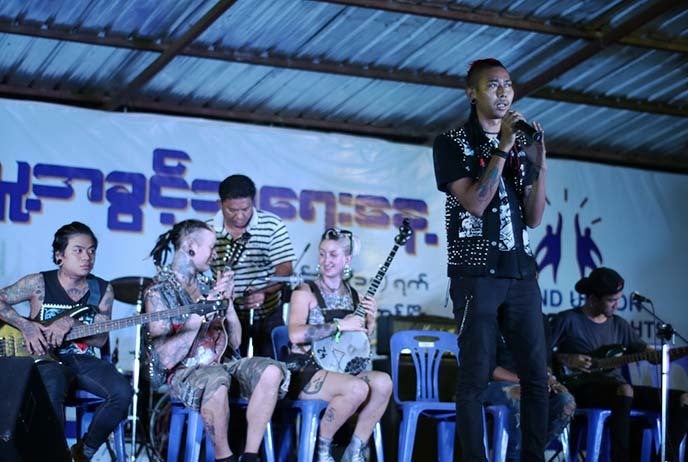 8. The Rebel Riot Punk Concert
I was surprised to discover a hardcore, underground punk rock scene in Yangon. I met Kyaw Kyaw, singer of The Rebel Riot band, and he invited me to his band's performance at Human Rights Day. Wearing a studded jacket and Mohawk, he spoke from the heart about the importance of equality and freedoms for everyone.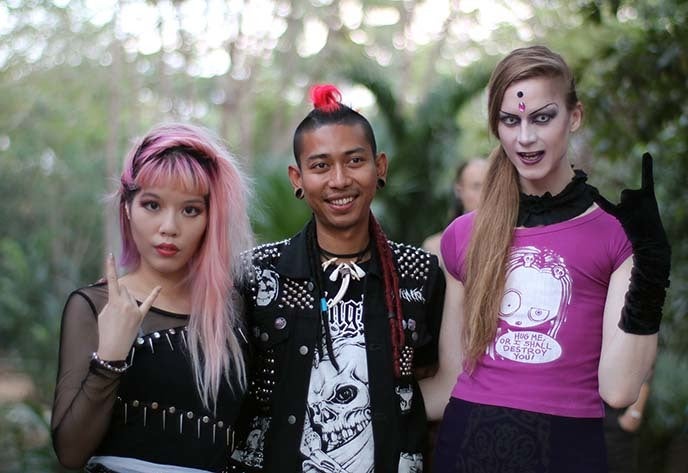 When he's not rocking hard on-stage, Kyaw Kyaw runs two non-profits. His charity Books Not Bombs provides children with educational support, especially in conflict and rural regions of the country.
Every Monday night, his organization Food Not Bombs purchases food and distributes it to the homeless and needy in Yangon. At first, locals weren't sure what to make of these tattooed and pierced punk volunteers. However, their dedication spoke for itself, and the rockers are now welcomed warmly each week.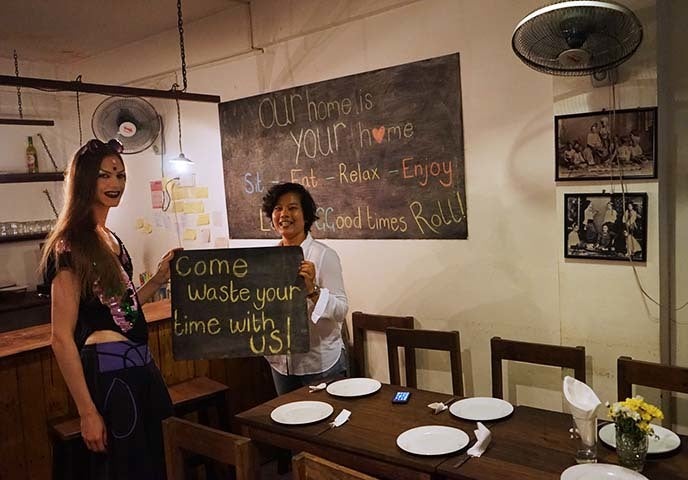 Expats and hipsters congregate at Yangon Green Gallery, a Thai restaurant run by the friendly Bo. I immediately felt at home in her cozy space, and by the end of the meal, we had bonded over 1980s music and had inside jokes about thumbs.
Green Gallery's menu focuses on seasonal, healthy and comforting dishes. I started with the spicy salad, and was impressed by her panang and green curries. Leave room for the coconut sticky rice and mango dessert, which is made with love.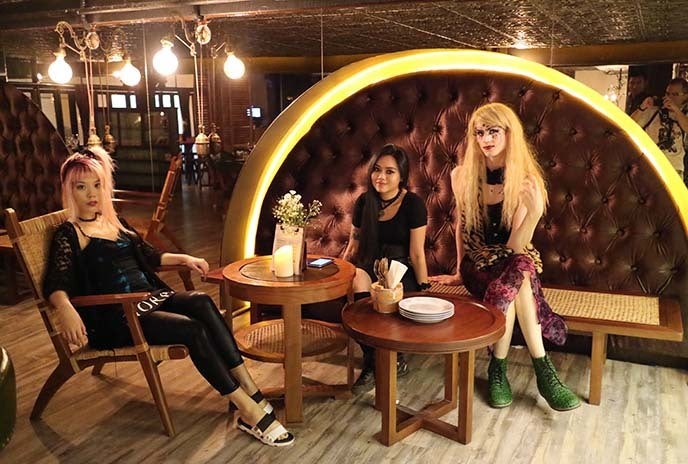 I organized a gathering of Goths and Punks at Rangoon Tea House, one of the highest rated restaurants in the city. The restored two-level space is reminiscent of the British colonial era, with classic molded ceilings and lanterns.
The menu is a homage to Rangoon's past, when traders from different countries mingled with colonial settlers and locals. My friends and I ate up every bite of the Indian-inspired dishes, Burmese "ohn note kauk" chicken and noodles in coconut broth, hearty mohinga, and Asian-flavored cocktails.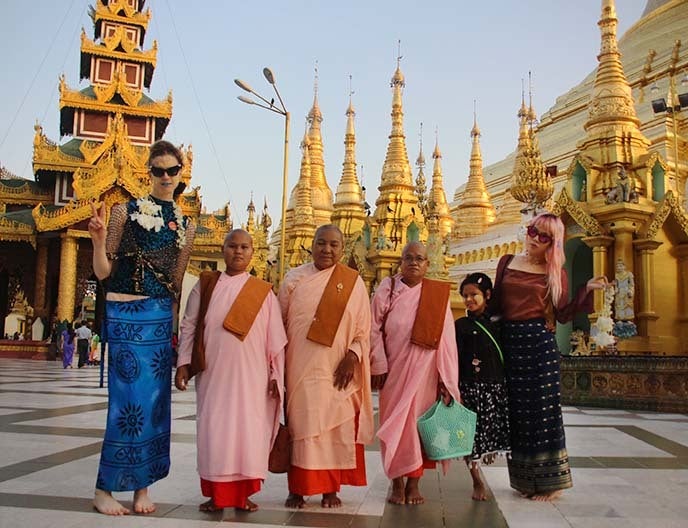 Yangon is an inspiring, diverse, and surprising destination. I hope you'll get a chance to visit Myanmar, and meet these "monks and punks" for yourself.
Related
Popular in the Community