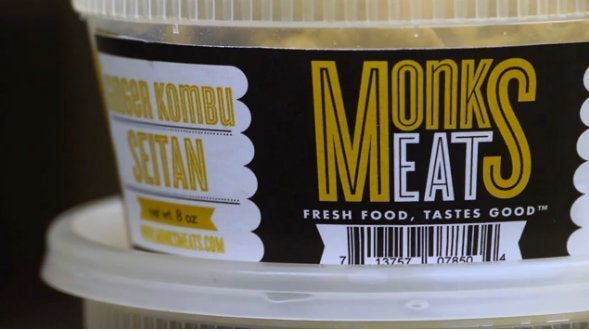 "Seitan isn't a meat replacement, it's a food stuff in its own right. Some of our happiest moments are when we get a meat eater who says, 'You know what, this stuff is great. I didn't realize vegetarian meat could be this good.'"
Meet Chris Kim and Rebecca Lopez-Howes, the co-owners and seitan specialists behind Monk's Meats, a vegetarian butcher shop -- with plans to open a storefront -- in Brooklyn, New York. Monk's Meats is on a mission to supply home cooks and local chefs with meatless raw materials made with a foodie in mind, whole foods made with integrity and a passion for flavor. Dissatisfied with the seitan options at grocery stores, Chris and Rebecca, both vegetarians, started making their own version at home three years ago, getting so good at it that they decided to launch a business. And I'm glad they did.
"Nobody else in New York City was doing it, so it made sense to me." - Chris Kim
Monk's Meats motto is Fresh Food. Tastes Good. and it hints at two of their beliefs: 1) they make fresh food and it tastes good, and 2) the key to high quality food starts with well-sourced, fresh, raw ingredients. Watching them make artisan seitan is a fascinating process, both very physical and very tedious too. But, according to Chris, "It's fun!" And it certainly looked fun. I cannot tell you how many times I wanted to throw down my camera to help him punch out and shape the seitan.
On a daily basis, they produce between 100 to 150 pounds of seitan for Monk's Meats, hand-delivering them to restaurants, customers and a handful of retail shops around the city. I've tried all of their seitan flavors, and each one of them stands out distinctly -- enhancing stir-frys, sandwiches, salads, soups, omelettes, you name it -- with a great source of protein. Oh, and the texture is unbelievable too. Perfectly chewy. Firm. And succulent. Like they say, it is meat. And it sure does feel like it.
SIGN UP for their weekly specials and delivery info here! Enjoy the piece.

Thanks so much for watching food. curated.! Happy Eating!