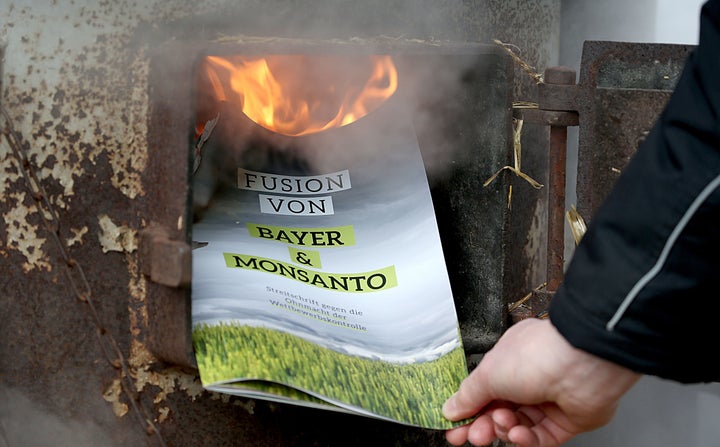 The U.S. Justice Department this month is expected to approve a merger of two huge corporations ― St. Louis-based seed company Monsanto and German crop-chemical conglomerate Bayer ― and the consequences could be enormous.
It depends who you ask. Monsanto and Bayer are pitching their consolidation as a way to develop the technology and innovation necessary to feed a world that in two decades is likely to be home to 10 billion people. For critics ― environmentalists and many farmers ― it's a terrifying step toward a near-monopoly in agriculture, giving giant companies unprecedented access to farmer data, squeezing out small farmers, and potentially raising food prices for consumers.
Monsanto is already a bogeyman for environmentalists because of its genetically modified seeds ― which critics say promote monocultures, trapping farmers into a cycle of dependence as well as an increased reliance on chemicals ― along with its history of producing controversial chemicals such as Agent Orange and the weedkiller glyphosate.
Many conservationists fear the merger continues a trend of concentrating huge power over the global food supply in just a handful of corporate giants.
"We will witness in our lifetimes the total disappearance of biodiversity from our farms, the disappearance of small farmers, and the end of real food and our food freedom," Vandana Shiva, the veteran seeds campaigner, has previously warned.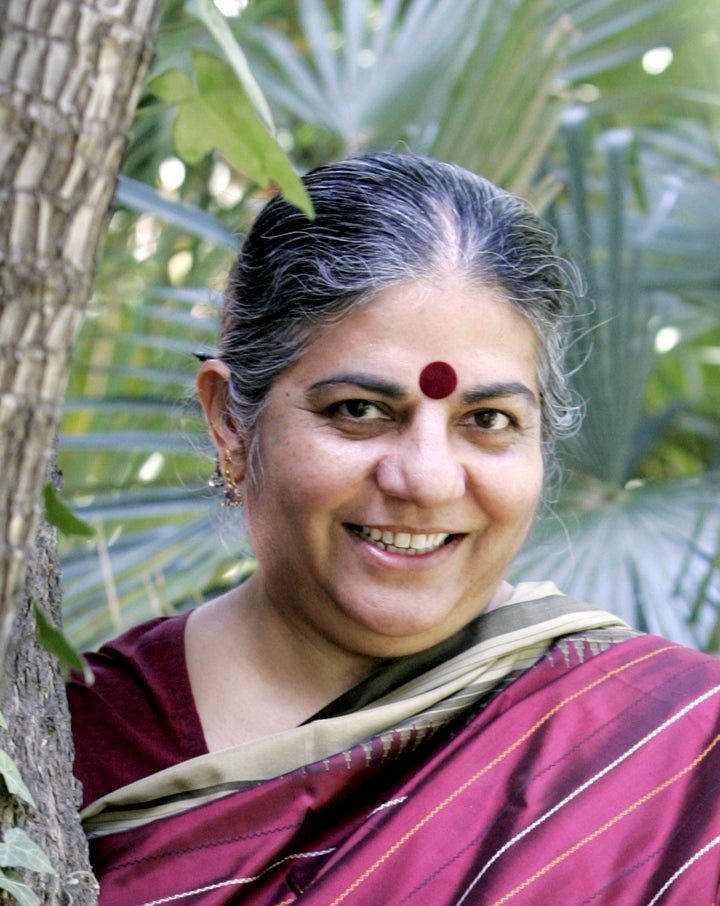 Evgeniy Kozarenko, CEO of the Dublin-based organic seed treatment company Nagritech, is worried. The U.S. and the European Union "just approved the creation of a monster," he told HuffPost. "Together, these two companies will influence farmers' opinions and markets all over the world on a scale we've never seen before. We do not have the budgets to market our organic fertilizers, pesticides and herbicides. Other organic manufacturers also will not be able to compete."
These fears are amplified by a growing concern that farming is on the cusp of a digital revolution that could allow the agribusiness to exert unprecedented control over farmers. Friends of the Earth Europe and several nongovernmental organizations have accused the EU of allowing a "Facebook of farming" to be created. Companies would be able to access farmers' data to sell them seeds and pesticides.
"It's not difficult to imagine a smartphone ad arriving within seconds of a farmer encountering weed or insect damage while he's harvesting his crop," the Missouri Farm Bureau Federation has said.
Monsanto itself has hinted that data is a key reason for seeking the merger with Bayer. "There is no new dirt," Monsanto CEO Hugh Grant told Fortune. "We need to get much smarter societally about how we farm."
Monsanto's "farm-to-fork" data platform, Climate Fieldview, which the company promotes as a "key 2018 growth driver," uses tractors fitted with sensors and GPS, algorithms, and data drones to monitor field conditions and advise farmers in real time.
"The merger will create the biggest platform of its kind ― and give Bayer-Monsanto a 'first mover' advantage similar to Facebook, in the way that it affects competitors," said Mute Schimpf, a spokeswoman for Friends of the Earth Europe. "The new platform allows Bayer-Monsanto to control how, where, when, and by whom food is produced. As Facebook's algorithms decide which newsfeeds we see, so 'Baysanto' will decide which pesticides are used, and which seeds are planted."
Friends of the Earth was one of more than 70 environmental organizations that signed a letter to the European Commission arguing that "Bayer-Monsanto would become the biggest player in the field of data platforms and data collection, exposing farmers to risks and problems similar to those seen in existing data platforms such as Google, Amazon and Facebook."
Monsanto, however, says it's the farmers who will benefit from the deal. "Now more than ever, farmers need access to tools that support the decisions they make to maximize their return on every acre," said Brian Carroll, a company spokesman. He added that this kind of data helps farmers farm more sustainably and manage their risks.
Other Monsanto officials, speaking on condition of anonymity because of company restrictions on discussing the issue, told HuffPost that farmers were "a pretty cynical bunch" and would reject any platform they see as too self-serving.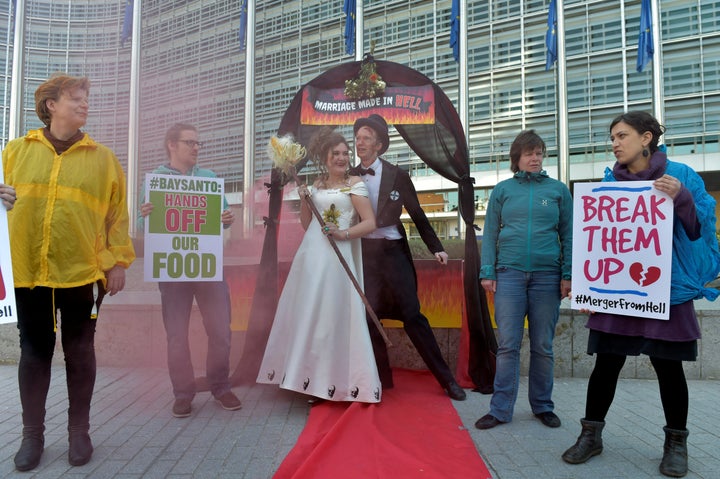 In the U.S., groups representing farmers and conservation organizations wrote to the Justice Department predicting negative impacts on competition, farmers and consumers. They argued that the combination of seed and digital businesses would allow huge corporations to "create proprietary platforms that are closed to competition."
Monsanto officials are cagey about the need for new laws. "The worry would be if regulation drives paranoia," one company official said. "If the debate ended in a situation where farmers were scared about sharing their data, it would undermine a huge opportunity for, ultimately, more sustainable farming practices."
Opportunities remain, though, for price discrimination and the use of data platforms to sell seeds, pesticides and fertilizers ― all of which, for now, is unregulated.
The Missouri Farm Bureau Federation says it's in ongoing negotiations with agroindustry representatives about who owns data collected by digital apps such as Climate Fieldview.
"Two major concerns we have are: How is this going to affect the prices of products, and how is it going to affect the availability of products," Spencer Tuma, the federation's legislative affairs director, told HuffPost. She added that the group was worried about potential impacts on farmers, ranchers and ultimately consumers in the form of higher food prices.
"We think there is a responsibility for Congress to review some of the existing statutes governing whether those sorts of mergers have the ability to go through," Tuma said.
Congress has the power to revise or rewrite existing merger laws. In July, 19 senators set out their concerns about the merger to the Justice Department's antitrust division, so congressional action cannot be ruled out.
Carroll, though, was sanguine. "Bayer's acquisition by Monsanto has undergone a lengthy and robust regulatory review process by the relevant competition authorities," he said.
U.S. environmentalists are demanding that Monsanto sell Climate Fieldview as a condition of the deal. That leaves the fate of the world's agricultural data ― who owns it, and how it is used ― undecided.
For more content and to be part of the "This New World" community, follow our Facebook page.

HuffPost's "This New World" series is funded by Partners for a New Economy and the Kendeda Fund. All content is editorially independent, with no influence or input from the foundations. If you have an idea or tip for the editorial series, send an email to thisnewworld@huffpost.com
Related
Popular in the Community