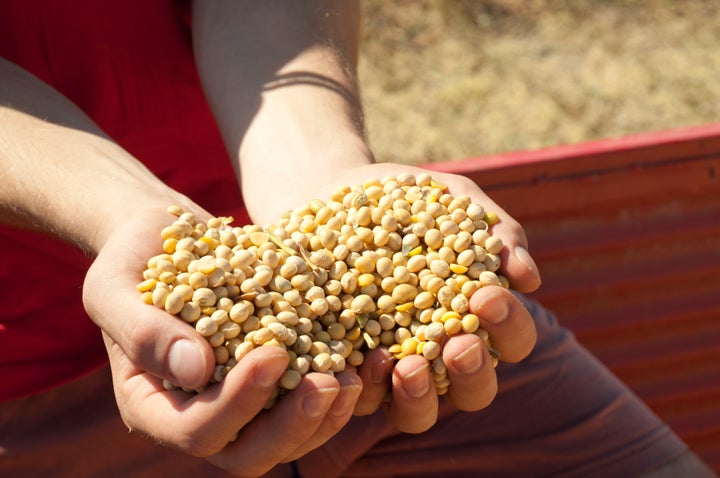 Five million Brazilian farmers are now closer to winning a $2 billion suit against biotechnology corporate giant Monsanto. The farmers allege the company, which has raked in huge sums with genetically-modified plants, has unfairly been collecting royalties on crops.
The issue is a complicated one, involving a drawn-out legal battle that goes back to 2009. Nature has the backstory: It's grounded in a decision by the Brazilian government to legalize the growing of genetically modified plants in 2005. Around that time, it became clear that nearly 75 percent of the soya crops in southern state of Rio Grande do Sul were grown from smuggled Roundup Ready seeds, which are patented by Monsanto. Roundup Ready crops can be sprayed with a weed-killing chemical, conveniently produced by Monsanto and named Roundup, without being damaged.
Since the legalization, Monsanto has charged Brazilian farmers 2% of their sales of Roundup Ready soya beans, which now account for an estimated 85% of the nation's soya-bean crop. The company also tests Brazilian soya beans that are sold as non-GM — if they turn out to be Roundup Ready, the company charges the farmers responsible for the crops some 3% of their sales.
In 2011, Bloomberg reported that Monsanto expected more than 80 percent of Brazil's soybean crop to be grown from its genetically modified seeds. The company argues that many Brazilian farmers continue to procure Roundup Ready seeds illegally, but trade associate Brazilian Association of Seeds and Seedlings says otherwise. In April, a judge ruled that Monsanto's levy was illegal and the company must pay back $2 billion in royalties, which date back to 2004. Monsanto has since appealed, and the decision is on hold until the Justice Tribune of Rio Grande so Sul considers the case.
On June 12, a separate bid filed by Monsanto -- made in 2011 to the Brazilian Supreme Court of Justice -- failed when the court unanimously ruled against it.