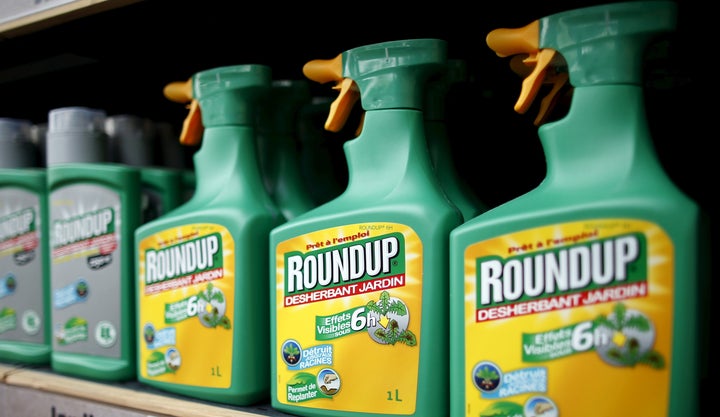 I'm cross-posting this important column by my colleague Kara Cook-Shultz, U.S. PIRG Toxics Program Director.
Monsanto Manufactured Scientific Studies and Then Used Those Studies To Influence EPA, Other Regulators
Newly-accessible court papers allege that agrichemical giant Monsanto manufactured scientific studies affirming the safety of their star product, the hugely-popular weedkiller Roundup, and paid scientists to publish them. In February 2015, Monsanto executive William "Bill" Heydens emailed his staff instructions to ghostwrite portions of a scientific study on the safety of Roundup, and that he would tell scientists to, quote: "just sign their names" to the study. According to this same email, Heydens knew that ghostwriting the study would work: he said that Monsanto had already ghostwritten a study on Roundup in the year 2000.
In the 2015 emails, Bill Heydens and his employees scramble to prepare for an international review of glyphosate by the the cancer arm of the World Health Organization. The emails reveal that some Monsanto employees were apprehensive about "noise" coming from independent scientific studies―studies that indicated Roundup is carcinogenic. In the emails, executives weigh the cost of paying independent experts to create studies ($250,000) versus the free option of "ghost-writing" studies.
"A less expensive/more palatable approach might be to involve experts only for the areas of contention...and we ghost-write the Exposure Tox & Genetox sections," one email reads. Bill Heydens suggested that Dr. David Kirkland may put his name on the study. In response to these allegations, Dr. Kirkland told The New York Times yesterday that: "I would not publish a document that had been written by someone else." He added, "We had no interaction with Monsanto at all during the process of reviewing the data and writing the papers."
However, this is not the only released email chain about Dr. Kirkland. In another series of emails, Monsanto negotiates with chemical giants Dow and Syngenta for money to pay Dr. Kirkland to review internal, unpublished studies on Roundup, and then for him to sign-off on a published study with another Monsanto-paid scientist. The emails reveal that Christophe Gustin, Monsanto's Crop Protection Regulatory Affairs Lead at Monsanto Europe, had to negotiate heavily with other chemical manufacturers before they could raise the money to pay Dr. Kirkland.
Despite Monsanto's attempts to influence the World Health Organization's agency decision in 2015, the agency concluded that glyphosate is a probable carcinogen weeks after this exchange. Monsanto spent huge amounts of money attempting to delegitimize the agency's conclusion. These new emails, coupled with countless well-funded attacks from the chemical industry on independent science, are deeply troubling. Scientific research, and in turn our regulatory system, has become infected by corporate influence. Incredibly powerful companies like Monsanto have the ability to push out their agenda, cloaked in a legitimate white coat.
The most disturbing allegation in these court documents is that the Environmental Protection Agency relied on these studies in its scientific panel on Roundup and its active ingredient, glyphosate. The EPA is currently reviewing the carcinogenic potential of glyphosate―but has yet to publish the final results. Court documents indicate that the EPA is relying on the above-mentioned 2000 study and Dr. Kirkland's 2013 publication, which was paid for by Monsanto, Syngenta, Dow, and other companies.
The EPA must throw out these industry-backed studies before determining whether Roundup is a safe product. As the Environmental Protection Agency reviews the safety of glyphosate, the importance of independent scientific studies is clearer than ever. Our health cannot be bought.
Related
Popular in the Community