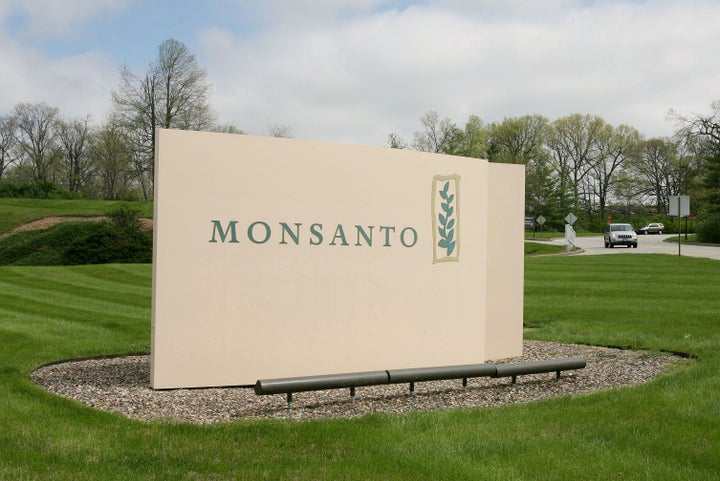 The media and partnerships division of the venerable magazine Scientific American hosted a panel Thursday at the National Press Club featuring journalists and scientists. The event, cosponsored by a group called GMO Answers, focuses on whether science is "explained fairly in the media." What might be less apparent is that GMO Answers requires some explanation itself: The group is a project of agricultural biotech firms meant to buttress the industry's reputation.
GMO Answers, which was launched in the summer of 2013 to help improve the impression of genetically modified foods in the U.S., is a project of PR giant Ketchum. Funding for the effort comes from agricultural biotech companies, including Monsanto and Syngenta.
Monsanto, which sells seeds that have been genetically altered so crops can survive the company's glyphosate weedkiller, was facing pressure in many states to label foods containing GMOs, or genetically modified organisms. GMO Answers was created as a website where people could have questions answered by supposedly "independent" scientists.
The New York Times reported in 2013 that GMO Answers would embrace a more "transparent" approach in addressing critics, who accuse big agricultural companies of "purposely hiding information." Around the same time, Politico reported that Monsanto shook up its internal PR shop and began a "charm offensive," visiting newsrooms across Washington.
"Biotech and food companies need to create a megaphone for scientists to shout through," the head of the Competitive Enterprise Institute, a libertarian think tank, told Politico. GMO Answers was meant to be that megaphone.
Scientific American defended GMO Answers' sponsorship of its event, saying the panelists would scrutinize industry influence.
"SciAm has always worked to maintain the editorial integrity and independence of the sponsored content and events it undertakes, and that's the only reason I've continued to work with them," John Rennie, the event's host and the magazine's former editor-in-chief, wrote in an email. "One of the issues that the day's panelists and I very much intend to address will be the problem of industry influence and the biases it introduces -- and how sponsorship of even seemingly neutral events like this one can be problematic."
Ketchum has a history of trying to influence news coverage from behind the scenes. In 2005, reporters caught Ketchum funneling money from the Department of Education to commentator Armstrong Williams, paying him $241,000 to secretly promote President George W. Bush's "No Child Left Behind" law on his syndicated television and radio shows. Alex Jones, director of Harvard's Shorenstein Center on Media, called the PR company's technique "propaganda masquerading as news, paid by government, truly a recipe from hell."
Ketchum is intimately familiar with GMO controversies, a fact made clear in 2008 by famed investigative journalist James Ridgeway. Ridgeway reported in Mother Jones and The Guardian on a trove of internal documents he was given by an investor in a detective firm operated by retired federal agents. The former spooks coordinated with Ketchum to gather intelligence on several nonprofits critical of GMOs, including Greenpeace, Public Citizen and the Union of Concerned Scientists. Tactics included hiring off-duty police officers to rummage through trash dumpsters. A lawsuit filed by Greenpeace against Ketchum and other participants was later dismissed.
U.S. Right to Know, a nonprofit funded by the Organic Consumers Association that advocates for food-label transparency, has been investigating the supposed independence of the scientists involved with GMO Answers, filing Freedom of Information Act requests for emails of several scientists. The New York Times ran a front-page story in September revealing that Ketchum sometimes ghostwrote answers for academics listed as "independent" on the GMO Answers site, and that Monsanto sought out some of those same academics to help defeat GMO regulations.
Two weeks ago, Chicago Public Radio followed up on FOIA requests from U.S. Right to Know and exposed that now-retired University of Illinois professor Bruce Chassy had received $57,000 from Monsanto via unrestricted university grants to write, speak and lobby the federal government against regulation of GMO products. This compensation had not been disclosed in university paperwork meant to catch conflicts of interest.
That sort of cloaked industry influence is a red flag, said Naomi Oreskes, a professor in Harvard's History of Science Department who detailed industry's influence on science in her 2010 book, Merchants of Doubt. "I do think scientists need to be careful, and realize that there is a long history of groups purporting to want to advance sound science and good reporting, who are in fact representing specific corporate interests, rather than the interest of accurate communication of complex science," Oreskes said.
Oreskes' concerns were echoed by other scientists, including Marion Nestle, a professor of nutrition, food studies and public health at New York University and author several books on food policy. Nestle said she guesses most of the Scientific American panelists probably believe that if GMOs are safe to eat, then there is no cause for worry.
"If the speakers are concerned about other aspects of GMOs -- monoculture, the health effects of glyphosate, the lack of transparency, for example -- this doesn't seem like a forum where there will be much opportunity to discuss those questions," Nestle said.
U.S. Right to Know has criticized journalists Tamar Haspel of The Washington Post, and Keith Kloor, an instructor at the Arthur L. Carter Journalism Institute at New York University, who both are slated to appear at the event, for ties with industry sources.
"I think the well-regarded journalists do bring different voices, but I am nevertheless concerned about one-sidedness here -- which is why industry sponsorship is one of the issues we're planning to discuss at the event," Haspel said via email, in response to questions about her appearance. Kloor did not respond to questions about the panel, but sent a link to a post on his personal website criticizing the reporter of this article as a "troll."
Julia Belluz, a health reporter at Vox, said she shares concerns about sponsorship of the event.
"I am going because this is a public forum, at the National Press Club, featuring a panel of scientists, science journalists and authors who can share their diverse perspectives," Belluz said.
Another writer initially listed on the event's flyer, Atlantic contributor David Freedman, said he canceled his appearance last week after he learned of the event's sponsors. (His name has now been removed from the program.)
"I had paid for my own airline tickets, and will not accept reimbursement," Freedman wrote. He added that he does not refuse to speak at industry-sponsored events, but felt information regarding the funding of Scientific American's panel had been unclear.
Jeremy Abatte, vice president and publisher of Scientific American, said none of the reporters who are attending are being paid. While Ketchum recommended panelists, the magazine's staff had final approval and will control the event, he said.
"This is not a Ketchum event," Abatte said by telephone. "This is a Scientific American event. It will be credible." He added that participants may even criticize event sponsors.
Following our interview, a website for GMO Answers was updated to add a sponsor of the forum: Johnson & Johnson Innovation, a division of the health care giant.
Lisa Graves, who runs the Center for Media and Democracy, was highly critical of the event. Her organization was founded in 1993 in response to Monsanto's public relations activities in Wisconsin, and works to document the influence of PR firms and their corporate campaigns.
"Quite frankly, after Ketchum's documented role with black ops-type spying on public interest groups like Greenpeace, it is astonishing that any legitimate scientific magazine would partner with them," Graves wrote in an email.
Public Citizen's Robert Weissman offered a more nuanced view, based on his own appearance on a somewhat similar industry panel. Industry-sponsored media panels often are interesting and balanced, he said via email, and Scientific American's event appears to be quite good. Industry sponsors such events to promote its message, though there may be criticism as well.
"It's also about establishing their role as important in a particular policy space -- a kind of sophisticated brand-building for DC insiders," Weissman said.
Media organizations like Scientific American sponsor such events to generate revenue, just as they do with advertising.
"There is also a stealth element to this, because while the sponsorships are proudly disclosed, the rationale for the sponsorship is not apparent at all," said Weissman.
Scientific American's Abatte added that people can ask about such matters at the forum, which will be live streamed. "We would love it if you or a colleague came to the event," he said. "I'd welcome your opinion, critique, comments, questions, etc. I am sure you will find a forum where all points of view are respected."
Clarification: Language has been amended to reflect that Chassy was not retired at the time that he was receiving funding from Monsanto, and to indicate that that funding was provided via unrestricted grants provided to the University of Illinois Foundation.
Support HuffPost
The Stakes Have Never Been Higher
Popular in the Community