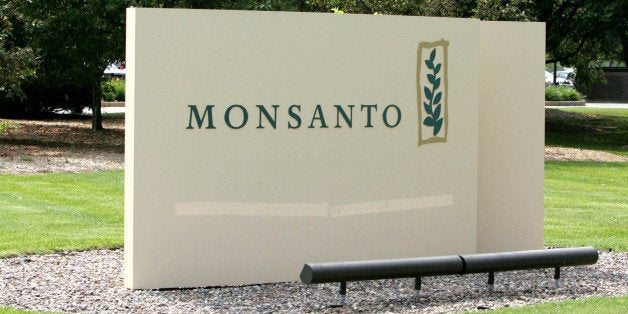 You know you're unpopular when not even a company notorious for selling chemicals banned in Europe for harming defenseless invertebrates wants anything to do with you.
What company could be this toxic? Monsanto, of course. For more than a year, the controversial St. Louis-based company, best known for selling genetically engineered corn and soybean seeds, has been trying to buy Swiss agribusiness Syngenta in order to form the biggest agricultural technology conglomerate in the world. But Syngenta has resisted Monsanto's overtures not one, not two, but three times in a row.
Monsanto's first offer for Syngenta came in mid-2014. Monsanto was said to value Syngenta, which specializes in herbicides, fungicides and other agricultural chemicals, including one that has been associated with sexual abnormalities in amphibians, at around $40 billion. The talks were private, and have largely remained so, according to Bloomberg, so it's not clear exactly how they fell apart.
The same cannot be said of Monsanto's more recent attempts to buy Syngenta. Monsanto returned to Syngenta in April of this year and reportedly offered to pay $45 billion for the company.
But Syngenta executives said that the offer was too small, the Wall Street Journal reports, and that they were worried that a merger between the two companies would attract unwanted attention from antitrust regulators. And with good reason: the Obama administration investigated Monsanto for anticompetitive practices in the seed market from 2010 to 2012.

Yet Monsanto was undeterred by this second rejection. On June 6, Monsanto CEO Hugh Grant -- apparently no relation to the star of "Notting Hill" -- sent Syngenta's executives a letter expressing his "personal disappointment with the pace of progress" and reaffirming his company's offer to acquire theirs. Grant went on to restate the basic terms of Monsanto's initial offer, while throwing in a clause that would grant Syngenta $2 billion in the event that antitrust regulators scuttle the merger. Grant also said that he would be willing to sell off Syngenta's seed business to allay regulators' concerns about a possible monopoly.
Yet Monsanto still appears willing to pursue the deal with or without the cooperation of Syngenta's executives. Though Grant says in his June 6 letter that it is his "continued preference" to work with them, Reuters reported on Monday that Monsanto had begun setting up meetings with Syngenta shareholders in Europe in an effort to convince them to sell the company.
Why is Monsanto so eager to acquire Syngenta? For starters, the move would allow them to move back into the agricultural chemical space it left behind about a decade ago, giving the company a broader reach and more clout in the realm of agriculture, while also hedging against the possibility of a mass consumer rejection of the GMO seeds on which the company has made billions of dollars. In addition, the merger could allow Monsanto to move their headquarters to the U.K., and thereby reduce its tax bill in America.
Predictably, though, the deal has detractors beyond Syngenta's C-suite. The Wall Street Journal published a story on Monday arguing that many American farmers worry that a combined Monsanto and Syngenta would have too much power in the market, and would drive up prices for the seeds and pesticides. And the response among consumers -- who already regard Monsanto as one of the most hated companies in the world -- would surely be just as negative.
Calling all HuffPost superfans!
Sign up for membership to become a founding member and help shape HuffPost's next chapter
BEFORE YOU GO
PHOTO GALLERY
GMO Protests