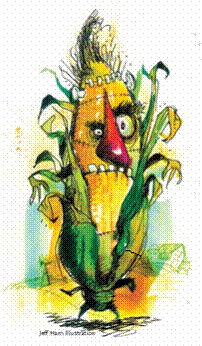 When Forbes magazine declared Monsanto as the Company of the Year for 2009, millions of surprised people were forced to reevaluate their opinions about a major corporation. Now they no longer trust Forbes.
Monsanto is one of the most despised corporations on earth. This is the first in a series of articles that expose their not-so-hidden dark side and how, if unrestrained, Monsanto could unleash a cataclysm. Indeed, it has already started...
At a biotech industry conference in January 1999, a representative from Arthur Anderson, LLP explained how they had helped Monsanto design their strategic plan. First, his team asked Monsanto executives what their ideal future looked like in 15 to 20 years. The executives described a world with 100% of all commercial seeds genetically modified and patented. Anderson consultants then worked backwards from that goal, and developed the strategy and tactics to achieve it. They presented Monsanto with the steps and procedures needed to obtain a place of industry dominance in a world in which natural seeds were virtually extinct.
This was a bold new direction for Monsanto, which needed a big change to distance them from a controversial past. As a chemical company, they had polluted the landscape with some of the most poisonous substances ever produced, contaminated virtually every human and animal on earth, and got fined and convicted of deception and wrongdoing. According to a former Monsanto vice president, "We were despised by our customers."
So they redefined themselves as a "life sciences" company, and then proceeded to pollute the landscape with toxic herbicide, contaminate the gene pool for all future generations with genetically modified plants, and get fined and convicted of deception and wrongdoing. Monsanto's chief European spokesman admitted in 1999, "Everybody over here hates us." Now the rest of the world is catching on.
"Saving the World" and Other Lies
1. GMOs are needed to feed the world.
2. GMOs have been thoroughly tested and proven safe.
4. GMOs reduce the use of agricultural chemicals.
5. GMOs can be contained, and therefore coexist with non-GM crops.
All five are pure myths—blatant falsehoods about the nature and benefit of this infant technology. The experience of former Monsanto employee Kirk Azevedo helps expose the first two lies, and provides some insight into the nature of the people working at the company.
In 1996, Monsanto recruited young Kirk Azevedo to sell their genetically engineered cotton. Azevedo accepted their offer not because of the pay increase, but due to the writings of Monsanto CEO Robert Shapiro. Shapiro had painted a picture of feeding the world and cleaning up the environment with his company's new technology. When he visited Monsanto's St. Louis headquarters for new employee training, Azevedo shared his enthusiasm for Shapiro's vision during a meeting. When the session ended, a company vice president pulled him aside and set him straight. "Wait a second," he told Azevedo. "What Robert Shapiro says is one thing. But what we do is something else. We are here to make money. He is the front man who tells a story. We don't even understand what he is saying." Azevedo realized he was working for "just another profit-oriented company," and all the glowing words about helping the planet were just a front.
A few months later he got another shock. A company scientist told him that Roundup Ready cotton plants contained new, unintended proteins that had resulted from the gene insertion process. No safety studies had been conducted on the proteins, none were planned, and the cotton plants, which were part of field trials near his home, were being fed to cattle. Azevedo "was afraid at that time that some of these proteins may be toxic."
He asked the PhD in charge of the test plot to destroy the cotton rather than feed it to cattle, arguing that until the protein had been evaluated, the cows' milk or meat could be harmful. The scientist refused. Azevedo approached everyone on his team at Monsanto to raise concerns about the unknown protein, but no one was interested. "I was somewhat ostracized," he said. "Once I started questioning things, people wanted to keep their distance from me. . . . Anything that interfered with advancing the commercialization of this technology was going to be pushed aside." Azevedo decided to leave Monsanto. He said, "I'm not going to be part of this disaster."
Azevedo got a small taste of Monsanto's character. A verdict in a lawsuit a few years later made it more explicit. On February 22, 2002, Monsanto was found guilty for poisoning the town of Anniston, Alabama with their PCB factory and covering it up for decades. They were convicted of negligence, wantonness, suppression of the truth, nuisance, trespass, and outrage. According to Alabama law, to be guilty of outrage typically requires conduct "so outrageous in character and extreme in degree as to go beyond all possible bounds of decency so as to be regarded as atrocious and utterly intolerable in civilized society."
The $700 million fine imposed on Monsanto was on behalf of the Anniston residents, whose blood levels of Monsanto's toxic PCBs were hundreds or thousands of times the average. This disease-producing chemical, used as coolants and lubricants for over 50 years, are now virtually omnipresent in the blood and tissues of humans and wildlife around the globe. Ken Cook of the Environmental Working Group says that based on Monsanto documents made public during a trial, the company "knew the truth from the very beginning. They lied about it. They hid the truth from their neighbors." One Monsanto memo explains their justification: "We can't afford to lose one dollar of business." Welcome to the world of Monsanto.
Related
Popular in the Community