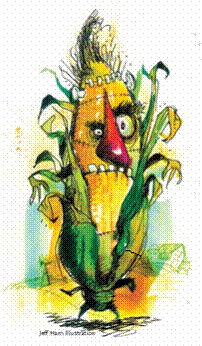 When Forbes magazine declared Monsanto as the Company of the Year for 2009, millions of surprised people were forced to reevaluate their opinions about a major corporation. Now they no longer trust Forbes.
Monsanto is one of the most despised corporations on earth. This is the second in a series of articles that expose their not-so-hidden dark side and how, if unrestrained, Monsanto could unleash a cataclysm. Indeed, it has already started...
Infiltrating the Minds and Offices of the Government
To get their genetically modified products approved, Monsanto has coerced, infiltrated, and paid off government officials around the globe. In Indonesia, Monsanto gave bribes and questionable payments to at least 140 officials, attempting to get their genetically modified (GM) cotton accepted. In 1998, six Canadian government scientists testified before the Senate that they were being pressured by superiors to approve rbGH, that documents were stolen from a locked file cabinet in a government office, and that Monsanto offered them a bribe of $1-2 million to pass the drug without further tests. In India, one official tampered with the report on Bt cotton to increase the yield figures to favor Monsanto. And Monsanto seems to have planted their own people in key government positions in India, Brazil, Europe, and worldwide.
Monsanto's GM seeds were also illegally smuggled into countries like Brazil and Paraguay, before GMOs were approved. Roberto Franco, Paraguay's Deputy Agriculture Ministry, tactfully admits, "It is possible that [Monsanto], let's say, promoted its varieties and its seeds" before they were approved. "We had to authorize GMO seeds because they had already entered our country in an, let's say, unorthodox way."
In the US, Monsanto's people regularly infiltrate upper echelons of government, and the company offers prominent positions to officials when they leave public service. This revolving door has included key people in the White House, regulatory agencies, even the Supreme Court. Monsanto also had George Bush Senior on their side, as evidenced by footage of Vice President Bush at Monsanto's facility offering help to get their products through government bureaucracy. He says, "Call me. We're in the 'de-reg' business. Maybe we can help."
Monsanto's influence continued into the Clinton administration. Dan Glickman, then Secretary of Agriculture, says, "there was a general feeling in agro-business and inside our government in the US that if you weren't marching lock-step forward in favor of rapid approvals of biotech products, rapid approvals of GMO crops, then somehow, you were anti-science and anti-progress." Glickman summarized the mindset in the government as follows:
"What I saw generically on the pro-biotech side was the attitude that the technology was good, and that it was almost immoral to say that it wasn't good, because it was going to solve the problems of the human race and feed the hungry and clothe the naked. . . . And there was a lot of money that had been invested in this, and if you're against it, you're Luddites, you're stupid. That, frankly, was the side our government was on. Without thinking, we had basically taken this issue as a trade issue and they, whoever 'they' were, wanted to keep our product out of their market. And they were foolish, or stupid, and didn't have an effective regulatory system. There was rhetoric like that even here in this department. You felt like you were almost an alien, disloyal, by trying to present an open-minded view on some of the issues being raised. So I pretty much spouted the rhetoric that everybody else around here spouted; it was written into my speeches."
He admits, "when I opened my mouth in the Clinton Administration [about the lax regulations on GMOs], I got slapped around a little bit."
Hijacking the FDA to Promote GMOs
In the US, new food additives must undergo extensive testing, including long-term animal feeding studies. There is an exception, however, for substances that are deemed "generally recognized as safe" (GRAS). GRAS status allows a product to be commercialized without any additional testing. According to US law, to be considered GRAS the substance must be the subject of a substantial amount of peer-reviewed published studies (or equivalent) and there must be overwhelming consensus among the scientific community that the product is safe. GM foods had neither. Nonetheless, in a precedent-setting move that some experts contend was illegal, in 1992 the FDA declared that GM crops are GRAS as long as their producers say they are. Thus, the FDA does not require any safety evaluations or labels whatsoever. A company can even introduce a GM food to the market without telling the agency.
Such a lenient approach to GM crops was largely the result of Monsanto's legendary influence over the US government. According to the New York Times, "What Monsanto wished for from Washington, Monsanto and, by extension, the biotechnology industry got. . . . When the company abruptly decided that it needed to throw off the regulations and speed its foods to market, the White House quickly ushered through an unusually generous policy of self-policing." According to Dr. Henry Miller, who had a leading role in biotechnology issues at the FDA from 1979 to 1994, "In this area, the U.S. government agencies have done exactly what big agribusiness has asked them to do and told them to do."
The person who oversaw the development of the FDA's GMO policy was their Deputy Commissioner for Policy, Michael Taylor, whose position had been created especially for him in 1991. Prior to that, Taylor was an outside attorney for both Monsanto and the Food Biotechnology Council. After working at the FDA, he became Monsanto's vice president. He's now back at the FDA, as the US food safety czar.
Calling all HuffPost superfans!
Sign up for membership to become a founding member and help shape HuffPost's next chapter