http://www.responsibletechnology.org/blog/30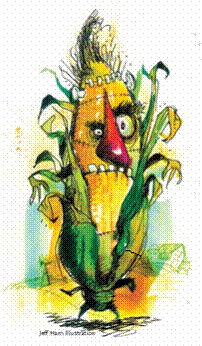 When Forbes magazine declared Monsanto as the Company of the Year for 2009, millions of surprised people were forced to reevaluate their opinions about a major corporation. Now they no longer trust Forbes.
Monsanto is one of the most despised corporations on earth. This is the last in a series of articles that expose their not-so-hidden dark side and how, if unrestrained, Monsanto could unleash a cataclysm. Indeed, it has already started...
Un-recallable Contamination
In spite of the enormous health dangers, the environmental impacts may be worse still. That is because we don't have a technology to fully clean up the contaminated gene pool. The self-propagating genetic pollution released into the environment from Monsanto's crops can outlast the effects of climate change and nuclear waste.
Replacing Nature: "Nothing Shall Be Eaten that We Don't Own"
As Monsanto has moved forward with its master plan to replace nature, they have led the charge in buying up seed businesses and are now the world's largest. At least 200 independent seed companies have disappeared over 13 years, non-GMO seed availability is dwindling, and Monsanto is jacking up their seed prices dramatically. Corn is up more than 30%, soy nearly 25%, over 2008 prices. (PDF)
An Associated Press exposé reveals how Monsanto's onerous contracts allowed them to manipulate, then dominate, the seed industry using unprecedented legal restrictions. One contract provision, for example, "prevented bidding wars" and "likely helped Monsanto buy 24 independent seed companies throughout the Farm Belt over the last few years: that corn seed agreement says that if a smaller company changes ownership, its inventory with Monsanto's traits 'shall be destroyed immediately.'"
With that restriction in place, the seed companies couldn't even think of selling to a company other than Monsanto. According to attorney David Boies, who represents DuPont—owner of Pioneer Seeds: "If the independent seed company is losing their license and has to destroy their seeds, they're not going to have anything, in effect, to sell," Boies said. "It requires them to destroy things—destroy things they paid for—if they go competitive. That's exactly the kind of restriction on competitive choice that the antitrust laws outlaw." Boies was a prosecutor on the antitrust case against Microsoft. He is now working with DuPont in their civil antitrust lawsuit against Monsanto.
Monsanto also has the right to cancel deals and wipe out the inventory of a business if the confidentiality clauses are violated.
"'We now believe that Monsanto has control over as much as 90 percent of (seed genetics). This level of control is almost unbelievable,' said Neil Harl, agricultural economist at Iowa State University who has studied the seed industry for decades."
Monsanto also controls and manipulates farmers through onerous contracts. Troy Roush, for example, is one of hundreds accused by Monsanto of illegally saving their seeds. The company requires farmers to sign a contract that they will not save and replant GM seeds from their harvest. That way Monsanto can sell its seeds—at a premium—each season.
Although Roush maintains his innocence, he was forced to settle with Monsanto after two and a half years of court battles. He says his "family was just destroyed [from] the stress involved." Many farmers are afraid, according to Roush, because Monsanto has "created a little industry that serves no other purpose than to wreck farmers' lives." Monsanto has collected an estimated $200 million from farmers thus far.
Roush says, "They are in the process of owning food, all food." Paraguayan farmer Jorge Galeano says, "Its objective is to control all of the world's food production." Renowned Indian physicist and community organizer Vandana Shiva says, "If they control seed, they control food; they know it, it's strategic. It's more powerful than bombs; it's more powerful than guns. This is the best way to control the populations of the world."
Our food security lies in diversity—both biodiversity, and diversity of owners and interests. Any single company that consolidates ownership of seeds, and therefore power over the food supply, is a dangerous threat. Of all the corporations in the world, however, the one we should trust the least is Monsanto. With them at the helm, the impact could be cataclysmic.
Calling all HuffPost superfans!
Sign up for membership to become a founding member and help shape HuffPost's next chapter