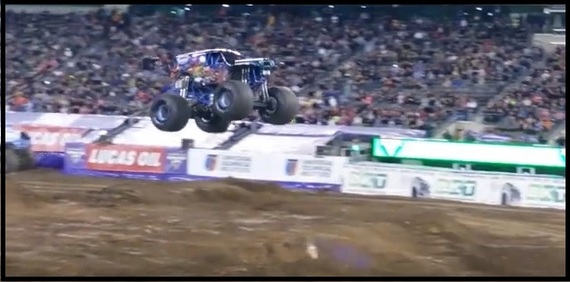 Son-Uva Digger burns it up at Monster Jam in New Jersey!
Over 50,000 people attended Monster Jam at MetLife in East Rutherford, NJ on April 23, 2016, making it the biggest Monster Jam to date.
I wish I was chewing Dubble Bubble gum right now to distract me from the thoughts that are still going through my mind from Saturday's Monster Jam event. Who would ever think a pile of oversized trucks pushing through dirt could spawn such emotional highs and lows?
This is the second year I took my three kids, aka 'the hatchlings' - my 10 year old daughter and eight year old twins - to the show, so the anticipation of waiting months to see Monster Jam was off the charts. We were meeting friends and family at the stadium, too! You know this feeling, right?
But first! I came to learn that there are different drivers for some of the trucks. Do these drivers make a living doing this full-time? Or do they also have other jobs? What do they write on their health insurance application? Leave your answers in the comments below, please!
Now, how boring would this article be without a little drama? As the hatchlings and I were heading to MetLife Stadium in my trusty Honda Odyssey with barely existent A/C, my daughter decided to get a stomach virus and threw up in one of those huge flower planter thingies outside of the restaurant we just left. "What just happened?!" -- the neurons in my brain started flying into a frenzy instead of the smooth pattern they were coasting in during dinner. I don't even know if a brain has neurons, but you can totally picture what I just said.
I cringed without cringing and asked my little girl, "Do you want to go home?" and... and ... there was no pause on her end. "I want to go to Monster Jam!" With that being settled in half a second flat, I was thankful that I hadn't cleaned out the inside of my car since St. Patty's Day, because there was a candy bucket lying on the floor, which now became my daughter's puke bucket.
Oops, let me get back on track about Monster Jam.
But second! How exactly does a sponsorship work for Monster trucks? I enjoy watching certain sports but I don't know the politics of how things happen. Example: truck Lucas Oil Crusader has over 30 sponsors. Do these sponsors donate auto parts or money, or both, to that truck? If money, who is in charge of where that money goes? Leaving your comments below about sponsors will help me learn, thank you!
Max-D broke a record by jumping over six monster trucks! See the video!
At last year's Monster Jam, I was excited about truck Max-D. There's something so evil and delicious about the vehicle. Then I heard that Max-D was going to attempt to jump over SIX monster trucks this year. Our hearts were pounding as we watched the six trucks line up. I was thinking, "Who in their right mind would be willing to sacrifice their truck getting crushed for a jump?" Seriously, who picks which trucks are getting jumped over?
Max-D was such a tease as we waited for this attempted jump. He'd back all the way up to the stadium wall, go, stop and back up again, and then again, until finally he had the angle he was looking for and in what appeared to be slow motion, Max-D did it! He effortlessly flew over the six monster trucks! The crowd went wild! It was as if I was one with everyone in the stadium!
I have to talk about the Freestyle event because freestyle is something I've always loved, whether it's skateboards, bikes or monster freakin' trucks.
But third! Whoever picks the music selection for Monster Jam, by the way, sure knows how the get the blood pumping. Someone tell me who was in charge of music for the April 23rd event! Kudos to you!
In the freestyle portion, four trucks made me want to indulge in ice cream, in no particular order: Monster Mutt, Hot Wheels, Grave Digger and Son-Uva Digger. Love, love LOVE! I'm talking back-flips, super high and long jumps, flipping over and continuing the run and spinning in the dirt like little kids.
Monster Mutt (the original brown one!) did a wheelie that was so impressive, I remembered to put it in this article. Hot Wheels and Grave Digger were also super entertaining.
Attitude-wise, my choice is Son-Uva Digger, hands down. Driver Ryan Anderson sure has the chutzpah and daredevil qualities that make me want to keep going to Monster Jam year after year.
During the opening races, Son-Uva Digger was on the dirt patiently waiting for the second truck to come out. As the second truck proudly drove onto the dirt, Son-Uva Digger leaped forward, like one of those creepy jumping spiders, to 'scare' the second truck! Oh, man!
Below, I have some honorable and surprise mentions.
But fourth! Who exactly are the judges of Monster Jam? Are they the same people in every city or do the judges change every show? I'm sorry, Judges, but at the MetLife New Jersey show, you were clearly wrong at one point. I don't even have to mention it out loud, because everyone reading this knows the exact moment I'm talking about. Leave your comments below if your blood was boiling like mine!
Honorable mentions: El Diablo did an insane back-flip. Scooby-Doo was so adorable that my son wants the mini truck version. Metal Mulisha had very cool sparks coming out the bottom of the truck, which I later found out was not on purpose (looked awesome, though!).
Surprise mentions: It was nice to see female drivers such as Nicole Johnson and Briana Mahon tear up the dirt!
REAL LIFE. REAL NEWS. REAL VOICES.
Help us tell more of the stories that matter from voices that too often remain unheard.