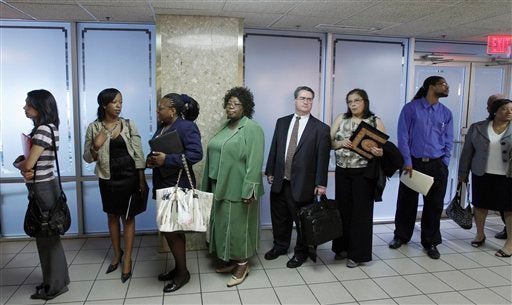 WASHINGTON -- The parent company for the employment website Monster.com, Monster Worldwide Inc., is taking action to get the progressive advocacy group USAction to stop its online campaign aimed at companies whose job postings discourage the unemployed from applying.
In July, USAction began circulating an online petition imploring employment websites such as Monster.com and Careerbuilder.com to reject ads from third-party employers that require applicants to be "currently employed." As employment websites, Monster and Careerbuilder don't actually post the ads, but do allow them to be up on the site.
USAction began collecting signatures online -- it now has about 26,000 -- and put a petition letter on the progressive website Dailykos.com. The group also launched an ad campaign on Facebook.
Then late last Friday, USAction received a "cease and desist" letter from Monster.com claiming the information in the campaign is false, misleading and defamatory. "Monster.com does not engage in any discrimination in hiring," the letter said. "Monster.com is the media for third-party employers that post their jobs directly onto the monster.com website without input or editorial contribution from Monster."
USAction spokesman David Elliot said USAction would not cease nor desist.
"Saying they don't discriminate against the unemployed in hiring is kind of a technicality without a moral distinction," he told The Huffington Post. "They may not, themselves, discriminate in terms of the people they hire at Monster.com, but they're still running these ads. So we're going to keep continuing, we're not going to cease and desist when it comes to telling the world about this unfair and outrageous practice, a practice that should in fact be illegal."
Monster.com issued a defense in a blog post last week stating that it opposes discrimination in any form, but ultimately leaves the responsibilities of the job listings to the employers themselves. In response to a query from HuffPost, the company referred a reporter to its blog posting.

"While we oppose discrimination against the unemployed on numerous grounds, we believe it is the responsibility of employers themselves, rather than Monster, to decide what they say in their job postings and how they want their company to be viewed. We believe that any companies intentionally excluding this segment of the population from consideration are missing out on great talent and putting their reputations at risk."
Careerbuilder.com did not respond to a request for for comment.
CORRECTION: An earlier version of this article incorrectly stated the name of the USAction spokesman as David Nelson. His name is in fact David Elliot.
Popular in the Community